Not all Social Media platforms are created equal. You do not need to be apart of every single social media platform, especially if it holds absolutely no value to you or your business.
As a social media specialist, I can't help but jump on the next new and shiny social network, but as a business owner, I only use specific platforms which are right for the needs of my business.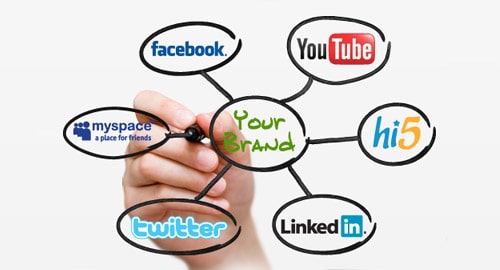 A t-shirt company may want to focus on Tumblr & Facebook, while a food truck may want to focus on just Twitter, while a brew pub could focus on YouTube, Twitter & Facebook. See what I'm saying'?
Ask yourself these questions before starting up that social media platform:
1. Why? I always ask why. WHY do I need a Twitter? WHY do I need a YouTube? WHY do I need a Facebook? And in general, WHY are you thinking about setting up social media platforms? If I can't answer WHY, then I'll usually nix that platform or social media altogether.
2. Who & Where? Then I ask, WHO is my target audience and WHERE are they hanging out? If my target audience will appreciate my business more on YouTube, then I'll focus there first and slowly move to other platforms. Find out where and who your target market is. You can do this by looking at where your competitors lack, listen to your potential customers, do a Google search for common questions in your industry, then solve those questions.
3. What? What am I even going to put up on said platform? Having a strategy of what exactly you're going to post ahead of time, is extremely important. Are you just going to post blog posts? Are you going to get customer interaction by continually asking questions? Is it for debates? Posting pics? WHAT is the platform for?
4. Time? How much time do you have to devote to social media? If it's only once a day for a few minutes, then focus on a platform that doesn't require very much attention at first, like Twitter. I've realized with Twitter that it's much easier to gain a following simply by tweeting once or twice a day. People tend to find Twitter's a bit easier than Facebook pages.
If you don't have the time and you don't have the desire but you've been answering the questions above with ease and realize you probably need social media, if might be a good idea to hire a person or team to handle it. Or if you want to learn, hire someone to give you in-depth training.
Social media isn't necessary for all businesses and it's a serious commitment once started. Don't feel peer pressured into getting a Facebook and/or Twitter. Simply having a Facebook means nothing if there's no one there interacting. In fact, having an empty Facebook page is worse than having no Facebook page.
If it makes sense for your business, then take your time with it and make it the best social network anyone has ever seen!
This article is written by Morgan, CEO at SociableBoost, a San Antonio, TX based social media company. If you wish to write for us, kindly check this.