If you want to brand yourself on twitter or any other social networking sites, then first step is about selecting a better username for you to brand yourself in twitter or any micro blogging site. The username or handle is your identity. If you feel that your original name is better to keep as username, and then you can do it, anyway here are some of the tips I thought that should help you in selecting your twitter handle or username.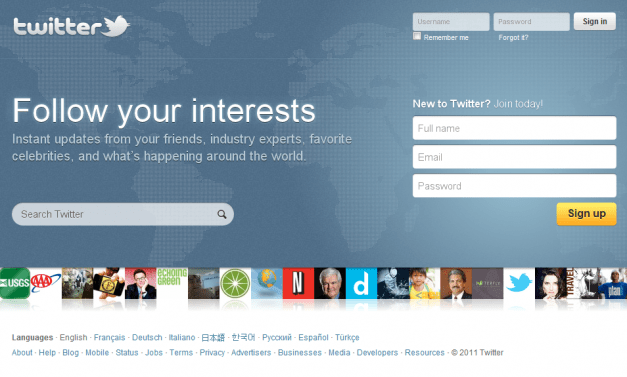 Before selecting the username, here are some points that you should remember. You can only use characters such as uppercase and lowercase letters, numbers, and the underscore character ( _). My opinion is that, if your original names is too lengthy, and then try to create your username something short, memorable, something that identifies you or describes your character and easily rolled out in the tongue.
Short Twitter Username Would Be Great
Why should your twitter username be short? Because tweets are of just 140 characters, so when people @mention you or ReTweet your tweets, if your username is more than 10 characters (twitter limits up to 15 char), then people miss your handle very often.
Twitter is growing fast. Grab your name fast – As you all known, twitter is growing really fast, rapidly you get news faster than media coverage, twitter has been very helpful in many occasions (Good & bad), so getting your desired username is difficult, so grab your name fast.
Also you should not be afraid to use your real name. If you find your real name is really a tongue twister or not easily memorable, then as I said before try something that is short, identifies your character etc. etc. If you real name is already taken, try inserting adjectives in front like handsomejohnetc.
Make sure you don't use numbers like sachin786, but if you have an email ID say for example: sachin90@whatever.com you can have @sachin90 as your twitter username. Also never use curse words or obscenity in your username that lets you down in some case. When you're creating twitter profiles for your company, always try to keep your company name as profile handle, if you've registered or already a huge brand offline, you can contact twitter team if your company name is already taken by someone.
Impact on Search Engine Optimization
Your twitter @username and Profile name has a great impact on search engine optimization. If you already have a twitter profile, by now you might have realised it. So make sure the company name is correctly entered in the Name text box and you choose proper @username for your business. You can also keep keyword rich @username for your company profile.
Try to have a username creative and that distinguish you. Jack75 and Jack85 are both similar. sodistinguish yourself from others. To distinguish, don't just add a bunch of numbers after your name. That isn't a smart decision. Also while selecting a username; never select it as if it sounds like a bot. My kind opinion is not to have words like seo, marketing in usernames. Don't use a celebrity's name, its lame and don't sound like a faker.
Before we wind up the post, here are quick ideas for twitter username – You can try put last name first, add underscore symbol preceding or appending It, middle name as initial, smart description about yourself, high school nickname, rhyming or pun based name etc.
Why do I repeatedly asking you to select a decent username for your twitter profile, because when you run into a twitter pal networking event or any other social events, people recognize you by your twitter usernames. You want to make sure that you don't feel disgust to write your twitter username on the board or shout out in greeting. So select your twitter username wisely.
This article is written by Srivathsan. He is a geek and writes about mobiles and gizmos among other things at Mobigizmos.com.