Your blog or website, most probably they will be in English and of course, only people who know English can read your blog and what about the people who don't know this language. They may be French, Spanish and so. You don't want only English readers to check your blog right? Don't worry we have another solution from our friend Google. There are many solutions to a problem and 75% of this solution will surely comes from Google. This is my opinion. Let it be for Creating My Mobile Site or SMS Subscription Service. I found the solutions for both of them from Google. Now here is another one, simpler than those two.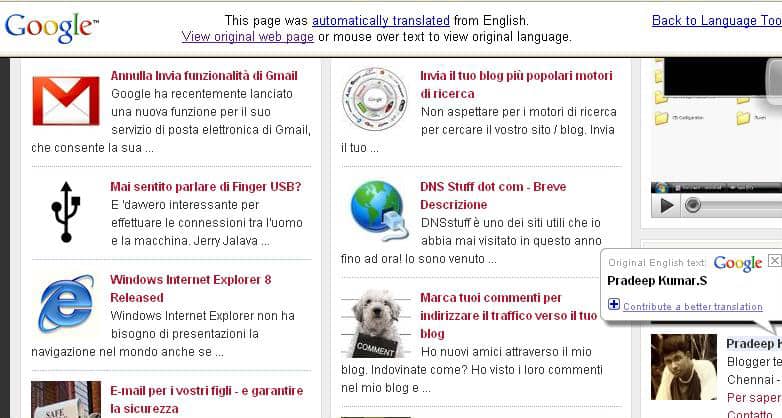 Using Google, you can instantly translate your blog/website from language to another language. These links use Google's Language Tools for translating your blog's content into one of eight different languages available. You can add instant translation links to your blog or website by creating a link similar to the one below.
You can use the following link for translating your blog and replace the details in bold with your own details.
http://translate.google.com/?hl=enwebsite url&langpair=language abbreviation to translate from%7Clanguage abbreviation to translate to&hl=language abbreviation to translate to&ie=UTF-8&ie=UTF-8&oe=UTF-8&prev=%2Flanguage_tools
I'm translating my blog from English into Spanish, that means I'm converting the page from English (en) to Spanish (es), this is the link for it.
http://translate.google.com/?hl=en https://hellboundbloggers.com/2009/04/11/undo-send-feature-of-gmail/ &langpair=en%7Ces&hl=es &ie=UTF-8&ie=UTF-8&oe=UTF-8&prev=%2Flanguage_tools
To translate my main blog from English to Italian (it) :
http://translate.google.com/?hl=en https://hellboundbloggers.com/ &langpair=en%7Cit&hl=it &ie=UTF-8&ie=UTF-8&oe=UTF-8&prev=%2Flanguage_tools