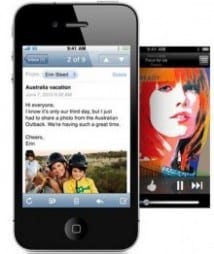 In my last post I have explained why people jailbreak their iPhone. No wonder it increases possibilities of adding various applications on your idevice and multiplying the hundreds of ways we can already use them.
If you are not aware about the term 'Jailbreak', which lets you have unlimited features on your Apple iPhone. To be more simple, it unlocks the Operating System. By this iPhone users are able to download many extensions and themes which are not available on the Official App Store. Earlier Apple filed patent against jailbreaking/unlocking iPhones.
Apple won't allow you to jailbreak their device enabling 3rd party software to be installed, which are not approved by Apple (or app store). One largest marketplace of such non approved apps is Cydia. Cydia apps are not necessarily cracked apps, but paid apps with various uses.
Soon after the release of iPhone 4, it was jailbroken using userland jailbreak named Jailbreakme. It is the easiest jailbreak created ever, even simpler than Spirit. Below I mentioned some simple steps to jailbreak Apple iPhone 4.
---
Following are the Steps for Jailbreaking Iphone 4:
#1 – First open http://jailbreakme.com on your safari browser. You will see the following screen appear on your device.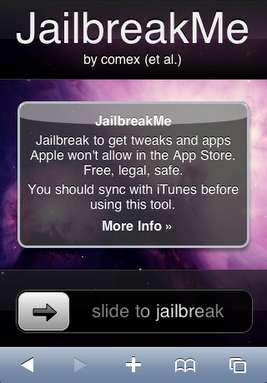 #2 – Slide to start the jailbreak process. Soon the downloading jailbreak will appear. This downloads a PDF file on your device that will then use the un-patched PDF exploit to run the jailbreak.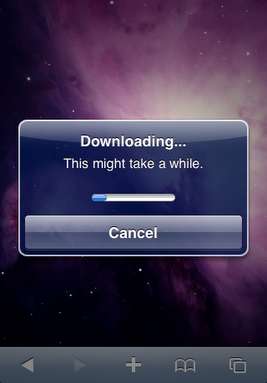 Latest firmware iOS 4.02 and 4.1 have been patched the hole which used the faulty code for jailbreaking. The jailbreaking process takes at most 5 minutes to complete. Remember to connect via Wi-Fi or 3G for best results, or disconnection during the jailbreaking process will disrupt the process. So keep the resources at hand.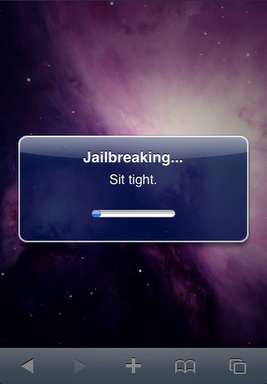 #3 – That's it, you have jailbroken your device. Now restart and open the springboard, you'll see Cydia installed. Now you can download and install any jailbreak app on your device without any restriction. Please remember to save your SHSH blobs before performing any upgrade on your device.