Sorry for the offensive title, I didn't mean to offend 'your daughter' or 'any girl' in particular. This is to make readers understand the core meaning of this post, how some young girls willingly or unwillingly make money nowadays. Also for Marketing purpose to make this article reach the masses.
Coming back to the post, 'Online Money Making' is the one of latest trends to make some quick bucks. You can start a blog, you can do affiliate stuff, you can write for websites, etc. There are many ways to make money online, quick and easy. But we do care how that money comes right?
They are basically divided into two categories:
1) Making money online in a Good Way (Ethical Way).
2) Making money online in a Bad Way (Unethical Way).
We all know how to make money in a good way, you can do stuff like starting a blog, writing articles online or doing some services.
Obviously, if you do something good, then the result will be good too.
Likewise, if you try to make money in a bad way, then the result could be bad or terribly worse.
I'll come to the post "The Hard Truth Behind Your Daughter's Pocket Money". Teenage/Young girls (like all of us) need pocket money to survive in this trending environment. For all these new gadgets, makeup sets, classy dresses, hangouts, cinemas, etc., they need money for that. They can't rely on their parents, siblings or boyfriends for these all the time.
So they try to make some money by going to part time jobs, say at McDonalds or some flower shop. But these outdoor activities bother our little girls a lot, they got used to stay in front of the computers Facebooking or watching YouTube videos. So they ultimately prefer online jobs. If they are lucky they'll get good online jobs according to their interests, but if they need quick bucks and easy job, they end up with unethical jobs.
Some get attracted by online advertisements which say "Earn 30K Per Month With Your Computer" or "Become a Cam Girl! Earn 100$ per hour by just camming!". It's really common for a young girl to get attracted by such ads, she'll click it and the Marketing team of that cam site would have kept all the mesmerizing words to make her join the program. You can see advertisements like these everywhere, even through Facebook Ads or Google Ads.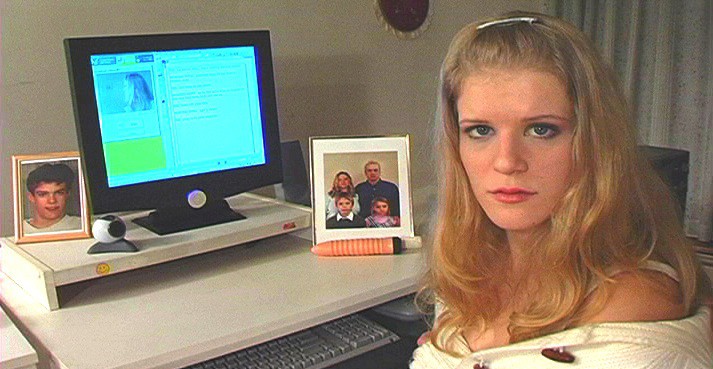 Still from the Movie "Cam Girl (2005)"
What Triggers Young Girls To Become Cam Girls?
Less investment: She needs only a computer and a webcam or a decent laptop which has inbuilt webcam.
Anonymity: There's the so-called total anonymity, she can use a fake name and enter this field.
Easy Money: Quick and Easy way to earn money online. Her work load is less and her income is big.
Attractive Compliments: I also heard that they'll get attractive gifts and compliments like clothes, makeup sets, good deals, etc.
No Language Problem: Mostly she has to sexually attract the stranger with her gestures. So she can work internationally on this.
Work From Anywhere: She don't need to travel to do this job. She can work from her home itself.
Now here is a small incident which triggered me to write this post.
Before few days I got a comment from a girl on this post (comment removed though) that someone is trying to harass her on Facebook by creating a fake profile. I had a long conversation with her, I came to know that she is a Cam Girl* and the guy who harassed her was a visitor or guest in one of her cam shows. He somehow confused her and made her reveal her personal information. She is now worried because that guy started to blackmail her and forcing her to have a sexual relationship. Because she does this Cam Show thing privately, and her parents don't know about this.
I made a small research by visiting all the popular cam sites and interacted with some Cam Girls, but of course, they didn't reply to any of my research queries, but I just made a formal chat to see what's their work like.
A Camgirl performs sexual services on the Internet with webcam software in exchange for money, goods, or conversions.
I can't comment whether that profession is ethical or unethical. But there is a chance to get ruined by this. Tens of thousands of college and school girls are considering "Cam Girls" profession for making quick pocket money. But they don't know the hard/dark side of it. They think they just have to sit in front of the webcam and smile at strangers. But it is not like that. It takes more than that to earn money through those sites. You have to break your character to earn money.
Thought of writing this article to spread awareness and why young girls should think hard before jumping or taking any decisions.
What's The Cost Of Their Glamour?
This might be surprising for you, but you should remember "Sex Sells" here.
Per Hour: 30$ to 40$.
Per Day: 720$ to 960$.
I made a formal conversation with a cam girl on Twitter, and she reveals uncomfortably that she earns 100$ to 200$ just by camming.
The amount will be less when they start it, but later on, it'll be increased. Mostly they'll be getting paid every two weeks. They pay them via Checks or epassporte since PayPal and other leading services won't deal with adult-oriented payments. Some girls who are interested in doing cam shows couldn't start their own website and run because of these payment issues. So they rely on other 3rd party infamous cam sites.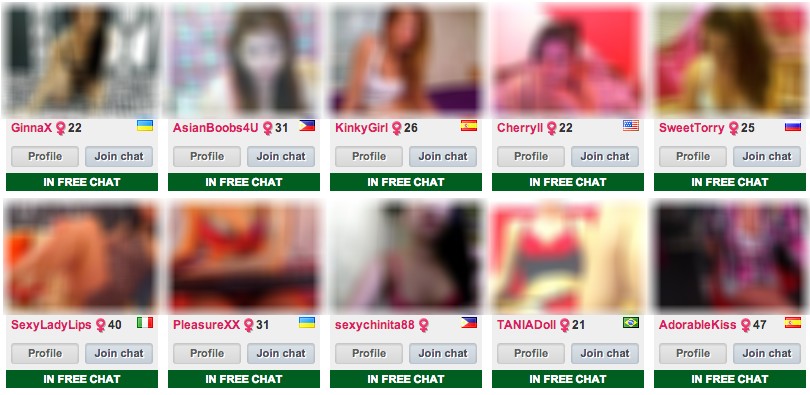 A popular Cam Site gets almost 30 million visitors a month. Think about the revenue they get and the money they'll be investing for promoting their brand? You can see How Porn Websites makes Huge Bucks.
Below I'll explain what "Cams" are and how it hurts young girls seeking money online.
CAMS? What Are They?
Cams let you watch and interact with thousands of the hottest webcam models in the world. You just need to sit back and enjoy the video chat. If you want to get intimate with them, then private one-on-one sessions are available for picking your favorite models. You can also get to know individual girls through their profiles. You can do the same, by letting them get to know you by posting your own bio and pictures. By joining their fan club, you will get a chance to know her more and you can email her directly.
Two Types of Chats – Open and Private
Open Chat
She has to log into a chat network via their chat software or browser. Her home webcam is streaming live video. All she has to do is log in and chat with the users in the Chat Room. She won't be earning money in this "Open Chat" because her goal is to make users take her private (1-on-1). Then she has to convert them into paying customers. After this only she'll be getting commissions for her conversions.
Private Chat
She earns some bucks per minute when customers direct their very own adult shows. She can get paid by the Customers just by chatting without any sexual reference, but she can never know what to expect. Even though she can avoid performing scenes she is uncomfortable with, the only way to entice customers is to attract sexually, more or less.
This Cam Thing Starts Like This Scenario
They want her to video chat with non-paying guests or new customers without any nudity. But she has the option to appear sexy in order to increase the impression.
Newbie girls try to seduce them by gestures and stuff, thus trying to convert them from visitors to customers. If it is a free chat then each guest can enter her Video Chat room without getting her prior approval and view her free for 6 minutes. She needs to use this limited time to make a great impression and convert them into new paying clients.
How Will She Get Paid? Just Being Front Of Cam?
Her job is not to sit in front of webcam simply, but to seduce the non-paying guests. If the guest has their last Free Live Video Chat with her and then purchases something from that site in the 24 hours following the chat, then she will get a 100% lifetime commission on this guest. To earn 100% commission she has to convert a non-paying Guest into a paying member. They earn commissions by convincing customers to sign up for membership at Adult Paysites*.
Paysite is a website (mostly associated with Porn Industry) that charges money to become a member and view its content, original adult content.
So how do you think she can achieve it? Just by simply sitting?
She has to unfortunately tease and seduce them in Free Live Chat. She has to literally make them beg to have more. She needs to tell them all the benefits of joining this service by lusting them indirectly.
Some guys expect nude shows or to show some skin, she'll have no choice then to show because she wants to make money out of this, unfortunately. Getting undressed or not, that is her own choice. Some agencies may also give them sex toys to play with.
Do you know what will be in the Guest's mind?
He gets seduced by her and he wants to see her naked so he obviously spend his bucks for that. Just to see her nudity pics he becomes a member. Guests who have a positive experience in Free Video Chat will want to chat privately with her in paid Video Chat.
So OK, it is One-to-One. Nobody Else Sees Her Right?
Wrong! That is not what these Cam sites want. Visitors from other external sites may also visit her Video Chat room when she is in Free Live Video Chat mode. Her video will also be available as banners on external affiliate websites. It is generally one of their traffic generation methods. These curious visitors will be coming into her Video Chat room from varying sites and different countries.
Adult business attorney Michael Fattorosi says,
"Most women don't realize that when they sign papers to cam on a site, they are giving the site the rights to everything."
"The site can record their videos and use them for promotion and DVDs. They may come in and complain when their videos show up on other sites, but they signed the papers in the first place."
How This Ends Unfortunately
Now she is willing or unwilling making money through this. Now things changed and she needs more money to manage her needs. Since she is an expert in this field, she'll try to jump to the next level i.e., to become an adult webcam performer. Below I mentioned some of the common issues Cam Girls faced.
1. She ends up giving her personal information unwilling. Now she is worried whether he blackmails her or threatens her for sex. This might lead to a suicide attempt or even worse.
2. She gets tempted and reveals her skin a bit more. She loses her ethics, moral and culture.
3. She completes 4-5 successful cam chats and gets money. Now she is eager to earn more money, so she ultimately falls prey for a scam company that says "We pay more than $100 per hour". Period.
4. She wants to do conversions, so she decides to show nudity. This time, she decides to show more skin and ultimately ends up nude.
5. Last but yes Worse. She turns into an online porn star unwillingly. This could totally change her life upside down.
The Internet is filled with sugar daddies, pedophiles and perverts. I have also come across cases where such pedophiles are using Cam Sites to target young girls for lust. Is it really fine for people to do sexually explicit things in front of a webcam while some strangers watch them and end up like this?
OBJECT's Anna van Heeswijk says,
"It is the man who decides which women he wants to choose, depending on what she looks like and how she's willing to behave sexually.
"This puts enormous pressure on women within the industry to perform more and more extreme versions of pornography in order to attract men, in order to make a living."
Some even get tensed during live shows. You can take this Cam Girl "Nina" for example, she suffered Major Meltdown during a Livestream.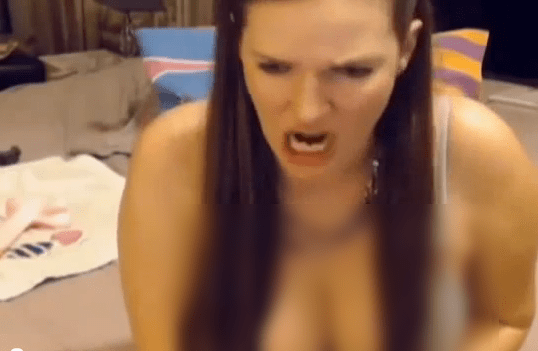 A user watching her live stream calls her fat, Nina breaks down and cried,
"Do you even know anything about my life? Do you even know that a man broke my arm and that's why I gained weight to begin with? That I've been trying so desperately to lose weight so I can be the person that I was? Do you even fucking know that a guy that I loved so much fucking messed my whole life up?"
That's pretty hard huh? People flirting indecently with her and stuff?! It is a difficult life indeed.
Apart from the facts I mentioned above, we have several worse cases. There are some Cam sites which trick girls. They'll fool them by calling for an audition and ask them to pose semi-nude or nude for testing. First of all, girls shouldn't respond to such requests to send nude photos in order to be considered for webcam modeling. This tactic is normally used by non-professionals and individuals seeking a free webcam show. In the end, these are all the drama and she'll end up like 'that sick online porn girl' picture that pops whenever a porn site is opened.
This is what Major Cam Sites suggests or recommends you,
"Suppose if a guest requests you to do anything you're not comfortable with, you can always reject. But since this is an adult position so you should, at least, be comfortable being nude and engaging in solo sexual play while being watched. The more comfortable you are, the more customers you'll get money, this more money in your account."
In this kind of Industry, normally young women and underage girls are forced. You can see the Internet Pornography Stats for reference. Girls who are just 14-15 years old, they jump into this industry just to make some bucks.
Do they really want to end up in this position? More Cleavage = More Money?
---
How Such Girls Can Make Money Online Instead?
There are thousands of ways to make money online. You don't even have to invest that much.
1. Do Some Services: Your voice is sweet? Then you can sing a "Happy Birthday" song for someone. You are an artist and you can paint well? Then you can draw someone. You can do all these for money. Don't forget to checkout Fiverr> and Amazon's Mechanical Turk.
2. Sell Stock Photos: If you can take good resolution photographs then you can sell them to make money. If you can apply some creativity to your photos this thing becomes easy. Check out the sites to sell your photos and these tips will help you to sell them wisely.
3. Sell Your Products: You can make small products like hand-made pots? Then try eBay to sell your products. Takes time but you'll get the satisfaction.
4. Become a Freelance Writer: You are good at writing? There are thousands of websites to contribute articles, and you'll get paid too.
5. Write eBooks and Sell: If you are good at writing, you can create ebooks and make them as guides. By this, you can sell them and earn good money. You can check the resources to sell your ebook.
5. Design Logos and Sell: If you have good Photoshop skills then you can start designing logos for brands. You can also create Facebook Cover Pictures and Twitter Backgrounds.
6. Become a Blogger: Last but not least. You can start a blog and make money through it. Check the 7 Steps for Beginners to make money. If you are confused where to start, you can always seek our guidance.
Instead of having Cybersex, which involves Cam Girls chatting and performing sexual acts in front of webcams for internet clients, they can try to do the above things mentioned. I do agree that not all the Cam Girls are same, some girls know what they are doing and they'll be decent online whatever it takes. But some innocent and money-seeking young girls are blinded in this industry.
I'm not targeting or criticizing female gender in this post, I'm targeting innocent young girls who become prey for scam cam sites and lose their life. Let's join together to stop this nonsense. Thanks.