Google Calendar is one of the tools I decided to use this year — since I was practicing time management. Other tools I found useful recently are Google Reader, Google Toolbar and Dropbox. Here I have mentioned 3 effective ways Facebook Users (or Facebookers) can use Google Calender.
#1 – Setup Birthday Reminders for Your Facebook Friends
Do you want to track your Facebook friends Birthdays but you rarely visit Facebook since they blocked it in your college or office. Now you can setup birthday reminders for your Facebook friends using Google Calendar and you don't need to visit Facebook every time. You can import those birthdays into Google Calendar, where you can then setup reminders.
Go to Facebook and click Events on the left menu and go to Birthdays.
Now go to Export Birthdays link, which you can find at the bottom of the page.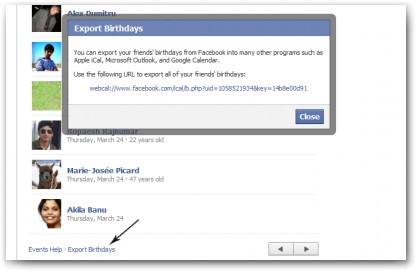 Now you will get a popup kinda dialog box with an URL, just copy that one!
Now go to Google Calendar, under the Other Calendars box use the Add by URL function.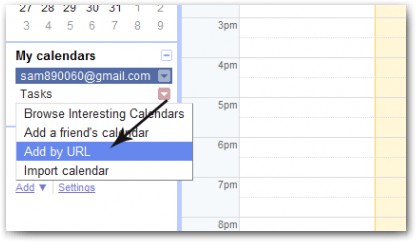 Paste in the URL from Facebook.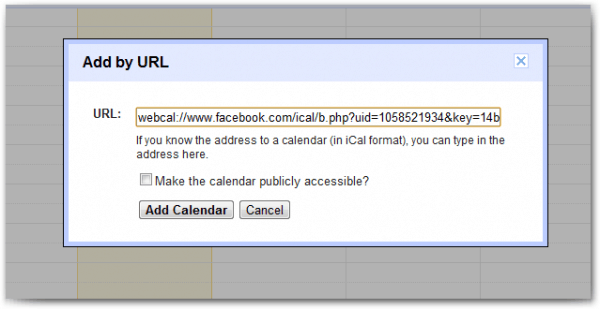 Click on the small arrow next to the appropriate calendar from the My Calendars (present in left panel) and choose Notifications.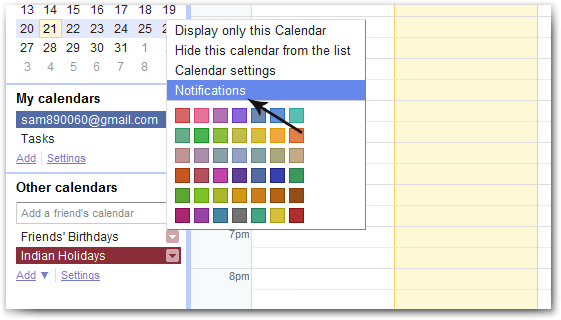 Note : You can also use the drop down menu to add SMS or email reminders before a set number of days/weeks.

---
#2 – Add (Embed) Google Calendar To Your Facebook Fan Page
Adding Google Calendar to your Facebook Fan page can help your fans to know about specific and special events easily.
Step 1 : Create an iFrame tab app for your Facebook Fan Page.
You can better refer this tutorial for creating an iFrame tab app.
Step 2 : Get your Google Calendar code
Go to Google Calendar, click Calendar settings now click the Calendar tab.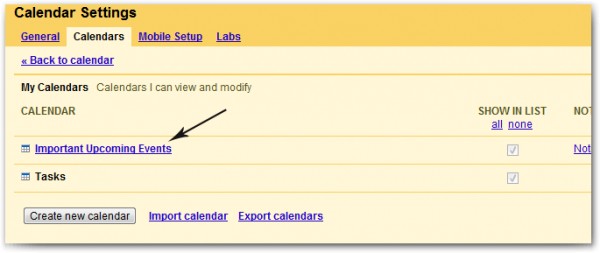 Then click the required calendar you want to embed. Now you can see the embed code for that specific calendar.
Step 3 :
Here is the sample full embedded code – you can replace the Google Calendar iFrame script in this code with yours.
---
#3 – Sync Facebook Events
This one is quite similar to the Birthday Reminders for Your Facebook Friends. Go to Events and at the bottom of the page you will find a link – Export Events. Use that and get the URL
Now go to Google Calendar, under the Other Calendars box use the Add by URL function.
That's it. Now your Google calendar will update automatically every time you accept or decline an event in Facebook.
Do you know any other way Facebookers can use Google Calendar? Kindly share them in the comments.