Ditched Your Boyfriend Recently? He Might Pay You Back Like This.
CONNECT WITH HBB ON SOCIAL MEDIA
I won't be surprised if you start to think whether HBB jumped to another niche or something like that. I believe blog post titles help readers and visitors to find a quick solution to their problems, so this is it.
I'll start with my Facebook feed, I would have seen almost 50+ relationship changes from 'in relationship' to 'single' in the past few months (I have almost 5K friends, my profile here). Sometimes I feel sad, and sometimes I feel happy that they didn't get married because it would have been much worse. Ok, coming back to the post.
"In Relationship" to "Single" Change
There would have been many personal reasons. Some boys and girls, they love each other, hang out, have a sexual relationship, and at one point, any one of them decides to break up. But this 'breakup' thing won't be accepted by both of them. There start the fight and revenge (or vengeance).
What Normally Happens In A Relationship?
Nowadays even some friends kiss, hug each other, hang out, etc. So when two people love each other, the limit is expanded. They will probably have consensual sex, take naughty pictures or videos, pose in semi-nude dresses, etc. I'm not offending true love here, but we do have some cases where people love just for sex right? Let's talk about them here.
So before marriage, it is possible that some young lovers might involve in such sexual relationships. I would not have wrote this post if this ends here, but it isn't. During my research for the posts "The Hard Truth Behind Your Daughter's Pocket Money", "15+ Blogging Tactics I Learned From 'Porn'", and "10+ Ways How Porn Websites Make Huge Bucks" I browsed through some porn videos, and surprising I got the chance to watch some footages and scandals. A young couple was having sex and it was like, the girl didn't even know there was a damn camera shooting the whole thing. They looked like college students, so obviously they would not have been married and they love each other (well, maybe at that time), that's why the girl agreed to have such a relationship.
Why The Video Was Uploaded?
The obvious reasons should be a breakup, betrayal, marriage issues, some personal issues, etc. But whatever it is, this is something immoral and damages the girl's life.
You might have visited a porn website and would have seen various pictures of young girls there, you would not have felt anything wrong or bad in that. But the hard truth is, not everyone in that site, is really what they are. In almost every adult website there is an option to add photos or upload videos. People use these options to pay their ex-girlfriends back.
What He Might Do To Pay You Back? Please Note The Word "Might"
I'm not offending true boyfriends here, this is just for the lusted ones. He might use the following options to pay you back.
1. Popular Video Streaming Sites (say YouTube) [RECOVER]
2. Popular Social Networking site (Say Facebook) [RECOVER]
3. Porn or Adult Websites [RECOVER]
---
Removing Your Video From YouTube
Ok, so YouTube is undoubtedly the undisputed champion of online video streaming sites. So that makes YouTube a possible destination for violating your privacy and to destroy your moral values or culture. Like I said, I already visited YouTube and surfed through various videos and found them quite disturbing. If you a victim of this, I think this procedure will be helpful to you.
If you are present in a particular YouTube video (I repeat, if you are present there!), then you can claim rights to the video and you can remove since it affects your privacy. By this, you can completely whitewash the video from the streaming site.
Just go to that video, and do the steps mentioned in the screenshot below.
And after this, you'll be taken to a Privacy Complaint Process. You'll see those steps below.
STEP 1: Privacy Complaint Process
Like mentioned in the screenshot below make sure you are uniquely identifiable in the video you are about to report. Copyright complaint is different from Privacy complaint, the former is considered when someone steals your own video and uploads. We are dealing with "Privacy complaint" now. Click the button and proceed to the next step.
STEP 2: Are you Being Harassed?
If you are harassed by a YouTube user you can try the first option, but we can go with the next option now in order to remove that video. So proceed with "My privacy is being violated".
STEP 3: Contact The Uploader
Since your boyfriend or someone, you ditched uploaded the video you won't be able to contact the uploader and solve this issue. So proceed with the last option then.
STEP 4: Flag The Video
Review YouTube Community Guidelines (important!) and proceed with the option.
STEP 5: Accepting The Terms
I'm sure that you are sure that you are present in the video that you are going to report. But do note false privacy claim could lead to account suspension. Now click "I accept these terms" button.
STEP 6: Final Complaint Process
Now here is the final complaint process, read all the options carefully and choose them.
You need to enter the original details here. Please don't enter fake details.
That's all! Now you have to verify yourself formally. That improves the chance of removing your video asap. Many people have this doubt, "How YouTube Checks For Privacy Violation?". I found an official reply from them.
How does YouTube determine if content should be removed for a privacy violation?
For content to be considered for removal, an individual must be uniquely identifiable by image, voice, full name, Social Security number, bank account number or contact information (e.g. home address, email address).

Examples that would not violate our privacy guidelines include gamer tags, avatar names, and address information in which the individual is not named. We also take public interest, newsworthiness, and consent into account when determining if content should be removed for a privacy violation. YouTube reserves the right to make the final determination of whether a violation of its privacy guidelines has occurred.
You can learn information regarding this on YouTube Privacy Guidelines.
---
Removing Your Fake Facebook Profile Account
Creating a fake Facebook profile and uploading photos of ex-girlfriends is quite trending now. I would have come across at least 100s of such profiles recently.
You can easily identify a fake facebook profile, it looks messy and it looks as if it is created within 30 seconds!
You can report a fake Facebook profile in two cases.
1. You are in Facebook, and someone is impersonating you.
2. You are not in Facebook, and someone is impersonating you.
You can also do the same for your friends if they are facing the same issue. Try to provide genuine details while reporting.
FULL POST HERE: [HOW TO] Report Fake Facebook Profile Account
Some crap people also upload their girlfriends photo on adult Facebook groups and pages to spoil their reputation and moral value.
HOW TO: Report/Remove Your Photo
You have the option to report anonymously the photos that violate Facebook's Statement of Rights and Responsibilities (ex: pornography). You can do that by using Report This Photo in the Options menu at the bottom of the photo. Facebook reviews these complaints and takes down photos as necessary.
This is a photo I took from some adult kinda Facebook page with all sorts of babes and bitches, I don't know why Facebook allows such pages. I came across this photo (blurred it) and thought this could be a photo of someone (maybe your friend or my friend's friend) who never ever thought that her photo will end up in such pages.
That's sad. This is just a sample photo and you can find the "Report Photo" option at the bottom right. Click that and you'll get a popup like this.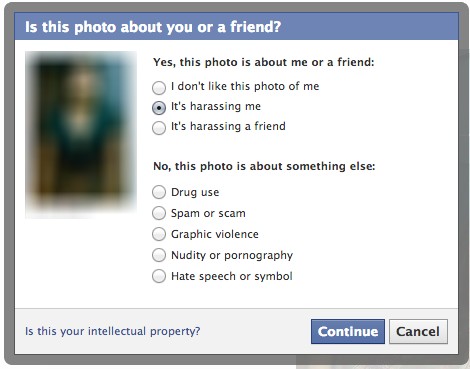 Choose the appropriate option, because if the photo is of your friend, then you need to choose the option given for that.

Some times just because your photo is present on such pages it might not be removed, but providing your identifications to Facebook can solve this issue. If the photo present is offensive (I mean if it is nude or over sexy) then the chances of removing are high.
---
Removing Your Video/Picture From Porn Websites
After successfully completing their mission on YouTube and Facebook, their next move is to enter "Adult" industry. With millions of porn sites out there, they can easily pick some popular ones and upload your picture or video there. You can see the screenshot took from a popular porn site, all they have to do is to click that thread and upload your nasty pic there.
Internet is filled with dirty pictures and movies, but that part is only for lust-filled people.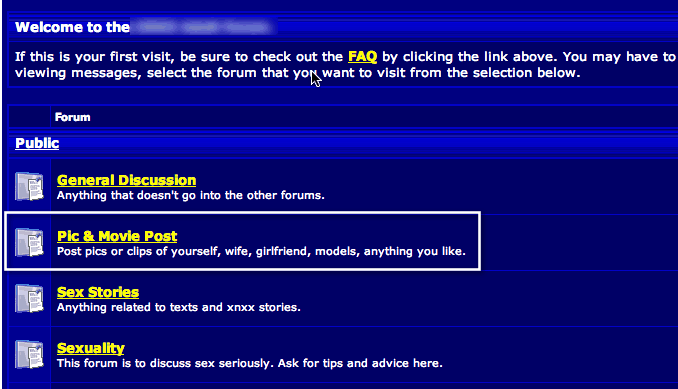 Now, you would have seen your pic on such a site. Or worse, you would have seen your video on such a site. Now apart from panicking you can do several things. Normally every porn website has 'content removal' or 'takedown' form to save their reputation. Normally you can find such links on the footer (bottom of a website).
The form will be similar to this, you need to enter your original details here, because you shouldn't end up in trouble if they ask you to verify your identification later.
There is another method to protect your video, you need to know about Digital Video Fingerprinting first. The uploading of your content can be blocked by this.
"You must provide a list of the videos you want to protect. Each line should be a URL to a direct video file and some description text for quick identifying later on."
Almost all the popular sites will take action quickly since such issues can risk their reputation.
Facebook, YouTube, and Adult websites are the main targets. Normally when you are under such situations you can consider the following actions too.
1. Contact the Uploader
The best and the decent way is to contact the person who uploaded it. You can explain the situation and you can do your best to get that video or picture removed. This is also the best option because you can ask the uploader from where he/she got the picture and you can the needful there too.
2. Use "Report Abuse" option
You can flag or report abuse. Almost all the sites have this option and you can specify what happened actually.
3. Contact the Administrator
This is also an effective way, you can contact the Administrator or webmaster of that website and tell him what happened. You can check the WhoIs, find the owner (who could also be the administrator) and inform him about the situation.
If not responding: You can threaten to sue the website for emotional damages.
4. File DMCA Complaint
You can officially try to remove your information from these sites, it might be difficult but not impossible. In theory, the pictures are copyrighted by you or your organization; therefore, you (or a lawyer) should be able to draft DMCA notices and forward them to the website owners, the search engines, and the web site's ISP.
5. Report Offensive Image (via Google)
If you can find your image on Google Images, then you can report the photo through Google. In the SafeSearch drop-down (near the search box), click Report Offensive Images. Click the Report button on the image you'd like to report.
They might not be able to take immediate action on the images you report, but it is worth to report.

If you know the URL of an offensive image you've found, you can submit that for a more immediate review by using the offensive content reporting tool (be sure to note the URL of the Google results page, not the URL of the image).
6. Remove Your Name From Google's Search Results
If an adult website contains your name then you can use Google to remove that.
You can try this link for removing your name from such sites using Google. Your address email will be forwarded to the appropriate team for further investigation.
7. Contact the Police (Cybercrime)
I should have mentioned this point before, but there are some issues with it. If you are an adult you can move this issue quite easily. But if you are a minor it'll be a difficult case because you need to bring an adult (your brother or trusted elder friend) along with you. Reporting these incidents to Cybercrime is the best option but you can also do the above-mentioned things side by.
Conclusion
I believe a majority of the people reading this post are adults and it doesn't matter even if a minor reads this post, things like this are bound to happen. Better be safe than sorry, don't fall prey for such lusted so-called lovers or boyfriends. If you are a minor then don't even think about having a sexual relationship under any circumstances. If you choose a wrong guy to hang out with, then your video or picture will be present on all those sites I mentioned above.
I won't end the post here, I have something for my gender too, there are thousands of good ways to take revenge if a girl you truly loved ditched you just-like-that. Maybe if I start a personal blog I'll write about it. 😉 I know how you guys might feel, but doing such things (like the ones mentioned above) ends your life in Jail. Before you take any silly action, just spend some 10-15 minutes to read the below articles too,
A 32-year-old Racine man was arrested Dec. 5 after he attempted to blackmail an Oak Creek woman with nude photos he received from her through a "personals" website.
Man in cop net for posting obscene photos
The Crime Branch on Tuesday arrested director of a financial management firm in Puri for allegedly uploading obscene pictures of a woman on a porn website.
Jilted lover creates fake Facebook account of woman, arrested
A man has been arrested on charges of creating a fake Facebook account and posting defamatory and obscene comments about a woman, who had rejected his love proposal, Andhra Pradesh police said on Friday.
Not just these, give a Google search and you'll find thousands of such cases. Think thrice before you do such silly things and think whether you want to end your life in prison just for your silly revenge like this? What are you going to do is "Cybercrime", which is something often done by Terrorists, wait you don't want to be compared with Terrorists right?
---
Join HellBound Bloggers (HBB) and get Instant Updates. We'll also notify you with Great Deals, Discounts and other Interesting Tips. We won't SPAM or SHARE your Email Address with anyone.
YOU CAN ALSO SEARCH FOR YOUR DESIRED TOPICS:
Thank you for reading! We welcome and appreciate your comments, but at the same time, make sure you are adding something valuable to this article. If you have any serious queries, suggestions or anything related to this article, feel free to share them, we really appreciate that.

But, if your blog comments are a random "Thank you", "Useful Post", or anything that doesn't actually upscale the article, then we'll be removing them and it won't be appeared below. Thanks for understanding and thanks for connecting with us. If you want to give us any feedback or report any errors, you can kindly contact us and we'll revert back soon.
Comments
Facebook Comments
Comments