It's very important for a blogger to display their social profiles with their reader so that the readers can easily follow them and get instant updates easily. Recent Google update of rel="author" and rel="me" tag confirms that your social rank and authority will improves your blog ranking in search engines. It's always tough for a blogger to show all of their social profile links and statistics in sidebar as it eat much space which can be utilized for many things productively.
Social media tabs is an awesome wordpress plugin that can handle different and multiple social media tabs in a slider fashion at the sidebar, it utilize the sidebar space effectively that allows you to place more links and banners which may be useful for your readers. At present it allows you to create only five tabs that includes Twitter, Facebook, RSS, YouTube and Google buzz.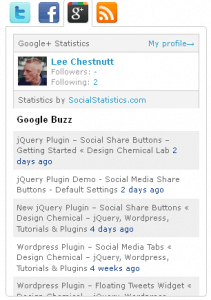 Configuration Settings –
Twitter Options – UN check the box if you do not wish your replies to be included in the list of tweets of your timeline.
Icons – If you don't like default social icons, there is an option that let you to choose any social media icon images from the web which matches you blog templates.
Google Plus Options – Tick mark the box to include statistics about your Google profile at the top of the tab. Statistics panel display your following and followers count which is powered by socialstatistics.com.
Slider Widget Settings
Static or float –  Two ways that you can show this widget in your blog, one is to display in your sidebar and another one will float at right or left of your blog.
Customize the slider tab – Wide range of options like width, height, offset, slide speed, auto close (open), etc., that makes this plugin more user friendly.
Add Social links and Ids – Enter your social media profile links and embedded code id to be displayed on your blog widgets and don't forget to mention number of results to be displayed, always choose same numbers for all profiles so it will be very nice to see.
Check out the demo and download the plugin.