Due to some reasons I was not able to publish this article last month. Regret for it. Happy that I got good response for W3 September 09. October was a fine month for me and for our blog. Got new friends, PR update and Sitelinks. I also got new doubts. Sharing some of them here. I wonder how this month will be, because I have my semester exams! 🙁
The What, Why And Whodunit is not link love. I love to ask questions. In this post, I'll display some of those questions with their answers. I'll also include good comments made on the articles in this blog. I want to share information I learned with my beloved readers.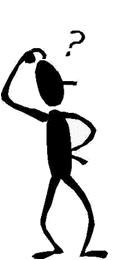 Q. The reason for switching from Blogger to Self-Hosted WordPress platform?
A. Amit Agarwal, Digital Inspiration : That's a simple one. Self-hosted WordPress Platform gives you complete control over lot of things while with Blogger, you only have control over the templates and not the data.
Q. Which is the gadget that you are looking forward to purchase next?
A. John Chow, John Chow : Recent Gadget – I just got the Magic Mouse from Apple. It's pretty cool actually. It is a mouse where the entire surface is like a trackpad.
Q. Which ranking system you prefer? Alexa, Pagerank or Technorati? Why?
A. Keith D'souza, Techie Buzz : I usually stay away from Rankings, Alexa is gamed. Consider this, a site which gets less than 100 thousand traffic per month is ranked less than 20K, and a site getting more than a million per month is ranked 15K. Pagerank is of two types, internal and external, so your external pagerank (the one shown in Google toolbar) will not influence your search engine rankings. I do trust Technorati to an extent, as their job is only tracking blogs and links to blogs, their authority system is much more transperant than the other two you suggested.
Q. In which blog you are interested to write guest article? Why?
A. Honey Singh, Honey Tech Blog : I don't have enough time but i'll suggest that we should write the guest articles on similar niche high authority blogs to drag wider buzz. I would like to write guest articles in labnol.org, make use of and for friends like himanshu (blogtechnika), harsh (shoutmeloud) and others. Human knowledge belongs to this world and Blogging is all about sharing and caring! More you share, more the other will care !