Most of the bloggers (Including me) starts a blog or website for earning money. Google Adsense is the Main stream of money for most bloggers. But now Google is too strict to approve an Adsense account. Most of the newbies are facing this issue. Some other people are banned for fraud clicks. These people are searching for a better Alternative for Adsense. We can find hundreds of Ad networks, Affiliates websites. But the income from these is not so good.
I have tried a lot PPC Sites; here I share my experience with you. Google Adsense is my Main stream for revenue. I would like to Recommend Infolinks and Chitika to the people searching a better Adsense alternative.
Infolinks

Infolinks, is a leading provider of In-Text Advertising services Established in 2007.
Advantages
To get an account is easy. They will approve your application after checking your details.
No need of Adspace, don't worry about to fit the Ads. Just copy the Two line Script in your blog.
We can Choose the Payment options (Paypal and Bank Wire) Its recommended to don't use bank Wire, Some bankers charging 25 $ for each transactions.

Customer Support – Their customer Support is great.

You will get the payment on time.

Can mange Multiple Blogs/Sites Easily.
Disadvantage
Minimum payout is $50.
Implementation
For Blog Spot users, go to Layout, add a gadget >HTML/JavaScript Add > paste and save.
For Self hosted WordPress Blogs/Websites Paste the ad code in any of your common page. (I am not sure about the any Plugins for WordPress).
Click Here to Register an Account in Infolinks
Though infolinks is an additional in content monetization option along with other PPC, some bloggers, such as Ajith of the DollarShower, believe that it makes money via misleading the visitors into clicking a regular anchor-like links. In a way, it's true as well.
---
Chitika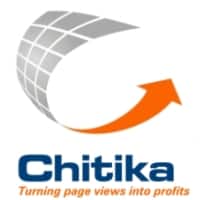 Chitika Founded in 2003, Chitika (pronounced CHIH-tih-ka), is a full-service on-line advertising network serving over 2 billion monthly impressions across more than 80,000 websites.
Advantages
You can use it with AdSense or as an AdSense alternative.
Getting approved is easier than Adsense.
No Worry about self Click (Chitika Invisible in Your system).
Payment Options are Paypal (Min $10) and Check ($50).
Click Here To Register An Account In Chitika