If you are running a company or working for any company you might have faced several problems regarding management and optimisation, and you might not have that potential to become productive. Now we are going to review a highly efficient enterprise management system called TeamWox. The best part is, it is implemented in the form of a cloud, thus making the storage stuffs more easier to access and making it unlimited. You can manage your tasks, documents, CRM, use IP telephony, etc.
You can also work in a local network or via the Internet. They also have advanced security system to protect your documents and files.
---
Key Features Of TeamWox
Below I have mentioned some of the key features of TeamWox.
Collaboration & Voice communication.
HRM, Team management & Payroll.
CRM, Service Desk & Online Assistant can be integrated into websites.
Working with tasks, docs, emails, chats, forum, media files, mind maps, and many more.
Ready-to-use solution and no additional software needed.
---
Features Explained
Human Resource Management (HRM)
This module contains all the relevant information about your company's employees. That includes personal details, address, contact details, and teamwork information. You can easily monitor your employee details and also the company's structure. It also helps to detect the duplication of functions in your teamwork.
Task Manager – Assigning Tasks
This module helps us to assign tasks to each and every employee. You can control the working functions of the team. You can also hold group discussions and solve problems quickly. The best part is you can find out which employee put his/her maximum effort into the job.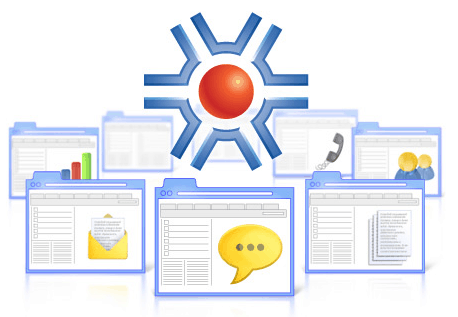 eMail Client – Easy way to communicate
TeamWox has elegant eMail client, which makes employees easy to communicate with. You can also set up filters that helps you to automatically sort emails. You can create any accounts and receive e-mails from several addresses at the same time.
Business Management Reports
Every company expects business reports after completing some projects or works. But now you don't have to put that effort on your employees, you can easily generate them using this. TeamWox's company management reports are automatic and perfect.
Their system of automated built-in company management reports allows you to control your business at a new level and you can also get productivity reports as well.
If you wish to try TeamWox, you can checkout the free-of-charge on-premises for up to 10 users or two-month Trial SaaS version.
Overall TeamWox is a great application if you wish to be productive, don't forget to check it out.