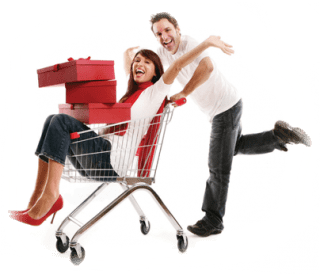 If you have ever purchased anything online; be it mobile phones, cameras, TVs or even incidental items like beauty products and spices, one thing you will notice is that they often come at cheap, even irresistible rates that no offline retailers can offer. The discounts received can be much greater when shopping from large stores like Myntra, Flipkart, Yebhi and Zovi.
Not forgetting that these sites usually allow buyers to use coupons, such as those from RetailMeNot, CouponCabin, Coupon Lava etc. to further cut down on their shopping costs. One of the best places to look for Flipkart, Yebhi, Myntra and Zovi coupons is from CouponLava.com. Moreover, for new buyers who have never shopped online, many of these online Indian stores will provide signup bonuses in the form of coupon vouchers sent to buyers via mail that immensely help to reduce the price of whatever you intend to purchase. A website like Myntra sometimes gives signup bonuses of up to Rs 1500 to new shoppers! Buyers also get to enjoy free shipping of ordered merchandise and thanks to the cash on delivery system that many Indian online stores are now adopting; you will only pay for the products once you have received them. What's more is there's always a 'No questions asked return policy' on purchases, hence if the items don't quite meet your expectations you can simply return them for a replacement or refund.
There are many reasons why online stores in India go to such extent to ensure customer satisfaction. The most prevalent reason is to help change the conservative mindset of Indians towards online shopping. A good number of Indians are still cynical about the whole idea of buying things online. Therefore online stores have to do a great deal of marketing and sales promotion to entice them to consider purchasing something over the internet. In addition, Indian online websites take into consideration the fact that many potential buyers may not necessarily have credit cards or debit cards for online purchases. This is essentially why online stores are opting for the Cash on Delivery system, to ensure no willing buyers are left out.
Competition is yet another reason why most Indian stores are doing all it takes to win the hearts of online shoppers. Many online Indian stores have been springing up in recent years and competition is getting stiffer as we speak. Consequently every online seller is looking for ways in which they can stay ahead of their competitors, remain in business and make a profit.
But with all these going on, one can't help wondering how are these online stores making money? Or rather, are they really making money? Well, the answer is a resounding 'YES' and given below are the reasons how.
How Online Stores Are Making Money?
1. To start with, you need to take into account that by operating online, these stores do away with the need to work with middlemen who often increase the overhead costs of offline retailers, making it easier for them to make profits. Starting an ecommerce business is much cheaper than building and running brick and mortar stores. Thus, due to the comparably little expenses incurred, online stores are able to lower their prices substantially.
2. Keep in mind that an online store has a larger 'geographical radius' than a physical store, which can only operate within their location. Due to the larger reach of online stores, they can lower their prices and still make profits because of the higher volume of purchases. But for offline retailers, they don't have the same level of sales that online stores have, hence are forced to increase their gross profit margin. So that even if they sell less volume, the profits made can still support the business.
3. Lastly, most Indian online stores use drop shipping suppliers. These are suppliers that hold and ship the stock to the online consumer directly. These suppliers relieve the need of large, expensive warehouses to keep the stock which is unavoidable for offline retailers. All these work to their advantage, enabling them to make profits even though they offer huge discounts.
Nonetheless, even when online Indian stores incur a loss caused by the huge discounts they offer their buyers; it still works for their benefit, as they win many loyal customers that the business can rely on for future success and growth.