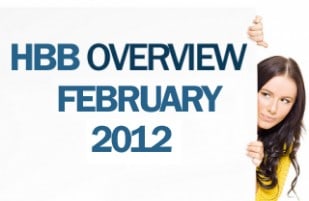 I made some changes in the Guest Blogging part of HBB, so I'll be filtering the guest posts submitted depending upon some criteria. You can check the Guest Authors Checklist for increasing the probability.
Guest Authors of HBB – February 2012
If you wish to write for us, HBB is always open for you. Below you can see some useful posts related to it.
Guest Blogging: So Why Should You Care?
You Blog. Should You Guest Blog?
5 Common Guest Blogging Practices You Should Know
5 Things To Follow To Be A Good Guest Blogger
You can make note of these useful posts and below you can see HBB's guest authors for this month.
#1 – Dean : Dean has written this article for Invesp a conversion rate and landing page optimization company. Invesp has successfully handled more than 200 conversion optimization projects and helps online businesses in improving their website visitor experience and increasing online sales.
Article : 18 Things You Can Do To Increase Blog Subscription Rate
---
#2 – Neel : Neel is a freelance writer. He is writing on various Technology and Social Media topics.
Article : 6 Top Twitter Mistakes You Should Not Make
---
#3 – Sumoni Gupta : Sumoni Gupta is a WordPress geek who loves blogging about Seo,Mobile,Make Money Online,Social Network..etc…and Blog at Home For Geeks.
Article : Top 5 Tips To Generate Leads On LinkedIn
---
#4 – David Rice : David Rice is based in the UK and works for a company that helps business leaders find the ideal office to let location.
Article : Using Twitter To Spread The Business Word
---
#5 – Romy Singh : Romy Singh is a good listener, prefer to listen more. You can catch him on his blogs Geekywriter and tutdiary.
Article(s) : Your Blog Readers Will Hate You For All This? and 6 Secrets Of Effortless And Effective Blog Post Writing
---
#6 – Alyssa Clarke : Alyssa Clarke is a blogger who also happens to be a tech freak. She is always on a look out for latest tech stuffs.
Article : 4 Tips To Maintain Optimal Blogging Frequency
---
#7 – Gautham A S : He is an 18 years old Football crazy Tech Blogger, who runs the Geeks & Nerds Tech Blog. A TrueBlue Chelsea Fan and has been Blogging for a while and started his new Geeks & Nerds Tech Blog on December 27 2011.
Article : 5 Reasons To Use Custom Domain For Your Blog
---
#8 – Jon T. Norwood : Jon T. Norwood is a managing partner at Bank Card Finder, a site that allows users to get accurate personal finance information as well as Low Interest Credit Cards across all available issuers.
Article : Top 3 Ways Blogs Can Fight Google Panda Update
---
#9 – Alicia A : Alicia is a web designer and developer. Loves WordPress themes and plugins. Passionate with designing and customizing premium WordPress themes.
Article : Explode Your Blog With Free Traffic From Facebook
---
#10 – Adarsh Thampy : Adarsh Thampy is an entrepreneur, passionate content marketer and blogs at the content marketing blog. You can also follow him on Twitter @conversionchamp
Article : Should I Start An Online Business?
---
#11 – Kim Willis : Kim Willis is a Brisbane SEO consultant and works with online businesses. When he's not writing for Brisbane Fences, he could be found writing about the advantages of using online strategies for home based businesses.
Article : 8 Ways To Effectively Build Your Personal Brand
---
If you wish to be a part of HBB, you can become a guest author by contributing Guest Posts. Do check 'Join HBB' and Guest Blogging Rules. Cheers.
---
Top Commentators of HBB – February 2012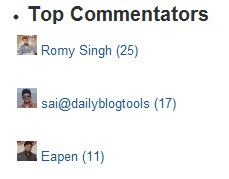 The Top Commentators of February are Romy Singh and Sai. Congrats for them, and I would like to thank other participants as well. 🙂
My best wishes and congratulations to them and for all who participated eagerly. Kudos.
Send your 125*125 banner asap (if you haven't) to this email id : pradeep [at] hellboundbloggers [dot] com
MUST READ :
1. Brand Your Comments To Drive Traffic To Your Blog
2. HellBound Bloggers – Comments Policy
3. Ad Slots For Top Commentators
If you are going to participate in this month's contest, then you can subscribe to HellBound Bloggers to get the articles as soon as possible.
CHECK THIS : Ways For Respecting Your Beloved Commentators
Why don't you participate right now by commenting here? 😉