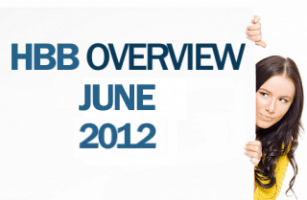 We are back with HBB Overview of June 2012 and I'm happy to see our guest authors writing more and more. Also don't forget to see our Guest Authors Checklist for more information.
Guest Authors of HBB – June 2012
If you wish to write for us, HBB is always open for you. Below you can see some useful posts related to it.
Guest Blogging: So Why Should You Care?
You Blog. Should You Guest Blog?
5 Common Guest Blogging Practices You Should Know
5 Things To Follow To Be A Good Guest Blogger
You can make note of these useful posts and below you can see HBB's guest authors for this month.
1. Steven: Steven is a passionate blogger that presently writes for a Mixbook review and code and Snapily promotional code site while occasionally publishing informative posts.
Article: Boost Your Personal and Social Life with Facebook
---
2. Debarshi: Debarshi Ghosh Dastidar is an Entrepreneur and a part time blogger from India. He is specialized in Content Management, Internet Marketing, SEO, web designing and many more.
Article: 7 Secrets for your next Internet Marketing Campaign
---
3. Ishan: Ishan is a freelance blog writer and WordPress developer.
Article: 50 Must Have iOS Apps for iPhone and iPad Users
---
4. Avi Jit: Avi Jit is the author & founder of SkyHiT BloG where he writes about SEO, Blogging, WordPress & Online Money Making.
Article: The Google Search Engine Ranking Factors That You Can't Just Ignore
---
5. Michael Evans: Michael Evans is an organic web strategist, content writer and passion blogger. Currently he is associated with Site2You.
Article(s): Over Optimization – A Fight Not Against Spam But Against Perception and Panda Cannot Read English, Please Stop Talking Rubbish
---
6. Charles Mburugu: Charles Mburugu is a professional content developer and an entrepreneur. He often writes about real estate, finance, business start-ups and internet marketing.
Article: 4 Simple Tips For Selling Stock Photos Wisely
---
7. Sachin Gupta: Sachin is a freelancer article writer and a blogger who interest in writing great articles for various niches. He has also previously written for various brands.
Article: Top 10 Link Building Methods You Should Know
---
8. Sidhant Chadha: A technology enthusiast turned blogger, he writes mainly about Apple products, Android tricks and tips, blogging issues, WordPress management, Search Engine Optimizations and much more.
Article(s): 5 Basic Things To Do After Setting Up A New Blog and When To Expect Organic Search Engine Traffic On A New Blog?
---
9. Namanyay Goel: Namanyay Goel is a freelance web and graphic designer. He blogs at Mos Le Tech, about SEO, Technology News, and Design.
Article: Do Your Part To Prevent Internet Censorship
---
10. Rahul Kuntala: Rahul Kuntala is a computer engineering graduate turned blogger, who writes about blog tips at LearnBlogTips.
Article: 3 Reasons Why I Hate the Term "Content Is King"
---
If you wish to be a part of HBB, you can become a guest author by contributing Guest Posts. Do check 'Join HBB' and Guest Blogging Rules. Cheers.
---
Top Commentators of HBB – June 2012
The Top Commentators of June 2012 are Sidhant Chadha and Avi Jit. Congrats for them, and I would like to thank other participants as well. 🙂
My best wishes and congratulations to them and for all who participated eagerly. Kudos.
Send your 125*125 banner asap (if you haven't) to this email id : pradeep [at] hellboundbloggers [dot] com
MUST READ :
1. Brand Your Comments To Drive Traffic To Your Blog
2. HellBound Bloggers – Comments Policy
3. Ad Slots For Top Commentators
If you are going to participate in this month's contest, then you can subscribe to HellBound Bloggers to get the articles as soon as possible.
CHECK THIS : Ways For Respecting Your Beloved Commentators
Why don't you participate right now by commenting here? 😉