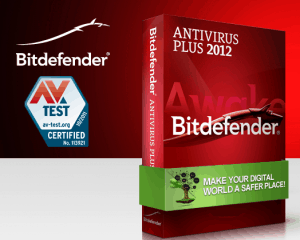 Romanian-based antivirus software company Bitdefender is probably one of the most famous antivirus developers in the world. Their products normally feature antivirus and antispyware, personal firewall, privacy control, user control and backup for corporate and home users. They also stop privacy threats by filtering the links received from your Facebook and Twitter friends. Now I'm going to review about their recent Antivirus product.
Bitdefender Antivirus Plus 2012 is what we are talking about. It provides essential silent security for your Windows-based computer against viruses, spyware and phishing attempts. Antivirus Plus 2012 also takes care of your social media profiles. It keeps your Twitter and Facebook profiles safe from any privacy threats.
The best thing I like about this Antivirus Plus 2012 is the "Autopilot" feature. It saves time and avoids hassles. What it does? It makes the best security decisions for you. This means no pop-ups, no alerts, nothing to configure.
The much improved Antivirus provides advance warning of risky websites, prevents ID thefts, and many more. Below you can see some of the new features introduced in Bitdefender Antivirus Plus 2012.
Essential Features of Antivirus Plus 2012
Unlike normal antivirus, Bitdefender antivirus products provide state of the art features to cope with trending aspects. Some of them are :
Personal Data Filter : This filter prevents critical data like your social security number, credit card details and other personal details from ever leaving your computer.
Chat Encryption : It provides encryption for your conversations to be private on Yahoo Messenger.
Scan Dispatcher : Triggers system scans when resource usage falls below a certain threshold.
Vulnerability Scanner : This scanner checks for any missing or outdated security software and potentially unsafe system settings.
Virtualized Browser : This browser isolates from the operating system in a Bitdefender-provided environment to block web-based threats.
Bitdefender is one of the best Antivirus Products I have ever encountered. It is one of the most trusted one in the world.