Looking for a perfect PDF Editor? Want to edit & merge PDFs easily? Check our Wondershare PDFelement review & see whether this is your ultimate solution.
Almost everyone knows PDF aka Portable Document Format. It is one of the best and popular file formats of all time. In fact, it has several advantages that other file formats do not have. While they are a good file format, managing them is quite challenging. For example, merging PDF files together, protecting PDF files, editing PDF files and so many other PDF tasks could be challenging. However, these issues have been solved with the emergence of Wondershare PDFelement with awesome features including the PDF OCR technology. Managing your PDF files with this great tool will never be the same again. Let us see what it has to offer.
Wondershare PDFelement Review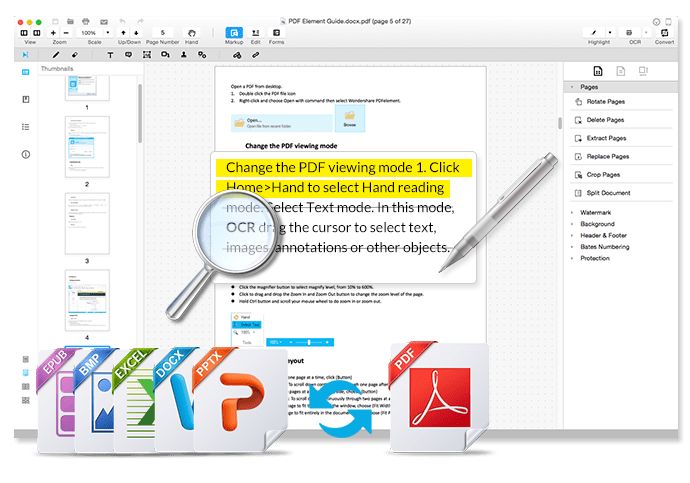 All in One PDF Editor
Do you have large PDF documents you want to split or edit? Do you want to merge multiple PDF documents into a single file? Do you convert to convert other formats to PDF files? Whatever you want to do with your PDF files, just note that Wondershare PDFelement is an all in one PDF editor capable of creating, editing, filling forms, conversion, signature application, etc. on PDF documents easily. With this tool, you do not need to have any other PDF editor to perform any type of task because all tasks are well covered.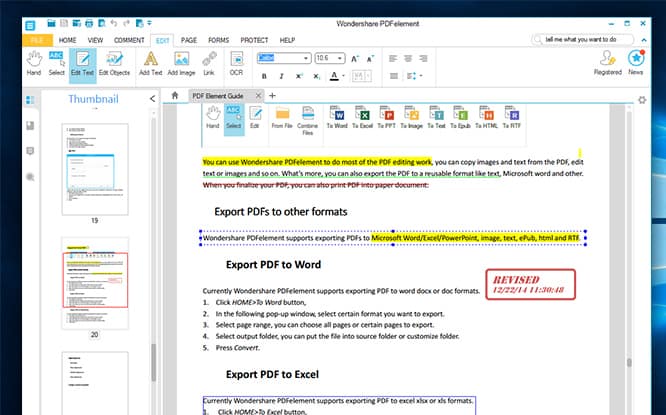 Can be Used in Place of Adobe
Is this software really an alternative for Adobe? The answer is YES. Adobe may be one of the most trusted and popular PDF editors, but the good thing is that Wondershare PDFelement has changed all that. You can conveniently use it in place of Adobe, accessing all the features of Adobe and even more with this tool. But that is not even the game changer, this tool with all the extra features is even cheaper than Adobe, therefore, be the Judge.
Comes with OCR Function
This is an aspect that makes a notable difference because the PDF OCR function allows you to convert scanned documents into an editable PDF. Not many other PDF editors possess this awesome function except few which comes at a high price. However, it is easy to use, and it retains the advantage of keeping the document appearance untouched.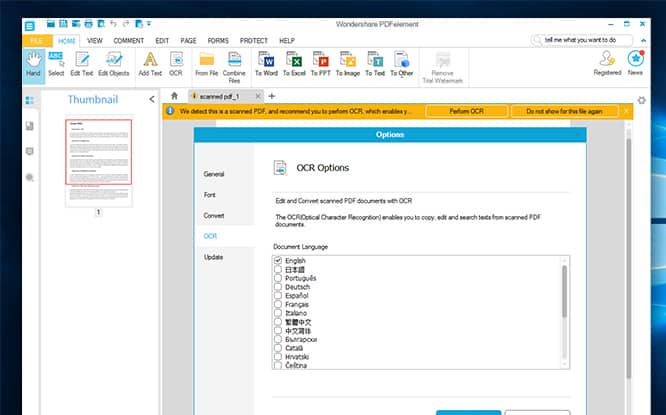 Interface is Easy to Use
Anybody who can use a mouse can use Wondershare PDFelement. It is as simple as that. Navigating through the software is as easy as it can be, showing required steps along the way. It has a simple drag and drop system making it even easier to use. However, there is still a provision of tutorials to guide you when needed.
Cost Effective Software
This tool will give you all you want to perform any PDF task without any input from other tools. That means you will not need to purchase any other PDF editor for support if you use the Wondershare PDFelement. It saves you a lot of money indeed.
Free Trial Before Purchase
This presents a real statement of confidence that Wondershare PDFelement quality cannot be faulted. You have the chance to try it first before committing your hard earned money but be rest assured that you will never regret it. Try it now.