IP Privacy is a privacy protection software that hides your IP address and prevents your browsing and internet activities over the Internet from being tracked by others websites or Internet Service Providers (ISP).
It provides secure online privacy protection by clearing all online traces and block invasive codes that can harm or use inadvertently information on your computer.
Uses anonymous proxies routing all your Internet traffic through them
You can browse anonymously, check mails, and participate in newsgroups, forums, using proxies form different countries at your choice.
You can interact with websites anonymously. Like using proxies that allow you to post messages in forums, vote and so on.
IP Privacy has embedded high premium quality proxies that never lets your internet connection down or slow.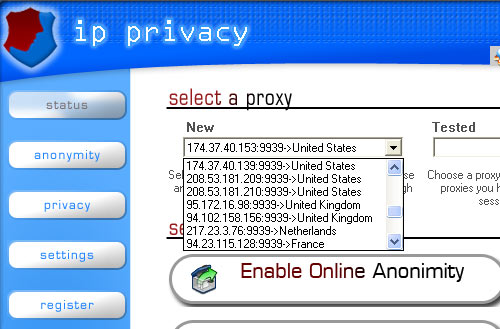 Provides secure online privacy by cleaning all online traces that harm your PC
Clears Temporary Internet Files
Clears Auto Complete Forms History
Clears Auto Complete Password History
Clears  Internet Favorites
Protects your computer from the action of invasive codes
Blocks ActiveX – ActiveX enables multimedia content like sound, Java applets and animations to be integrated in a Web page. But many of them contain malicious code such as viruses. Most sites will function properly with ActiveX controls disabled.
Blocks JavaScript – Javascript code may be used in harmful or illegal way like misusing information on your computer
This program erases stored items like the history, URLs, temporary Internet files, and cookies from Internet Explorer, Opera, Mozilla Firefox, Chrome, Avant, and Netscape Navigator.

Contest – Free 3 License Keys For IP Privacy 3.8 (worth 40$)
Simple and Sweet Rules :
1. Subscribe to our RSS feeds (2 Points)
2. Tweet this article (1 Point)
3. Post on Facebook wall (1 Point)
You need minimum two points to enter this contest and the 3 winners will be selected by random method by using this site http://www.random.org/. This ends on October 9th.
So it is not a big deal right?
And The Winners Are….
1. Amar Sharma
2. Sanjeev Mishra
3. Rohit Sane
Will mail you guys the license keys for IP Privacy 3.8.
The Runner Up is…
Kashish Kaushik from Tech Kashish