The new Twitter will start rolling out to a small percentage of users currently. Then it will be rolled out incrementally on a global basis over the next weeks.
"It makes it such a richer and faster experience," Williams said at a press conference to announce the new site.
Williams also said he hopes the redesign will help to better monetize the service. Below some of the features of the new Twitter is mentioned.
If you are not familiar with Twitter, try Twitter Definitions For Newbies.
---
A New Look For Twitter – Redesigned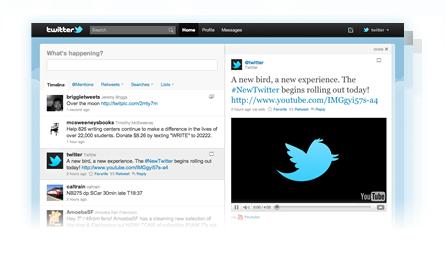 You can find @ mentions, retweets, searches, and lists above the timeline. You can see the features you are familiar with, like whom you recently followed and who recently followed you, favorites, and Trending Topics on the right.
---
See Embedded Photos And Videos Directly
You can easily view embedded photos and videos directly on Twitter. Thanks to partnerships with Dailybooth, DeviantArt, Etsy, Flickr, Justin.TV, Kickstarter, Kiva, Photozou, Plixi, Twitgoo, TwitPic, Twitvid, USTREAM, Vimeo, Yfrog, and YouTube.
---
Discover Related Content
Whenever you click a Tweet, you can see additional information related to the author or subject on the details pane. Depending on the Tweet's content, you may see: @ replies, other Tweets by that same user, a map of where a geotagged Tweet was sent from, and more.
---
Mini profiles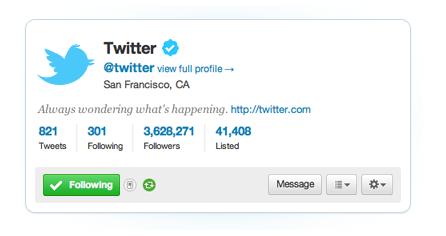 You can click a @ username to see a mini profile without navigating from the page. They provides quick access to account information, which includes bio and recent Tweets.
---
Twitter says everyone will have the updated version of Twitter.com.
Disclaimer : Images are taken from Twitter.
What do you think about then new features of Twitter? Will they make a change? Share your opinions below.