The title is quite apt right? If you are looking out for new advertisers then it is better to start looking for your competitors' advertisers. They are looking for the same piece of audience, so they'll be obviously interested in your site or business. To simplify this work we got an exclusive service called AdClarity. What this service actually does is simple, it reveals your competitors' advertisers and their campaigns, including their banner designs. You'll be analyzing this using a clean and easy-to-use interface. Using this tool you can understand how the online advertising and display media works. You can stay ahead of your competitors.
Key Features of AdClarity
Below I have mentioned some of the key features of AdClarity as Media Competitive Intelligence.
You can analyze your networks and advertisers. You can find their partners.
Get new advertisers by analyzing your competitors' advertisers.
Discover your advertisers' top clients and traffic sources.
You can save manual research time.
Get updates about current information about your competitors, advertisers, mediators, and chosen campaigns.
AdClarity can break down the advertising activities to geotargeted locations like US, UK, Germany, France, Spain, Italy, Netherlands, and more.
AdClarity – How To Sign Up?
You can sign up as a publisher in order to analyze. You can get a free trial account, it will last for 5 days. You'll get a confirmation mail from them with your login credentials. You can use this and log into your account.
To see how this works, we used the popular technology blog – Mashable.com. You can also use your desired website or blog for analyzing. You can even use your competitor's website name. These details are based on the publisher, location, and date range selections.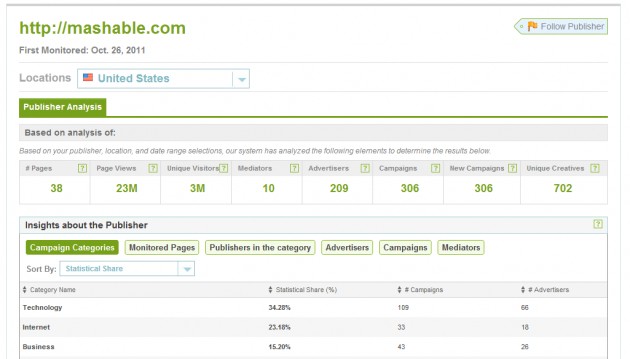 You can see the insights of the publishers with individual category name and statistical share. This section provides detailed analysis of the site, which also includes:
Breakdown of verticals of the display campaigns run on the site.
The site's most visited and popular pages.
Advertisers who display their offering on this site.
Existing Advertisers for this site.
Other similar websites in this category.
The best thing is, you can find out if your existing advertisers advertised with your competitor and explore their campaigns to improve your offering. Now how cool this is?
Overall AdClarity is a great Online Media Monitoring service you should try if you want to be ahead of your competitors.