As a blogger and an advertiser I'm always keen about finding a perfect platform to experiment both. MazeCore is such a platform to experiment, I found it quite useful for our advertising campaigns. It is actually a text based advertising network. The campaign setup is very easy and most of the things there are automatic.
This site will also be very useful for Bloggers who want to experiment different monetization method, and also considered as one of the best Google Adsense Alternatives. You can also signup using your Facebook or Twitter account, registration is free.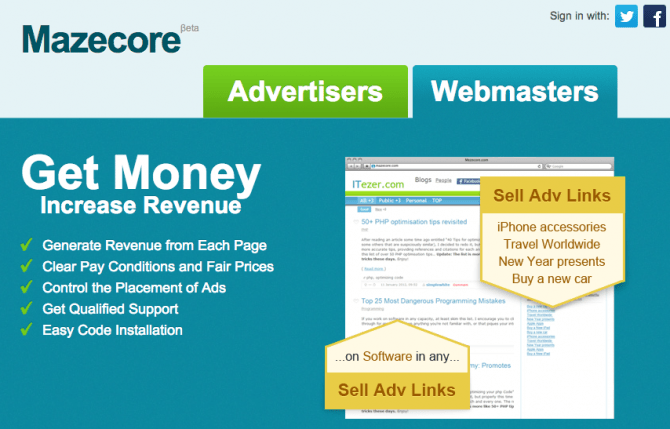 Being An Advertiser
As an Advertiser I always focus on SEO friendly ads and ads that don't disturb readers. By that you are optimizing your blog posts and helping your readers as well. It helps you to finds context related websites and advanced reports of sites rankings. Advertisements displayed by MazeCore will also be beneficial for Google SERP.
Key Features
Link will be online for 365 day with renewal option available. Advertiser can be sure that the link to his site will not disappear.
They identify the most relevant links, thus helps your online website promotion.
They monitor the quality of sites that host your advertising links.
Even with a minimum budget you can run campaigns with excellent results.
MazeCore automatically suggests keywords to advertise when you enter your website URL. You can also seek their help to decide which keywords to advertise and promote. They also provide you current position in Google and suggest you with landing page. You may choose your goal – TOP-10, TOP-5, 3 or 1 and you need to set maximum budget per month you are willing to spend per keyword.
You can also track positions for each keyword as well as Alexa rating. The best thing is, you can also connect your Google Analytics account to track traffic and promote.
Being a Publisher
We have so much of blogs, and we can't rely on Google Adsense all the time to monetize them, so sites like MazeCore comes to the rescue. They provide content related advertisements, and they are quick loading too. They provide good payouts per ads. You don't need to spend much time on configuring those ads on your blog, it is just a simple code installation. You can also contact the Support if you face any issues.
You can also install their plugin which they have for WordPress, Joomla and Drupal or use standalone script. It will make selling Ads automatic and help the mazecore with analysing website to better match with advertisers.