50 Must Have iOS Apps for iPhone and iPad Users
CONNECT WITH HBB ON SOCIAL MEDIA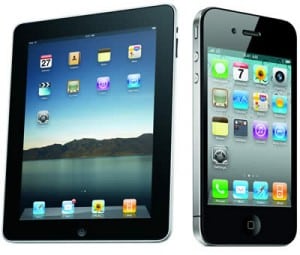 iPhone is a great phone. Hardware and software aside, what makes the phone great is the app ecosystem. There are lot of apps available in Apple App Store and you will surely find lot of apps that you'll like.
In this post, I have listed 50 apps that I have found after lot of searching and trying.
You should consider the best VPN for iPhone and it will handy while you check out all these apps.
Productivity
1. Clear
Clear is a different to do list app. I did not like it at first because it involved a big of getting used to.
The difference is that instead of normal buttons and text boxes, it uses gestures. Pull down to create new item, tap to edit, pinch to close a list and go to previous menu and so on.
It is simple and strips of everything unimportant.
2. iA Writer
iA Writer is for those of us who get distracted a lot.
It does not have any formatting and creates simple text files. Font used by app is simply beautiful and an extra row for buttons like period(.) and comma(,) etc. makes typing a breeze!
3. Occasions
Do you keep forgetting birthdays and anniversaries?
Me too!
So, I got Occasions. It will import all dates from your contacts and can do the same for Facebook and remind you in advance about the birthday. I have set the reminder to 2 days before the day so that I can get a good present. You can always change the setting though.
4. Cashvault
I'm bad with money.
I behave like a money magnet, though one with same polarity as money(in non-science language, I simply repel money, or make it fly away by spending too fast)
Cashvault is a little app that helps me easily keep track of my budget and accounts.
5. Day One
Day One is one of my top used apps. Simply put, this is a simple to use dairy app with Dropbox and iCloud integration.
Syncing to iCloud is headache free.
It does one thing and does it very well!
6. Commit
Commit is a small 600 KB app that helps you in making new habits. All you have to do is set a reminder once and it will keep track of your habit.
Just launch app and check if you have performed the action(s). As simple as that!
Reading & Learning
7. Pocket
Formerly known as Read It Later, Pocket is an awesome app if you like reading in free time. I am often busy and save articles to pocket.
When in Wi-Fi, it automatically downloads the saved articles for me and keeps them saved. It offers full screen reading which I like a lot. (You can download articles over mobile network too, there's a setting for that!)
8. Goodreads
Goodreads is a must have if you have loads of books.
It lets you scan the bar code on the back of book and add it to your list. You can keep track of the number of pages you have read.
Additionally, you can also discover new books and find how they are by reading their reviews.
9. iBooks
iBooks is no-brainer and a must have. Reading on small screen is not that good but when you need a quick reference, you can have it right there on iPhone.
It also handles PDFs well.
10. Kindle
If you have books on Kindle, this is the official app.
Although not so shiny and polished as iBooks, it works well.
It has additional functionality that lets you push documents to your deice by sending them to a unique kindle.com address(and thankfully, this 'unique' address is easy to remember)
11. Sounds: The Pronunciation App
A good app if you want to learn pronunciation. Supports both US and British English. You can see how symbols sound and also learn the correct pronunciation of words.
News
12. Pulse
Pulse is a app with innovative design. It lets you see news for different sources easily and makes navigating through them a breeze.
Just try it once and I'm sure you'll be hooked.
13. Flipboard
Flipboard too has innovative interface. It is more like a magazine though. Whereas Pulse shows lot of items on a single page, Flipboard first shows you categories and then shows 6 news items per board.
It is fun and nice but I prefer Pulse to it. Try it though, you may like it better.
14. feedly
feedly is a RSS reading service. I started using it after looking for good alternatives to Google Reader.
It works well on iPhone and has a nice interface. Though it may take some getting used to.
And yes, it integrates nicely with Google Reader.
Health
15. Mindfulness Meditation
Mindfulness Meditation is nothing but a wrapper of audio recordings for meditation. The recordings are of 5, 10, 15, 20, 30 minutes.
However, the quality is nice and it really helps. I have been trying to develop a habit of meditation for some time now and this app is helping a lot.
With it, the instructions for meditations reduce to:
Plug in your earphones
Meditate
16. Affirmation Works
I'm one of those people who believe in Law Of Attraction. Simply said, I believe that if I want something and repeat that I'll get it, my subconscious mind will get it for me.
Affirmation Works app lets you create messages for yourself and helps in repeating. Simple and beautiful.
Utilities & Lifestyle
17. Paper'd
I love having awesome wallpapers.
And Paper'd app delivers them.
For $1.99, you have access to 500+ awesome wallpapers(200 for free version).
However, the collection is really really awesome and if you have only $2 to spend, I'd ask to spend on this app. It is that great!
Nothing flashy(actually, it is!), just a normal app that lets you use iPhone flash as torch. Though beware of battery drain as the app can drain ~1% per minute.
19. Dropbox
Dropbox for iPhone. It lets you access your Dropbox from anywhere and download and store your favorite items. You can upload and delete items easily too.
20. WinZip
No idea why they call it WinZip and not something like iZip or iOSZip and why it can handle RAR files(not bad, but surprising!)
Simple and nice to use! 🙂
This nice little app from Apple helps you track your lost iPhone. You can see location and send a message, sound alarm and lock/wipe the phone easily.
Note: You can do same from iCloud.
22. Remote Mouse
If you have to give lots of presentations, this is one good app. It lets you control your computer using Wi-Fi.
You have to install a small client on desktop first though. After that, enjoy controlling your desktop with Remote Mouse.
Social
23. Google+
Google+ has a nice interface on app and you will surely like it. Must have if you use Google+.
24. Tweetdeck
Tweetdeck is a free and superb app if you want to update multiple profiles at once. I was using Facebook and Twitter apps before it but it is easier to update via this.
Entertainment
25. Discovr Apps
Helps you discover related apps in an easy way.
Nice if you are looking for apps that do same job. Most of the time, matching is good. On a glance, you can easily know if app is free and how much rating it has.
Go to app for finding information about a movie or TV show. You can also watch trailers and see other information.
Games
This is one category where you 'll find a lot of apps. I have spent quite a bit of time playing on my iPhone and have 61 gaming apps(counting ones on my hard disk, my Apple ID has more).
27. Angry Birds Space
I had gotten bored with Angry Birds and was sure that Rovio could not do much with the franchise anymore.
Angry Birds Space proved me wrong!
It is an excellent game and you'll surely spend a lot of time playing it. Space based puzzles are simply amazing!
28. Asphalt 6: Aderline
On first try(and even on second and third), Asphalt did not seem that good to me.
In fact, I uninstalled it twice and went back to Real Racing 2.
I tried it again after latest update and it looks brilliant now. Maybe nothing has changed and I just adopted to the controls but it is a lot of fun.
I remember playing Asphalt 2: Street Rules on my old phones. This game retains the enjoyable game play and adds 3D graphics and much more.
Overall, a must have.
29. Batman: Arkham City Lockdown
I am a big fan of Batman. I have watched both the movies and will surely be watching The Dark Knight Rises.
On gaming side, I have not played anything on PC till now.
On iPhone, this game rocks! I had same love it-hate it-love it-hate it-love it affair with this game as Asphalt.
In starting, the controls feel a bit less fluid than other similar games (Infinity Blade, Infinity Blade II). However, once you get used, the game is fun to play.
Only one complaint: It is very short.
30. Blueprint 3D
Blueprint 3D is a different kind of puzzle game. You have to play to see how simple and unique it is.
Hats off to developers for developing something unique life this.
31. EPOCH
I'm a big fan of strategy games and found EPOCH when I was looking for great strategy games.
It is not exactly strategy but good nonetheless.
Can be a bit difficult though, and gets boring towards end. I tried two or three times but was unable to defeat final(and only) boss. Also, game is leaned towards in game purchases and without them, it is difficult.
32. Fruit Ninja
Fruit Ninja is a must have for all iOS users.
It is addictive and fun to play. Never gets old. I have played it for a lot of time and have never gotten bored.
33. Grand Theft Auto 3
GTA 3 is a great port. I loved the game on my iPhone.
However, it is still a PC port and feels clunky at some places. I got frustrated in a mission where I had to use Sniper Rifle to protect a friend.
The bad controls made sure that I was never able to control it well and never finished the game. Uninstalled after that! Still enjoyable and best open world game on iOS.
34. Helsing's Fire
Helsing's Fire is a unique puzzle game based on light. Involves zombies and related monsters but still very different.
If you like puzzle games, do get it.
35. Infinity Blade I & II
There's a big reason that these games are flagship games for iOS. Want to know?
These games are awesome!
Simply put, these are best games I have played on my phone and can still play. Graphics are amazing and soundtrack is beautiful. And did I mention awesome and accurate touch controls.
Get Infinity Blade and Infinity Blade II right away.
36. Lostwinds
Lostwinds is a innovative and different game. The interface and controls are very different and work well. It is unlike anything you've ever seen.
37. Shake Spears
Get Shake Spears now!
It is a unique and addictive game. Me and my roommate really liked the title soundtrack of the game.
Apart from sound, the graphics are good and gameplay is also great.
38. Tom Clancy's H.A.W.X.
H.A.W.X. is a straight port but executed well. Gameloft did not do much but whatever cuts they made to the PC version, they only helped the game on iPhone.
It's fun to play and quite easy. However, it does not support multitasking as well and sometimes, you'll lose all the progress in a mission. And did I tell there's no saving once you start a mission. Either finish it or start again.
39. Twin Go
Twin Go is a small, cute and addictive puzzle game.
It's about reaching the end of levels. However, there's a catch as the twin blobs move at same time. Drop any one of these and game is over.
40. Where's My Water?
Again a unique puzzle game and one of my favorites.
You have to make sure that Swampy the alligator is able to bath by supplying water to him. There's lot of fun and gameplay in this one. Download Where's My Water?
41. Zombie Gunship
In Zombie Gunship, land is infected with zombies and you have to make sure that they do not reach the safe house.
You do so by shooting them from AC-100 gunship using different guns. Shoot three civilians, however, and game is over.
Photography & Video
These applications will make your 8MP camera more awesome. Don't trust me? Try yourself!
42. Camera+
Camera+ is a great app which adds more functionality to your camera. It lets you choose different modes for taking pictures including burst mode and adds more editing capability and effects.
Works well and offers more control than built in camera app.
As the name tells, this app will let you create comics from your photos.
It is quite simple to use and given some time, you can make quite good comics using it.
44. Gifmator
Want to create a small animation?
Gifmator lets you do that easily. Just shoot up to 20 pictures and it will create an animation out of them. Simple and fun.
45. Groupshot
It is very difficult to coordinate a group of people. In one picture, your aunt may have eyes closed, in another one, uncle may not be smiling properly!
What to do?
Use groupshot!
With this app, you can combine multiple group photographs to produce one awesome groupshot!
46. Instagram
A social network for photography buffs. It lets you add retro effects to your photos. Instagram now allows users to post videos that last up to 60 seconds. Using these apps, you can make a slideshow of your photos with ease and share it with your friends
You can then easily share them on Facebook, Twitter, Flickr and Instagram.
47. Photosynth
This one is a free app from Microsoft that will let you create 360 panoramas and share them.
Loads of effects for your photographs. Easy and step by step editing of your images ensures that they look awesome.
49. Private Photo Vault
If you want to keep your photos secure, Private Photo Vault is the way to go.
It allows import/export of multiple images and is small and fast.
App #50: You Will Tell Us
I have listed 49 apps of my choice. But app number 50 will be picked by you. Tell us which is your favorite app in comments.
Liked these apps? Do try these and leave a comment if you have any suggestion/feedback.
This article is written by Ishan. He is a Freelance Blog Writer and WordPress Developer.
---
Join HellBound Bloggers (HBB) and get Instant Updates. We'll also notify you with Great Deals, Discounts and other Interesting Tips. We won't SPAM or SHARE your Email Address with anyone.
YOU CAN ALSO SEARCH FOR YOUR DESIRED TOPICS:
Thank you for reading! We welcome and appreciate your comments, but at the same time, make sure you are adding something valuable to this article. If you have any serious queries, suggestions or anything related to this article, feel free to share them, we really appreciate that.

But, if your blog comments are a random "Thank you", "Useful Post", or anything that doesn't actually upscale the article, then we'll be removing them and it won't be appeared below. Thanks for understanding and thanks for connecting with us. If you want to give us any feedback or report any errors, you can kindly contact us and we'll revert back soon.
Comments
Facebook Comments
Comments