Initially when I saw this app's YouTube advertisement, I was kinda curious and thought about giving a try. I installed it and I loved its UI. Seconds after I used its search option I realised I just installed a life-saver app. It is popularly termed as "The Bapp of all Apps", why? We'll see that soon below.
Lets consider this scenario. You are outside with your girlfriend and you want to enjoy the day with her within a budget. What would you obviously do? Make a list of cheap hotels and have lunch/dinner there? That wouldn't make perfect sense. But thanks to AskMe App, the all-rounder app, you'll get updated with awesome deals on food outlets and shopping closer to you. This is just one of the features, it has more than enough features to save time and make your life productive.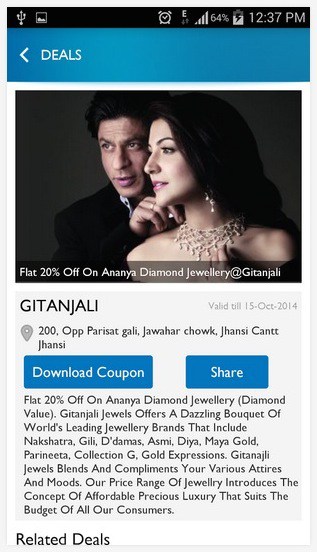 AskMe – Overview
Unlike other classifieds apps, AskMe can connect you with millions of businesses within your city and also provides you deals and tips. Reviews, ratings, photos, tips, deals, offers, discounts, etc., you can find everything here!
Key Features Of AskMe
Below we mentioned the key features of AskMe app, amazing features that'll help you to save a lot of time.
You can search for relevant businesses near your place.
Get updated with various deals and discounts from your favorite businesses.
Get access to various user reviews, photos and tips about them.
You can also create your own business listing.
You'll also have the option to share your favorite listing with your friends via SMS, Facebook, Twitter, etc.
Directly call from AskMe app from the listing if they have a phone number.
Business listing also includes rating, payment methods and other various miscellaneous features.
The best thing I loved about AskMe app is that you can directly call from the app. It saves a lot of time, I can simply click and call the required business. Another feature that grabbed my attention is that we can see deals on our favorite business listing and directly buy from there instantly. Yes, all this within the app itself. Interesting isn't it?
Personally I love user reviews, it helps you to understand something much better. With AskMe app you can read reviews from an active community of locals in your neighborhood and take informed decisions. So you'll you have a better idea about the business you are going to deal with later. You can interact with the community, clear your doubts and proceed with the listing.
In a nutshell, this is a MUST-HAVE app on your phone. Go ahead and install AskMe App, don't forget to share your views with us as comments below.