Email marketing is one of the most popular strategies to step into the arena of Internet Marketing. It can help you earn passive money. Irrespective of the size of your Business whether big or small, you must form a subscriber base with the help of email marketing.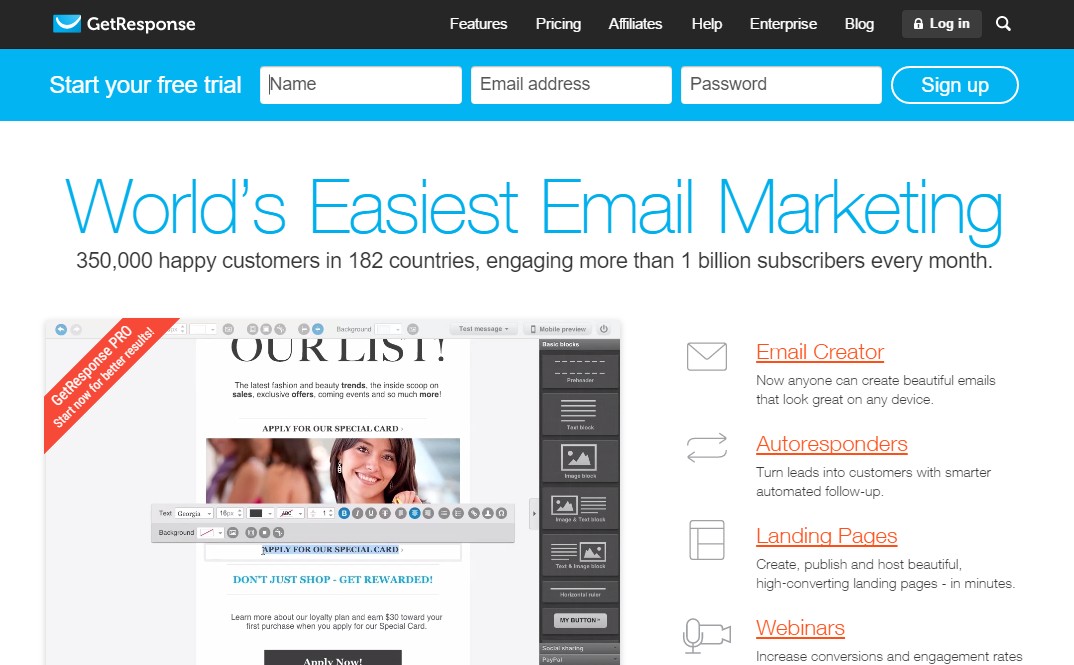 Although, it is not a simple task to select the most appropriate email marketing service, more so, as the market is flooded with many email marketing providers. With the help of this article, you shall be able to make a good choice! GetResponse is one of the best services when you compare its pricing with the multitude of features offered.
GetResponse Review
In the year 1999, Internet marketing entrepreneur and trailblazer, Simon Grabowski established Getresponse.com. More than 300,000 active users of the service are benefiting from its services since then.
Approximately, 8 billion emails are sent to the potential clients by the email-marketing firm in over 200 different countries to help the business grow and prosper. To help businesses manage leads and contacts, and convert them into potential buyers; the users much appreciate their newly built interface.
Let me discuss the awesome features of GetResponse:
Landing Page Creator
You can develop in simple three steps high converting landing pages.
Step 1 – You have the choice of selecting a template from more than 100 professional landing pages.
Step 2 – Easy to customize your landing page with the help of a strong drag and drop editor.
Step 3 – You can publish your landing page on your own domains, other free domains or your Facebook Fan Page.
Responsive Email Design
There are more than 500 email templates that are responsive in nature. You can select the one that appeals you and your business the most.
Email Creator
With the help of this awesome email creator, you can create unique and interesting emails using the new drag and drop editor that provides myriad editing options.
Email Intelligence
You are given access to the smartest, simplest and the most advanced analytics tool for your emails. With the help of this tool, you can maximize your ROI. For instance, you get to know the number of times, the emails drafted by you were shared on the various social media channels; also, you are aware of the exact time of the day when your subscribers are active and much more like these.
A/B Testing
To improvise the performance of your emails, you can test, analyze and modify them. You also get to know the mail which with subject line gets the most link click through rates, or gets opened the maximum number of times.
List Booster
You can import all your contacts from your external storage media like hard disk and from other mail clients as well like Yahoo, Gmail, and others. These contacts can be directed into campaigns drafted in a single click. The emails can be scheduled to suit your convenience.
Inbox Preview
Check your email structure and design in all the popular email services like Gmail, Hotmail, Yahoo, Outlook, Mail5.0, Opera and others in just a single click. This helps you to be sure that your emails and newsletters look perfectly on the screen of your subscribers irrespective of the media they chose to read your email or newsletters.
Webinars
GetResponse is the first service that offers the complete solution for webinar marketing. This inevitably increases the engagement and conversion rate. You have the option to engage your audience and interact with them through polls, whiteboards, chat, screen sharing and YouTube integration.
Form Builder
You can collect the information of new subscribers with the help of pre-coded forms that are embedded on your blog, Facebook Fan Page or website. With the aid of these forms, the new visitors on your site can sign-up to get information about your products and services.
With the help of GetResponse, you can create multitude lines of advertising that you cannot help but be totally impressed by the services. You can create jaw-dropping newsletters, attractive landing pages and other things that help you achieve all your short-term and long-term business goals.
---
Pros of GetResponse
When you compare GetResponse with its counterparts, you will find it cheaper with more services on offer.
The comprehensive and reporting split testing services are very powerful.
Once, you compose your response emails; it provides you to take a review of your emails and newsletters drafted on various version of smartphones. Thus, you can make sure that your emails and other literature sent to your subscribers look good before you press "submit" button.
Its landing page creator has very powerful features, but you need to subscribe to a higher plan to enjoy the full version of this facility.
For 30 days, you can enjoy the full services without spending even a single penny. The free trial is incredible! If you find the services solving your purpose, then why not buy a plan! After all, there is a price attached to all Good Things, isn't?
It provides comprehensive support round the clock through email and chat.
The mobile app of GetResponse works perfectly for both IOS (7.0+) and Android (2.4+).
---
Cons of GetResponse
Although the drag and drop interface is a powerful tool and aids in designing the emails, I found it to be on the fiddly side slightly.
The Templates for RSS-HTML E-Newsletters are limited in number.
There is no refund policy, no free plan or any hidden charges.
---
Plans & Payment
You get 30 days free trail in which you can add up to 250 subscribers, and you are not required to enter any credit card details.
After your trial period ends and you chose to pay for one whole year, you can save approximately 18%, and if you pay for two years in advance, you get saving of 30%. If you wish to want to enjoy the services of GetRepsonse for a longer time, then it is definitely a good deal. Apart from these, there are other four types of plans namely E-mail Plan, Pro Plan, Max plan and Enterprise Plan.
Undoubtedly, GetResponse is a leader in the market for the amazing features it offers as the email service provider at unbelievably affordable costs. Enroll in GetResponse email marketing service and take your business to a new level.