Regular backup procedure is a must-do thing for any blogger. Your blog is your life, it defined you. If something goes wrong it gives away a bad impression about you to your reader base. So it's better to have a backup as an extra measure to face a disaster.
What I used to do was create a backup in hosting control panel and save it in my hard drive periodically. But hard drives are highly unreliable. Any moment it could stop working. As a solution what I did was download the backup and put it in Dropbox. It was a good plan and now the backup is saved in two different locations.
But still I have to do it manually. Still human factor applies and system is unreliable. What I really needed was a way to automatically send a backup of my WordPress blog to Dropbox directly, in a given frequency. Here we go with the solution!
Getting Started With WordPress Backup to Dropbox
Login to your WordPress dashboard, go to Plugins -> add new.
Search for (WordPress Backup to Dropbox) plugin and install it.
It will add a new menu item to WordPress dashboard as shown below.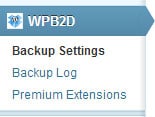 In the initial run you will get the below message asking to authorize it with Dropbox. Press continue.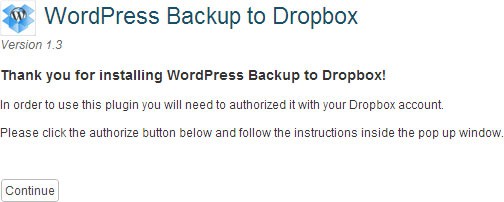 It will take you to Dropbox website and there you have to give the permission to use Dropbox by pressing allow.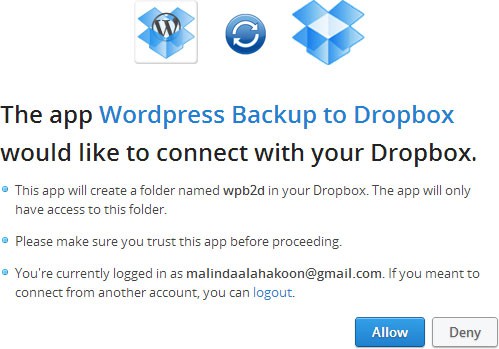 Now you are good to go. Go back to WPB2D -> backup settings. Now you will be able to see the actual control panel and options.
There, set the backup location, day/time, frequency and excluded folders as you need. Click on save changes once you are done.
That's it! You are done with the configuration. Now it will automatically backup your WordPress blog to your Dropbox in a given location, at a given time and frequency. It's totally automated. You can sit back and relax.
If you like to start backup process now, go to WPB2D -> Backup log and click on start backup. Right there you will be able to see the progress as well.
In the setting page you have options to unlink account, see next scheduled backup and clear history.
This is truly a complete and automated backup solution for your WordPress blog. In this case your blog will be stored in Dropbox servers and it will get synced in to your hard drive, at two different geographical locations.
Now you might ask the next big question. Backup of server folder is not really enough for full restore of a WordPress blog. You need database backup as well. Where is it?
Good question! And the good news is yes, this plugin is backing us your database as well. You can find it in wp-content -> Backups. It will create two SQL scripts for main database as well as plugin settings.
Final doubt is also solved. This is definitely a must-use plugin for every WordPress blog and whole solution comes totally FREE. Try this out and share your experience as a comment below.