Displaying related posts and pages is one of the great ways to help your visitors stay longer on your blog/site and it also helps your blog to have good page views.
In this article I'm going to mention 5 cool ways to show related articles on your WordPress blog.
Bloggers from Blogspot platform can try Link Within widget and Google Related Links.
If you know any other cool way for showing related posts please share it in the comment! 😉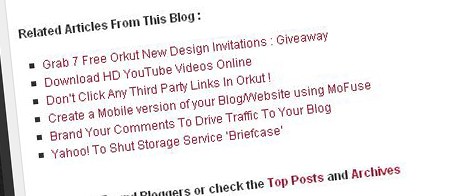 1. Yet Another Related Posts Plugin : Yet Another Related Posts Plugin (YARPP) gives you a list of posts and/or pages related to the current post. It gives your reader other relevant content on your site. YARPP uses an advanced and versatile algorithm. HellBound Bloggers is currently using YARRP.
To Show Thumbnails : Display Thumbnails For Related Posts in WordPress
2. WP Thumbie : Entire Wp-Thumbie Plugin is based on Contextual Related Post plugin. Wp-Thumbie is a WordPress Plugin to Display Thumbnail Related Posts on WordPress blog. The advantage of this plugin is that it allows us to do customization and it doesn't use any custom field to generate thumbnail images.
3. Link Within Widget : LinkWithin is a related posts widget that displays post with photo thumbnails indeed. Related posts in the sense we always heard about the posts related to each story in words. But this one shows that with pictures. Related Posts in this manner will let your pageviews increase, it will keep your readers engaged with your blog. This widget is free and ad-free. No Signup Required.
4. Without Plugins : This method is quite different because we are not going to use a plugin here. In this method, we will use tags and a custom code to show related posts. So we are replacing plugin with codes.
5. Google Related Links : Last but not least, Google Related Links is a tool to help webmasters increase page views on their sites. Related Links also suggests searches that users can run within your site to find even more related pages.
Unfortunately, currently only invited users can use Related Links. To apply for an invitation, you have to send an email to relatedlinks@google.com stating your Gmail address, website domains and approximate pageviews per day. However you can try the Demo to create sample related links for one of your web pages.
Tutorial To Configure : Use Google Related Links To Display Related Articles In Your Blog
So which one you are using currently? 😉