Want to watch thousands of free channels online? That too completely free and no ads? I can't say a better place than TVmad.
TVmad is a platform for socially active people who enjoy what the world of televison and broadcasting has to offer. They take watching TV to the next level. It works like any other P2P system — the more people watching the better and faster stream.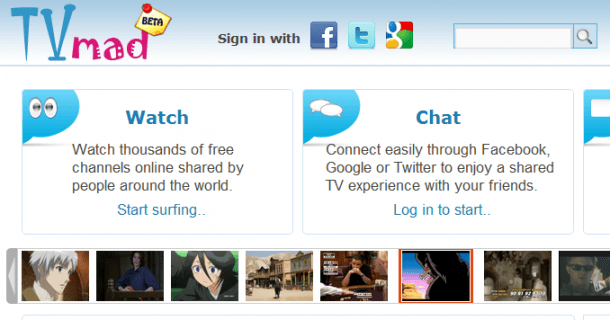 TVmad has something to offer for everyone. If you doubt it then feel free to browse their site and they guarantee that you'll find a channel that suits your interests best.
Their mission is to bring you together with people across the globe so you can have fun watching TV while chatting away and making new friends.
---
What You Can Do With TVmad?
Watch thousands of free channels online shared by people around the world.
Connect easily through Facebook, Google or Twitter to enjoy a shared TV experience with your friends.
Stream your videos, games & events. Launching your own TV channel has never been easier!
---
How To Broadcast?
Broadcasting in TVmad is quick and simple. Just 3 clicks to broadcast a channel.
You have two options to broadcast.
#1 – Simple broadcasting
#2 – Advanced broadcasting
If you want to broadcast using #1, then create a channel name and choose an appropriate category, that's all.
If you want to try #2, then choose from different sources: broadcast your webcam, stream a video file from your harddrive, share your desktop screen or an online url stream, embed a stream to your own website or stream from a TVcard or another device.