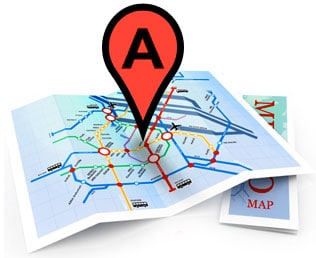 If you're looking to rank a website locally, you're going to find out that it's a lot different from trying to rank nationally or worldwide. Depending on the niche and geographical area you're trying to target, the competition can be fierce or slim to none. To help you understand how a local website can rank, let's take a look at five main factors that can shoot your website to the top, which impacts your local SEO efforts:
Factors Impacting Your Local SEO Efforts
1. A Physical Address
Your website has a better chance of showing up in the local results if you have a physical address somewhere on your webpage. Usually, most websites will either have a physical address on the footer or header of the website for the search engine to pick up. Also, when you add your website to a Google Plus page, you will be able to insert your address, which will show up in the results. This physical address is going to be easier for users to find your Local Business. For example, if someone were to search for a dentist in Miami, your physical address would assure that you show up in the results if you were a dentist in the Miami area.
2. Business Category
When you create a listing on Google, you will be asked from everything ranging from your address to the type of Business you own. While you may want to rush when filling out this data, it's extremely important that you pay close attention to the category section. According to multiple experts who deal with local SEO clients, many claimed that the proper business category is one of the main factors when it comes to ranking locally.
3. Citations
If you want to rank in a competitive space, creating a Google Plus page isn't going to be enough. Citations, which are directories that will list your website, are a great way to give your website some credibility and send traffic your way. Now, while you don't want to build as many citations as you can, you're going to want to focus on ones that are going to send you traffic and have a solid reputation online. Rather than building citations on your own, we would recommend that you outsource the task to SEO Builder. These firms or rather agencies will ensure that your business listing gets relevant traffic that will boost your credibility.   Aside from citations, it doesn't hurt to get links from other reputable websites in your industry. As Google cracks down on spam, you have to understand that building a quality link is more important than ever, so while it's tempting to build as many links as possible, it can actually do more harm than good if too many of your citations or links are deemed "low-quality."
4. Google Plus Page
Google Plus offers businesses a chance to create a free local page that displays your information, marketing material and allows your customers to interact with your business. The bonus of creating of one is that it gives your page an opportunity to show up in the search results since Google ranks Plus pages alongside the organic results. If you're serious about ranking locally, make sure your Plus page is always updated and filled with the correct information.
5. Domain Authority
In the world of SEO, it's going to be next to impossible to rank a newly built website. The strength of your website will also be a big part when determining its rank. This domain authority will be based upon the backlinks pointing at the website, the age and other hidden factors that Google looks at. Over time, as you build quality links and citations, your authority will go up. Ranking a local website can be done if the right steps are taken. By focusing on these five steps alone, you will already be steps ahead of most of your competitors. Since search engines are constantly changing, it's important that you stay on top of things to make sure your website continues to stay at the top when it finally starts ranking.