HellBound Bloggers (HBB) has been revamped with the popular Swift Theme. This is so far the best theme I have used and special thanks to the developer Satish Gandham for the wonderful design made according to HBB's needs. I hope you can experience a new feel and you can easily focus more on the content.
Why Revamped?
Almost one year back we redesigned our blog, we believed HBB needed a new and simple look to concentrate more on content. Our previous theme focussed more on Advertisements and Social Sharing, that's because we targeted those two things specifically earlier.
Few words from Satish Gandham regarding this theme revamp,
HBB was growing at a rapid pace, but the design was not perfect. Attention to detail was missing, as a designer it doesn't feel right to see the one of the top blogs in India with that design.

I explained Pradeep how the design could be improved and we started working on the redesign in the mid September. The aim was to preserve the overall feel of the site and fix the things that were not right. Today, here we are to present you the new design for HBB powered by Swift.
You can see some of the changes we made on our blog below.
Updated Sections on HBB
Social networking enabled comment system
We switched to Jetpack (from WordPress.com) to provide a social networking comment experience. Now readers can also comment via Facebook, Twitter and WordPress.com accounts.
Simple Navigation Menu
On our previous theme we had 3 navigation menus, but now we are using only one menu with dropdown. You can find all the popular topics on our blog there. That helps readers to find engaging topics quite easily.
Random Button
Sometimes readers feel quite bored when they visit blogs because they want to read something but not sure where to start (except the recent post, of course). So a "Random Post" button could be essential there. Just click the button and you'll be taken to a random post. Not satisfied? You can again click the button to read another one. On the sidebar also you can find the list of random posts.
Featured Boxes
On our previous theme we had 2 featured boxes for highlighting important posts or trending posts from categories. Now we added another one and made it 3 for extra exposure.
Popular Posts – Sidebar
If you want to read the recent popular posts on HBB, you can find them on the sidebar. If in case you missed quite trending posts, you can always find them on the sidebar.
Exclusive Search Box
We now focus on user experience on our site, so that readers and visitors can stay longer on our site. We kept a powerful search box on the header to help users to search for their required posts and resources.
Ad-free Layout
We reduced the locations for advertisements. We are thinking of a different way to monetize HBB apart from advertisements. So from now on you'll see less ads.
Responsive Web Design
Responsive Web Design provides an optimal viewing experience for readers. Our theme will support wide range of devices to make reading more comfortable.
---
About Swift Themes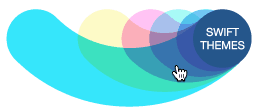 Like I said, using Swift Theme made us believe that we can take our blog to next level in terms of user experience and content providing. It is a fast and server friendly theme. The best part is you have full control over the design. Some other things you'll love:
Search Engine Optimized with HTML5 semantics.
Good Google Page Speed Score and Yahoo! YSlow Metric Grade.
Full control over design. Highly customizable.
Excellent support from the Developer.
So far HBB's overall loading and optimization performance are quite good, I'll write a detailed review about our change and experience next week. A feature I liked the most is the delayed loading of Gravatars. That means the Gravtars are loaded only after the entire page is loaded. What's the benefit? It won't slow down the page load if it can not connect to Gravatar.com, which usually is slow.
It wont interfere with the user experience (UX) as by the time user comes to comments, they will be loaded.
You can also check our previous review about Swift Theme.
People asked me why not Thesis or Genesis? I asked them back why not Swift Theme? It is a popular fast loading WordPress theme with Top notch Search Engine Optimization.
Your Opinions
We value your feedback. I'm sure this new look is far better than our previous one and you'll love it. But I could have missed something more essential you guys expected. Do share your views on comments below. Thank you. 🙂