Children can be quite notorious. As much as you love them, it can get nearly impossible to keep track of all their lies and omissions. This problem gets even worse as your children turn to moody teenagers, keeping secrets all the time.
As parents, it's our job to keep them safe. However, how can you keep them safe if they don't let you into their lives? For all you know, your child may be getting bullied at school, may be indulging in inappropriate behavior, mixing with the wrong crowd, taking drugs, the possibilities are endless.
It's the parent's job to keep track of their children and make sure they remain safe.
But how do you do that?
Children may not speak much to their parents, but they have a tendency to pour their hearts out over social media or friends. These days, one of the most favored social media outlets for kids is Snapchat. With this they can share short videos of their thoughts and activities to everyone in their list.
If you can access your child's Snapchat, you can access all their thoughts and feelings.
There are a lot of monitoring software for parents out there. However, in this article, I'll show you how to monitor your child's Snapchat using mSpy, one of the most reliable spy apps in the market.
How to monitor your child's Snapchat using mSpy
mSpy is an extremely effective and reliable spy app with which you can track your child's Snapchat. When you're doing something like spying on your child, you need to make sure you have the most reliable app in your corner.
mSpy is trusted by millions of users worldwide. In addition to that, it has also been endorsed by reputed outlets such as Lifewire, CNet, Forbes, etc, and as such it's completely trustworthy.
If you're still uncertain, you can also read mSpy app reviews to be assured of its quality and features.
There are two primary features in mSpy with which you can monitor your child's Snapchat:
Snapchat Monitoring: This is fairly direct. You get a feature with which you can access all of the child's Snapchat information directly. You can view all the files exchanged over Snapchat as well, along with a date stamp. In Snapchat, a particular 'snap' only remains for 10 seconds before being deleted, however mSpy can also recover those deleted snaps so you can see what has been shared previously as well.
Keylogging: This is a feature with which you find out all the keys being pressed by the target phone. As such, you can find out what your child's Snapchat password is. Once you know that, you can access their Snapchat account yourself and see what they're doing.
Below, I'll give you a detailed outline of how to go about purchasing mSpy, installing it, and how to spy on Snapchat with it.
How to Purchase mSpy? Which package to buy?
mSpy comes in three packages — Basic, Premium, and Bundle — for license periods of 1 month, 3 months, or 12 months.
Snapchat monitoring and Keylogging aren't available in the Basic package. As such, you should go for the Premium package. Furthermore, if you have more children, you can get the Bundle Kit to monitor as many as 3 Snapchats simultaneously.
The Premium package on a monthly license will cost you about $69.99, whereas the Bundle Kit will cost you $84.99.
Once you've selected the package you want and the license period, you simply need to make the payment through a secure online gateway.
How to Install mSpy?
1. After the payment has been processed, you'll receive 2 emails from mSpy. The first will be a simple Welcome email. The second will give you a link to your control panel along with your login details.
2. Enter your control panel. Now, you'll have two options, either to use the "No Jailbreak" version, or the "Jailbreak" version.
3. Monitoring Snapchat is only possible in the "Jailbreak" version so you need to select that. (mSpy is compatible with Jailbroken iOS versions 6 – 8.4 and 9 – 9.1).
4. Now, you'll receive a detailed guide on how to jailbreak the target phone and install mSpy into it.
5. You'll have to physically access the target phone for the next step. Follow the guide to jailbreak the device and install mSpy into it. If you can't handle it yourself, you can also call the customer support and have them walk you through it. The caller service will cost you $12.99. If you pay for mAssistance services, for $43.99, you can simply have the support team come over and jailbreak and install it for you.
6. After you've installed mSpy into the target phone make sure you hide the app icon so your child doesn't know they're being watched by you.
How to monitor Snapchat?
Now all you have to do is access your control panel again using your login details. In the control panel, you'll find options for monitoring Snapchat and for you Keylogging. Depending on how you want to go about it, you can select either of those options and monitor your child's Snapchat!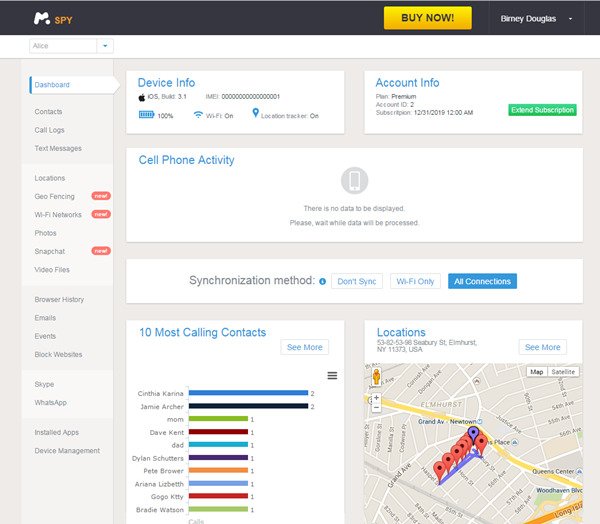 Once you follow these steps clearly, you'll be able to monitor your child's Snapchat from anywhere at all!