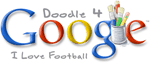 This is a competition where young people are invited to design the Google logo in their very own style and they call it as a doodle.
The winning doodle will be displayed internationally on the Google homepage for one day on 11th July 2010.
The winner's doodle will be featured on local Google homepage in June and the global winner's dooble will be featured on all Google homepages in July.
The national winner will automatically be entered in the global competition.
The entry deadline is 10th may 2010. No later than 9AM (local time).
Important : The doodle must not show any representation , logo or symbol of a specific country or a team or a sporting event such as: Football teams badges, country flags, football tournaments symbols or logos or mascot. (Such doodles will be disqualified to compete).
If you want more details check this Google Doodle page.
Updated! Age Group : Kids who are 4-17 years old can participate in this contest.