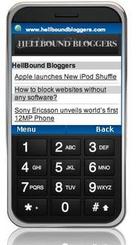 Some people think creating a mobile version of a website is difficult or very difficult, but it is indeed is very simple. There are many sites that lets you create a mobile version of your site/blog and MoFuse is one among them. There is no programming part involved in it. Within few seconds you can easily create a mobile based version of your beloved website or blog. You can also an iPhone version of your website or blog. You can also customize and get it personalize by the options in the dashboard. You can also promote your content and make money. You can build and measure your audience. 
Also Check : Make a Mobile Version of your Blog Through Google Reader
First go to MoFuse and register. That's all . Now all you have to do is to enter your Blog or website URL and your desired Mobile URL (Usually your blog/site URL). You can also add your RSS Feed URL to make your Mobile site updated easily. MoFuse provides you many options to edit the look of your Mobile site. You can change the color of the hyperlink and also insert a logo, if you have one. The logo size should be around 500KB only. You can check the mobile version of HellBound Bloggers for instance. 

There is also a good news for WordPress users. MoFuse has a WordPress plugin that will automatically detect a mobile visitor and it redirects them to your mobile site. This thing requires no hack or no changing in template, just install the plugin, activate and enter the url of your MoFuse mobile site URL. If you are using a MoFuse mobile site, then you should catch this plugin!

 
You can create a mobile version of your website or blog for free. But if you want to do it professionally means you have to spend little bucks from your wallet . 🙂