I was really happy with last month's result. Hope this month also gives the same. At the time of writing this post, HellBound Bloggers had 4400 comments.
The first Top Commentator of this year is SriGanesh from Animhut and the second Top Commentator is Rathnakumar from Infozblog.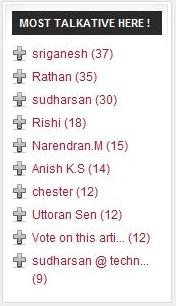 And I request the commentators to use the same Email ID and if possible same name! 😉
Note : SriGanesh was also one among the Top Commentators of December 2009.
Since all of them are very active in this community, they will be easily notified or else I'll contact them personally through email or social networks. Hope you are reading this article! 😛
MUST READ :
1. Brand Your Comments To Drive Traffic To Your Blog
2. HellBound Bloggers – Comments Policy
3. Ad Slots For Top Commentators
If you are going to participate in this month's contest, then you can subscribe to HellBound Bloggers to get the articles as soon as possible.
CHECK THIS : Ways For Respecting Your Beloved Commentators
Why don't you participate right now by commenting here? 😉