In order to stay ahead of the competition, one should not only focus on his/her own business but also spy or focus on their competitors. That way, you can see what makes him unique and what makes them your competitors. You are analyzing your competitors to see how they are performing and what tactics they are using to join the race with you.
Key Features of the new AdClarity Toolbar
We already know about the reputation of AdClarity and this new product from them is no exception.
The new AdClarity Toolbar includes enhanced features from AdClarity.
Get Advertising intel information about the websites you visit.
Get contact information for the decision-makers of most websites.
Get alerts that work for you by informing you of new advertising actions taken by your partners and competitors.
All of the great functionality of geosurfing, mobile device emulation, screenshots, and more.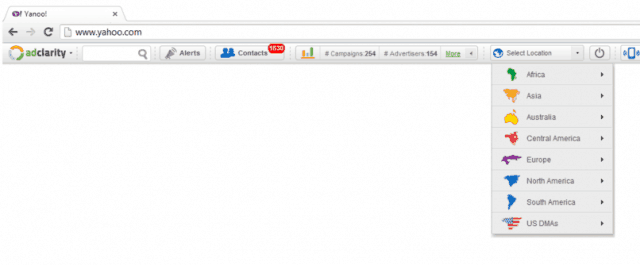 Apart from this you can also get instant alerts and notifications related to your business with the help of this toolbar. You can also take important screenshots of interested stuffs and share with your team. They also have mobile simulation by which you can also emulate many devices and models for a comprehensive experience of a mobile user.
How will AdClarity Toolbar help your business?
Contact Details: You can get instant notifications through email and phone about key personnel of a brand you are interested to partner with.
Geo-Surfing: You can browse the internet from 120+ geographical locations as if you were a local user and experience geo-targeted ads and content. It's like visiting a country and browsing from there.
Actionable Intelligence: You can explore the advertising eco-system of each website you visit. You can get comprehensive media intelligence reports from the AdClarity SaaS application.