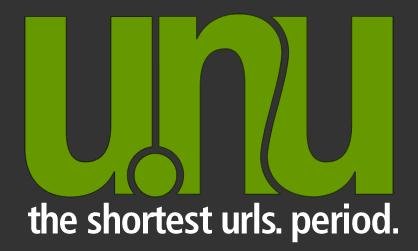 u.nu is the best URL shortener I ever seen. Up to my knowledge this is the only site that provides world's shortest URL.
Even though it works as ordinary URL short services. Using indeed is simple. Go to u.nu and enter your desired link there and you will see the shortest URL domain name you ever observed in any URL short services.
Using this cool URL short service we resized this post's URL into small size.
Original link : https://hellboundbloggers.com/2009/04/25/shortest-url-shortener-unu/
Short URL : http://u.nu/sda4d [Link Disabled]
The new URL is a whopping 54 characters (79%) shorter! They also provide you HTML and Forum code.
So why to use this Short URL Service instead of other URL services available?
u.nu is the shortest domain name available.
u.nu doesn't use look-alike characters, such as l, 1, I, 0, and O.
u.nu is not serious about cases, so you can easily read your URLs to someone over the phone or send them via SMS.
u.nu is a palindrome – if you are ignoring the dot.
Updated: Due to constant abuse, this service has been discontinued.
You can also try other famous URL Shorteners like Su.pr, McAf.ee, Goo.gl, etc.
HBB launched its own URL Shortener, but it will used only for our own resources.