40 PowerPoint Tips Every Marketer Needs To Know
CONNECT WITH HBB ON SOCIAL MEDIA
Does anyone know the reason why Powerpoint boomed ferociously in mid-2017?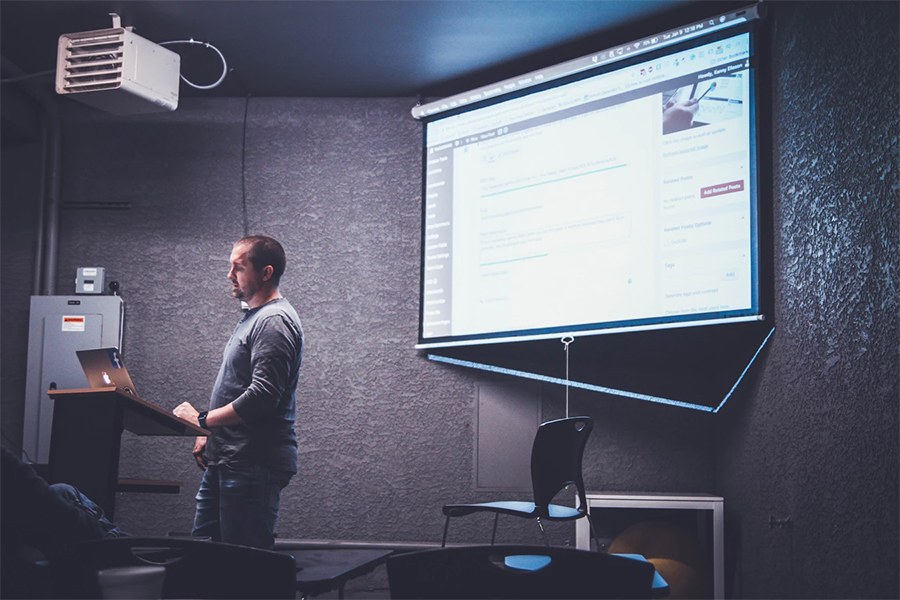 Did marketing crowd start making more presentations? Don't you think that all this fuss about PP presentations is a bubble that is about to pop?
Who else but Google can know if this is true, let's see what Google trends can show us.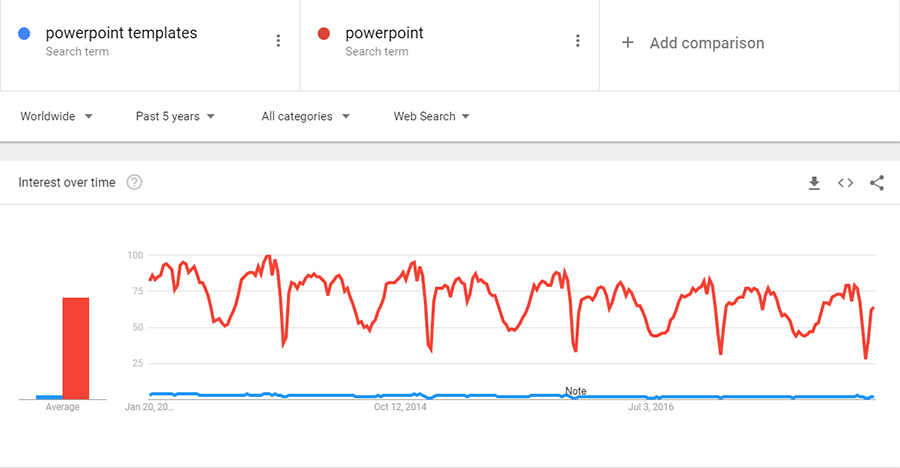 Over the period of the last 5 years, there doesn't seem to be any rapid popularity increase like this one.
Anyways, the Powerpoint fuss is all around us, and even those guys who have never used it before seem to be trying to ride the popularity wave.
In view of the fact that I mix in with the marketers' crowd who are making various presentations using the so popular Powerpoint, it turns out that 60% of those speakers aren't able to make a decent presentation.
10% out of those 60, make me feel like…
"Why didn't he google a tutorial or something?"
So this piece of writing is for you, my friends, who ride the Powerpoint popularity wave but can't make a decent presentation. And it feels like this is on a global scale.
In case you know someone fitting this profile, please share with them the link to this page, thank you.
Let's get to the juice.
The Signs of an Effective Presentation
Prepared to Win: Researched, planned, and prepared professionally so you can deliver the right message to your target audience effectively.
Designed Correctly: With points that are illustrated, and visually stand-out, without overwhelming your audience or unnecessarily complicating your message.
Practiced to Perfection: Rehearsed and timed so your points land as practiced with your live audience.
Delivered With Poise: Presented with a relaxed inner-calm and confident outward projection, while communicating warmth, excitement, and energy.
Free From Mistakes: Devoid of cheesy clipart, nonessential flashiness, miscues like reading directly from promoters, and other easy to avoid problems.
Now I would like to share with you 40 something tips on how to create a Powerpoint presentation, which I've learned the hard way.
Basic Presentation Tips
The first presentation I made publicly reminds of the way I learned to drive a car.
My first ride made me sweat so hard that after my first driving lesson instructor had to wait until the seat back dries out, later we laughed really hard remembering this case.
Here come the first tips, and let's begins with some basic don'ts.
1. Don't sweat
When you come to face the public all sweaty, as if you just ran a marathon, people will already hate you, because no one likes watching sweaty guys, even if your presentation rocks.
2. Don't read
Who wrote the speech for you? You, or someone else? It doesn't matter because if you're going to read from a sheet of paper you're about to make it extremely monotonous, and your listeners will start yawning 40 seconds after you read the first line.
3. Don't sit
The only man who can sit while making a presentation is Stephen Hawking. If it's not your name why are you sitting then?
5. Don't talk with your hands
If you are an Italian you can pass to the tip #6, everyone else holds still.
Let's start with an interesting fact. In her study behavioral researcher, Vanessa Van Edwards compared the most popular versus the least popular TED speakers in terms of their gesture use.
The results are quite surprising.
During the 18-minute talk, the least popular TED Talkers used an average of 272 hand gestures.
The most popular ones used around 465 hand gestures—that's almost twice as more!
This doesn't mean that you should dance hokey pokey in front of your listeners, just try to make gestures authentic.
Preparation of the Presentation 6. Make sure you're good at your subject
Now imagine this situation, you were made to prepare some presentation that is not your purview. You've asked someone good at your topic write a speech and make a presentation. But when you start it, it will be a complete failure because the first question from the audience will let them know that your knowledge of the subject equals zero.
7. Write the speech on your own
Who else but you knows your subject matters. Writing something can be really hard especially when you have a creative block that makes you want to do something like this.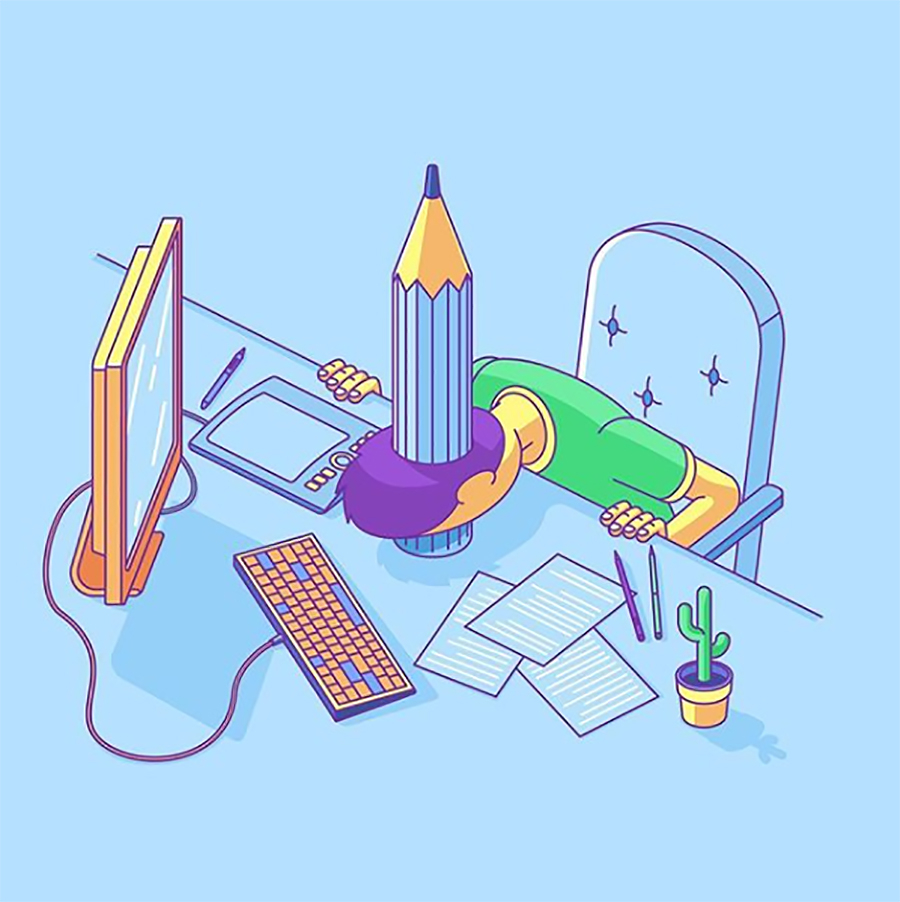 Illustration by @crispegram
They say "Writing a small text a day keeps the creative block away" even if you're not a copywriter but a marketer, developer, or anyone else you CAN and SHOULD write.
The writing process makes your brain work harder thus keeping it fit. When you have enough writing practice you can write the whole speech of your presentation in "one bite".
"Writing a small text a day keeps the creative block away."
8. Talk only about important things
Some people start their presentation describing the background which routes back to the Roman Empire… If it turns out that there's not much you've got to say, you'd better keep it short than talk about things non-related to your presentation.
9. Think about your audience
Who are the people you age going to make a presentation to? Make sure you understand who are these guys. Never talk about things not related to them, making them yawn from the first minutes of your speech is not a good thing, unless your presentation is about yawning.
Writing Your Speech
10. Making a research
No matter how good you're at some topic you MUST make a research. The research stage will not only help you write a decent speech but will also help you find additional information or facts that will make your presentation a lot more trustworthy.
11. Write a lead sentence
The lead sentence should:
Grab the attention of your listeners.
Establish the tone and the mood of your presentation.
Set the main idea and motion.
That's why never start a presentation like this:
– Hey! I'm Bill…and I'm an accountant..ehm…manager. And I'm gonna talk about…ehm…digits… (crickets chirping).
Next moment 75% of your listeners will take their phones out and will start scrolling their Instagram feeds.
12. Writing the first draft
Did your stomach just take a dive? No worries all we need right now is some groundwork, no perfection is required here. The first draft will serve as a foundation for your final speech, making a few revisions of your draft #1 is essential. Imagine you're trying to explain your subject to a friend while you were having a beer, or two, just start writing.
13. Don't forget that your presentation is a story and it means that…
…it should have a structure of a story, i.e. the plot and the setting.
Since everyone these days is crazy about storytelling you can start your presentation with a short (a very short) story that somehow relates to your subject, if you don't know stories, use someone else's. This is what storytelling is all about, you're supposed to tell stories even if they are not yours.
14. When reaching the end of the draft
Just like in any other story the end of your speech should be not just a summary of what you have said, but a resolution of the problems or issues you have depicted.
Designing Your Presentation
15. Clean VS Cluttered
For some reason, certain individuals think that adding lots of visuals to the slides of their presentation will make it look awesome. Probably they are thinking that audience will perceive it as a super researched, or a super important one. As a rule the effect is quite opposite, people hate cluttered slides, and what's more important they hate them!
16. Reduce the wording on your slides
Just like the one above, there should be no more than 20-25 words on every slide, otherwise, your presentation will look crammed and non-attractive.
17. Use lists
Don't forget to arrange your texts into sleek lists, they are perceived much easier than full-length sentences.
18. Choose the right font
Regarding the fonts, there's a thing you need to know about. There are several categories of fonts, most widely used ones are Serif and Sans Serif fonts. For presentation like yours, Serif Fonts are not recommended because all those tiny elements i.e. serifs can disappear or become too blurry due to the brightness and resolution of an image on a projection screen. So you can freely take a font like Gill Sans or PT Sans and use it for your presentation.
19. The choice of colors

Imagine your presentation is made with these color, how will your audience react to this palette? Their eyes will literally start bleeding. When you're choosing the colors you can either pick your corporate colors or stick to some nice palette that you can generate using a tool like colormind.io.
This color scheme generator provides you with unlimited color palettes, so you can literally click forever trying to find the one.
20. Choice of images
Another weak spot is the images, for some reason certain individuals choose cheezy clipart that looks like crap. Even though there's a huge number of website where one can get amazing free stock images for commercial use, some guys tend to choose awful stocks. Here's a short list of websites where you can get amazing photographs for free.
Pixabay
21. Don't overuse memes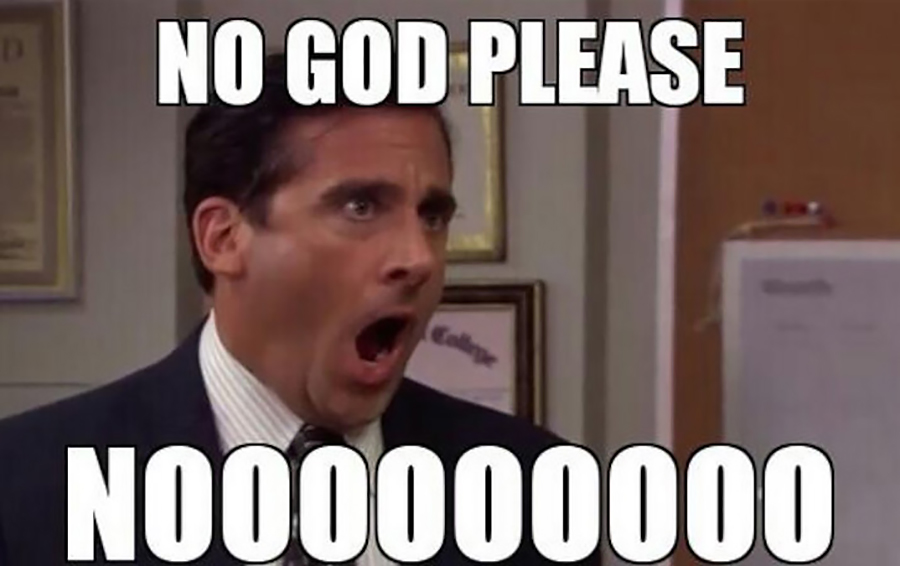 There's a lot of people who love memes, and the same number of those who hate them. Here you need to keep up to the middle ground and have no more than two memes for a whole number of slides.
22. Don't make them seasick
Those days when people were not fed up with CSS effects, the ones offered by Powerpoint seemed to be quite cool. But these days all those fade-ins, flips, fly-ins, wipes and so on, look really strange. Make sure your presentation is clean and doesn't have all those transitions.
23. Use charts, graphs, infographics
There's a number of scientifically backed reasons why we love graphics and visuals.
No matter what you say, if back it up with a chart you will sound more persuasive.
Charts are easier to recall than words.
Color visuals increase willingness to read and listen by 80%.
Apply the 10/20/30 rule of Powerpoint
Guy Kawasaki introduced his 10/20/30 rule of Powerpoint. The essence is quite simple 10 slides, 20 minutes, 30-point font. That's it.
25. Making sexy slides
In case you don't have a design background and you've never created visuals of any sort, you can steal like an artist. Feel free to visit places like Dribbble or Behance where you can get some ideas how to present information in a sexy manner.
26. Using the blank template
Still, you can opt for minimalism and stick to the blank Powerpoint document, but this promises nothing in terms if sexiness.
27. Opting for the premium theme
Along with blank document, there's a choice of premium Powerpoint templates you can use to arrange any information using a set of predefined slides. Here're few examples.
Pitch Deck template – 230 slides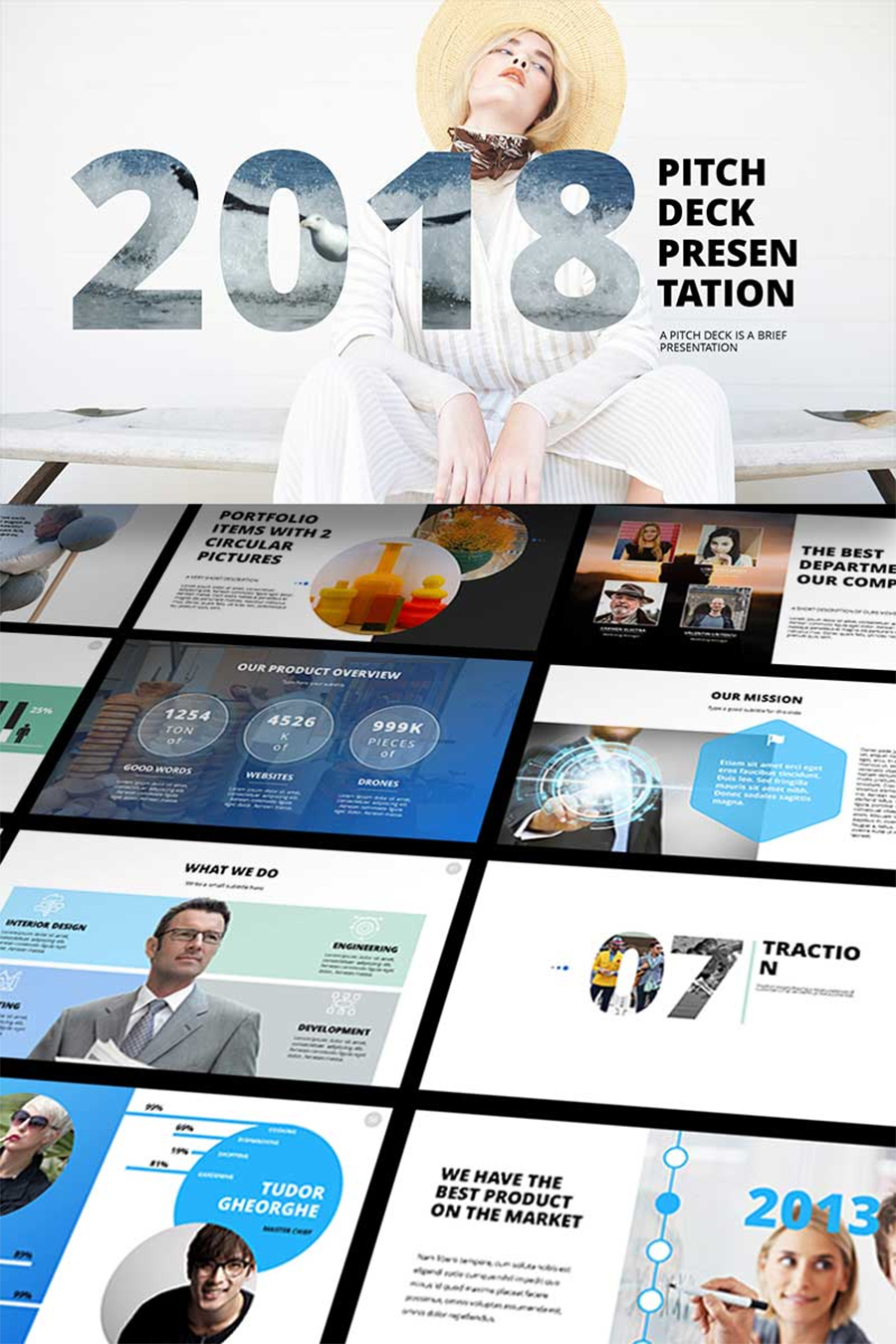 Business Plan Powerpoint presentation – 200 slides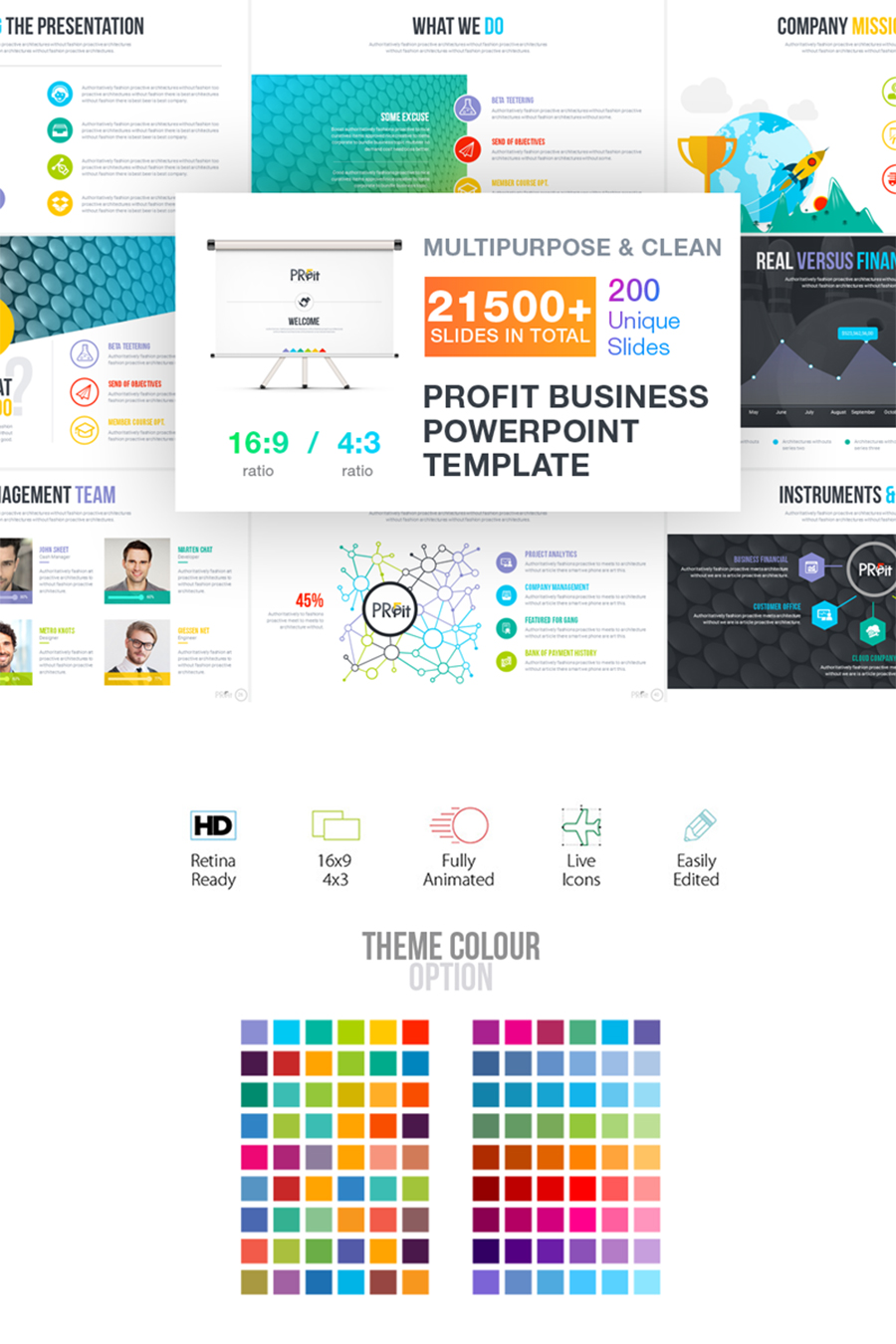 Business Infographic Powerpoint template – 5628 slide variations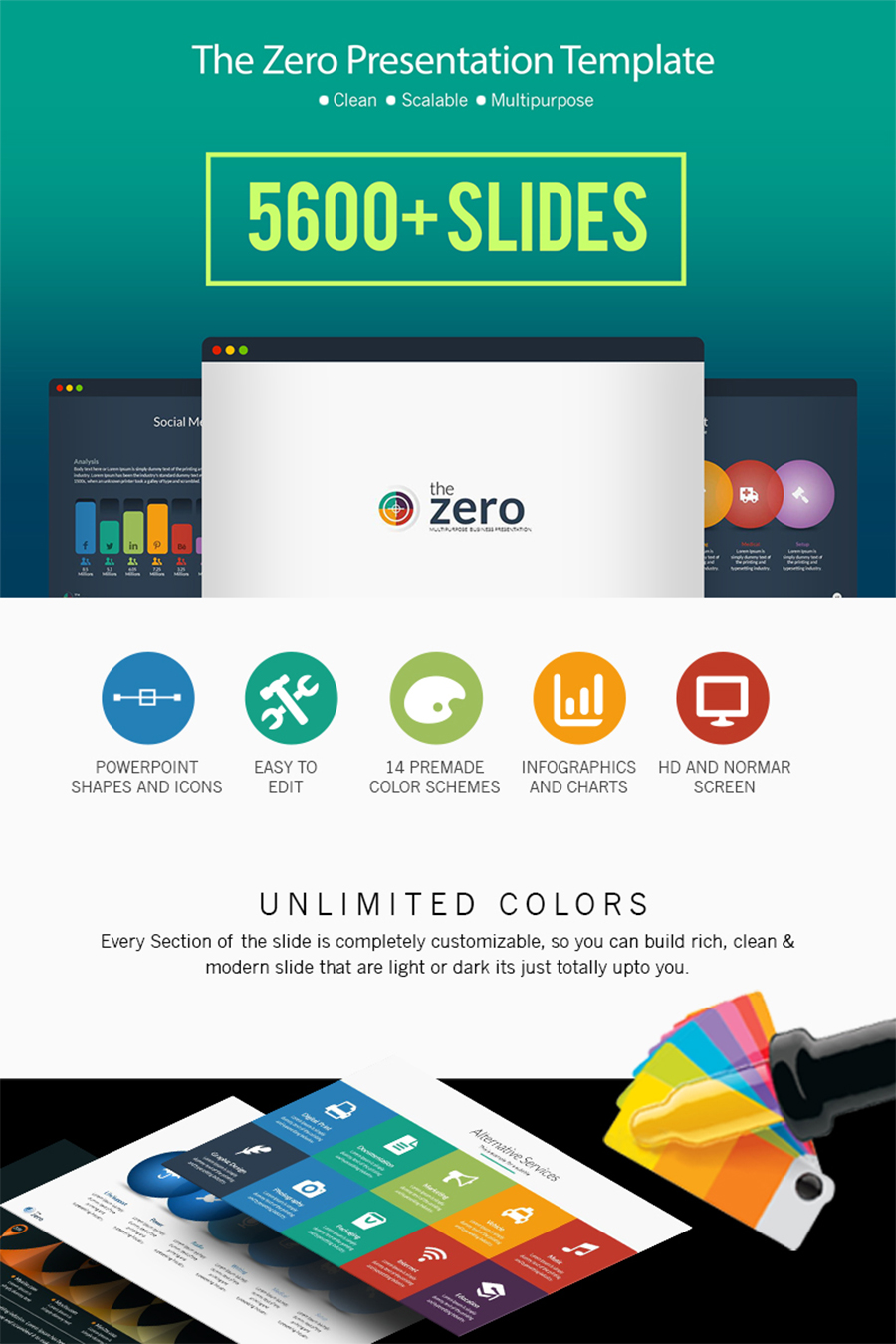 All these templates are in $20-23 price range, it's not a big cost for such a vast array of slides.
The Day Before the Presentation
28. The rehearsal
Even though you may consider yourself an awesome public speaker you need to rehearse your speech. I'm serious right now, or you need to read your speech aloud. This will help you to understand if it needs to be improved or it's good to go.
29. Speaking publicly "Take 1. Episode 1"
This is another thing that may seem funny to you, ask your wife to take the role of your audience and speak "publicly" to her.
30. Speaking publicly "Take 2. Episode 1"
Open your camera app on your smartphone and make a video recording of your speech. This is another thing that will help you improve your speech or presentation in general, a video may help you find any flaws in your acting or speech.
31. Keep an eye on your watch
Don't forget the rule 10/20/30, you have only 20 minutes for your presentation, otherwise, your listeners will get bored and will no longer perceive your information.
32. Make pauses while you're talking
Even though you have around 20 minutes for your speech this doesn't mean that you should talk really fast, keep to the middle pace and make logical pauses when needed.
33. Watch their reaction
Your listeners will definitely react to your speech, which is why you need to keep an eye on your audience watching their reactions.
34. Interact with your listeners
In case something goes wrong you need to have a backup plan, some sort of a game that can increase interaction between you and your listeners or a funny story that somehow relates to the topic of your speech.
35. Record yourself, just for lols
Ask someone to record your speech for your home video archive, later you can watch it and cry.
36. Choose focal points in the crowd
Just as in any other "crowd" among your audience there will be some strong personalities like your bosses or some other influential guys. Make sure that you focus your eyes on them, this will make them feel as if you're making this presentation for them.
Your Presentation Starts in 5 Minutes…
37. Don't panic
If you started panicking here's what you can do to stay calm:
Use deep breathing.
Recognize that you're panicking.
Close your eyes.
Find a focus object.
Use muscle relaxation techniques.
Picture your happy place.
38. Don't forget your notecards
3 minutes…
Where are your notecards?
39. Stop sweating like a pig!
2 minutes…
You're panicking again and getting all sweaty, repeat step #37.
40. Knock 'em dead!
30 seconds…
You're awesome, you're good at what you do. Go get 'em, tiger…
Over to You
Since I've been a speaker few times I know what it feels like making a presentation, this is why I tried to be as detailed as it's possible. I hope you enjoyed this piece. Don't forget to share it with your friends.
---
Join HellBound Bloggers (HBB) and get Instant Updates. We'll also notify you with Great Deals, Discounts and other Interesting Tips. We won't SPAM or SHARE your Email Address with anyone.
YOU CAN ALSO SEARCH FOR YOUR DESIRED TOPICS:
Thank you for reading! We welcome and appreciate your comments, but at the same time, make sure you are adding something valuable to this article. If you have any serious queries, suggestions or anything related to this article, feel free to share them, we really appreciate that.

But, if your blog comments are a random "Thank you", "Useful Post", or anything that doesn't actually upscale the article, then we'll be removing them and it won't be appeared below. Thanks for understanding and thanks for connecting with us. If you want to give us any feedback or report any errors, you can kindly contact us and we'll revert back soon.
Comments
Facebook Comments
Comments

Facebook Comments