We already have a lot of things to do to get our businesses out on a much better track, since trends change every now and then. Heck's is all the tactics that suck in a lot of time to provide you a perfect business website that hits the target right.
And that's why it is the right time for you to get hands-on experience with InkThemes. Yes, because you need to make your website more SEO friendly, fast loading, and at the same time you want useful features. And next, if you ever require to use any plugins, additional tools, etc., these themes would support that too and so well.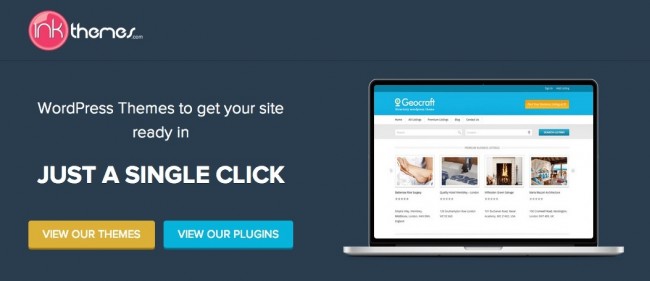 Likewise, there are many things to consider before we buy a template. InkThemes is recommended because of their overall score that comes out from their functionality, pricing, graphics, flexibility, customer support, etc.
InkThemes Review – Know about these gems of InkThemes
When Speed Matters A Lot
The hell lot of coding garbages are done away. Might be, InkThemes is having world class expert developers. This is realized when their themes work above the expectation in any condition, whatever is the device, whatever is the browser, InkThemes are very much compatible and always fast to load.
Certainly, this is the thing that gained a quite different identity in the field of website development for InkThemes.
Get your website built up fast too
Today, if someone wants to get his business website in any niche ready with just a few clicks, InkThemes is highly recommended.
There's already enough to worry about with running a business, content and marketing. So, even if you are an innocent non techie person, you never have to look for someone else to get things done. InkThemes has kept all the work already done for you. Things have been made such easy that you feel like playing with settings of facebook, twitter, etc.
All the themes at InkThemes are completely functional and have the standard WordPress Framework, which makes it extremely easy for the users to manage their website settings with comfort.
Customize Your Way
Now you can easily hate coding and all which you think is an utter waste of time. Everything is there in one theme options panel from where you can easily customize the front-end of your website.
'InkThemes' also provides a complete step by step documentation and even video tutorials to make things very clear.
Impressive Customer Support
Although it doesn't seem like guys there at their support desk would be having any work since their customers generally don't stuck with anything. I think that's how they are able to give such a quick response. They are really smart working people, and sure, will get your queries resolved within no time.
Cool Graphics and Features
InkThemes are generally of clean and professional design. Also, they have implemented wookmark effect and have sound theme appearance.
The themes come along with custom page designs and translation framework if needed. With InkThemes, you can build a Professional Website in minutes.
Trust Is Not A Question!
Today, InkThemes is considered as one of the best trusted theme companies. Their kind of approach is making them grow very fast. No wonder if you find many people talking about InkThemes in the near future.
They have grown and expanded to all corners of the globe and their work is being highly appreciated. Even by their competitors, who find it quite difficult to beat them on grounds of providing both user friendly and SEO friendly templates in at once.
Pricing
It costs you $59 a theme. You can grab all their themes for just $147, and you can grab their Themes + Plugin package for $247.
At present, InkThemes have some 44 business themes on various particular niches with all having completely different features as per the requirement of any particular niche.
InkThemes also provides some very useful plugins to cater your business needs. There are plugins for Appointment Booking, Lead Capturing, and many more other. You know the price is pretty less if you know how difficult it is today to get such kind of high quality performance products.
The Final Verdict:
Whether you are a blogger, a WordPress beginner or owning any small or large size business, InkThemes is certainly one of the best options available in the marketplace for you to choose. If you want to get free from worries of pros and cons of templates so that you may be able to plan strategies for your business to grow, then it is the right time to get hands on experience with InkThemes.