HP Slate is expected to be the main iPad killer and of course, it has all the specifications and background to be one. Since it is powered by both Microsoft and HP, it is going to be a killer for sure.
I spend yesterday night comparing the features of Apple iPad and HP Slate. I found HP Slate to be a great competitor for iPad.
The only thing that lacks in HP Slate is 5-Hour Battery Life (iPad provides 10 Hrs).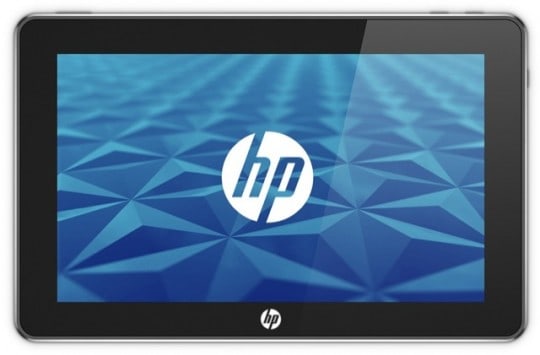 Below I mentioned some of the main specifications of HP Slate.
Operating Sytem : Microsoft Windows 7 Home Premium.
Processor : 1.6GHz Intel Atom Z530 CPU.
RAM : HP Slate provides non-upgradeable 1 GB RAM.
Touch-Screen : Has 8.9 inch, 1024 x 600 pixel capacitive multi-touch display.
Graphics : UMA Graphics with Full HD Media Accelerator. This will power the Slate for 1080p video playback. Believed to contain Broadcom Crystal HD chip.
Memory : 32GB or 64GB Flash.
Camera : VGA Front Facing Camera and 3 Megapixel Camera on backside.
Bluetooth, 3G, and GPS : SIM card slot for the optional 3G modem. Dock connector for power, audio, and HDMI out. It also has optional GPS.
Ports : USB 2.0 port, SD card slot, SIM card slot, headphone and microphone jacks, and a dock connector.
Wi-Fi : Wi-Fi 802.11b/g.
Battery life : HP Slate contains 2-cell battery and 5 Hour battery life.
Adapter : 25W/30W A.C Adapter for U.S and other Countries respectively.
Weight : 0.67 Kg.
So what's the price of this stunning iPad killer?
There are two versions, 32GB and 64GB. The starting model of this gadget with 32GB storage will be available for $549 and the price may increase according to additional features, says sources. So I guess 64GB model will be available for 599$.
When is it launching?
The HP Slate PC will be available later this 2010.
For iPad Freaks : 15+ Things The Apple iPad Lacks
So which one you prefer? Apple iPad or HP Slate? Please share it! 😉