Now we are going to review about a website which will help you to brand and monetize your links as well. Assetize allows you to brand and monetize your links on blogs, Twitter, Facebook, and LinkedIn. Each site you link to shows a web-based bar, with your brand and message above the destination page.
You can generate revenue for websites/blogs and make money quickly. They are currently having some users making more than $100 per month.
They help large publishers and individual tweeters monetize their content. They have also been providing monetization opportunities for application developers. There are two ways to share your link. You can either share them on your websites/blogs or Use a Bookmarklet (for sharing on Twitter, Facebook, comment boards, etc.).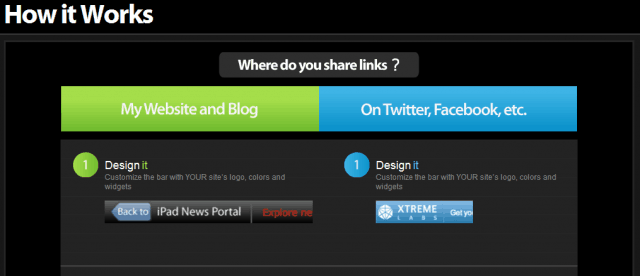 They have been featured in famous sites like TechCrunch, TheNextWeb, GigaOm and many more.
Retain Users :
Remind users of your brand when you link externally, and make it easy for them to return.
Increase Pageviews :
Encourage more pageviews by showing related articles from your site on the bar.
Make Money :
Choose to show sponsored messages on your bar to help increase revenue.
---
Referral System
Refer Your Friends and Earn 25% of What They Make!
Refer your friends to Assetize. Once anyone you directly refer starts earning money, you get 25% of their earnings as a bonus. There is no limit to how much you can earn.
You can include your referral link on your blogs, or share on Twitter/Facebook, so that others may use it.
---
Registration Process
Assetize provides you easy registration process. Users simply have to copy and paste the small snippet of code into their site's header. Each site or blog can have a unique bar that shows the logo and colors of the site.
#1 – Design it
Customize the bar with YOUR site's logo, colors and widgets.
#2 – Copy/ Paste
Copy and paste the code snippet from your My Accounts page into your site's header.
#3 – Done deal
All external links will now show YOUR bar above destination pages.
---
Have you tried Assetize? Do you know any other similar site? Please share it in the comments!