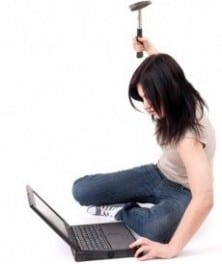 Well guys I am sure you must have opened this post after seeing the title as that is bit different, lol. So here I am after a bit of gap in HellBound Bloggers (HBB), one of the best blogging sites in India.
I am sure you could have read so many stuffs in famous blogs like HBB, techperk, SML and many more about the ways to keep your visitors stick to the Blog.
So now let us try something different i.e. let us try the upside down. I am going to teach some simple but easy ways to irritate your visitors easily. If you want to drive your visitors out of your Blog's window then do not do all these listed or else try this and get tons and tons of 0 visitor daily, lol.
Earlier we shared an article about 5 simple things to make your blog Addictive and today we are going to see an upside down article. So let us start the ways now. Below I mentioned 6 quick and simple ways to irritate your blog visitors and also lovable readers!
Continue reading 6 Quick & Simple Ways To Irritate Your Blog Visitors