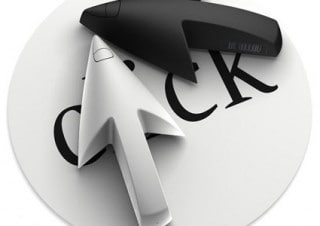 What is the most crucial stage of any Email Marketing Campaign? Drafting the perfect email? Avoiding being delivered into the spam folder? Getting your recipients to open the email?
Actually, all these are equally important. For without one part, you probably won't be able to get to the next stage. All these effort will come to naught if your recipients won't click on your links.
But I'm sure you are aware that most good email marketing tools like Aweber and Mail Chimp have features to improve your email marketing result like ensuring a higher percentage of your emails go into Inboxes, rather than spam folders. There are however, certain actions you can take to further increase your chances for a higher click-through rate (CTR).
8 Tips to Increase Your Email Click-Through Rate
Tip #1: Come Clean
What this means is to draft an email that is clean and easy to read. Let's face it, we don't read emails word by word. We speed read through documents, books and emails.
So how do you get your message through? By making your links obvious and reducing distractions. Your readers should be able to navigate your emails to your links easily.
Tip #2: Email Segmentation
It does take a fair bit of your time to divide your email list into segments eg based on demographics, locations or even based on their actions towards your previous emails. But it is worth the effort. By segmenting your list, you are able to target the right audiences and have a higher chance of click-through and conversion.
Tip #3: Personalize Your Emails
We are not just talking about identifying them by their names. By taking into considerations details like their purchase history and previous remarks can turn an email into a personalized letter. And not to mention, friendlier and more genuine.
At the same time, you can also personalize the email by relating better to the different segments. For example, using more feminine words when sending email to female recipients.
Tip #4: Offer Previews
Since most email marketing tools allow you to send unlimited emails, you might as well take advantage of this by sending your readers an offer preview prior to the actual email containing the offer. Put enough information in the offer preview to arouse the curiosity of your readers that when the actual offer email arrives, they have anticipated it and are eagerly waiting to read all about it.
Tip #5: Place Your Call to Action Above the Fold
"The Fold" means the part of the email that appears to your readers first in the preview pane without them scrolling down. These few seconds of reading is where the first impression is acquired and where the decision to continue reading or not is made.
So it does make sense to add your call to action above the fold, regardless of whether you have an image or text here.
Tip #6: Make It Hard For Readers Not to Click
There are a few ways to do this. Make your offer so tempting that majority of your readers WANT to click on the links. Or you could make them so curious that the only way to satisfy their curiosity is to visit your website. This could be risky but if you could word your email in such a way, you should be able to get them clicking through. Emotional marketing works!
Tip #7: Make Your Recipients Realize How Great The Offer Is
Try not to hard sell. It would be more effective if you can make your readers realize what they would miss out if they don't click or how it would affect them if they buy your product.
So instead of saying "Buy one today!", you can say something like "Just imagine how it can change your life for the better if you had one!" Even if they don't need one, they may know someone else who does and share your email with that someone.
Tip #8: A Sense of Urgency
What you do not want is for your recipients to say "That looks interesting but no hurry, I'll check it out later." The thing is that most of the time, "later" never comes. You want them to click on the link then and there.
So give them a sense of urgency. Perhaps limited number of coupons or time. But it has to be real. For example, don't say things like "limited number of downloads!" Instead, you can write something like "the offer is valid for 2 weeks from the date of this email" or "the offer is limited to 200 readers, on a first come first serve basis."
The main purpose of your email marketing campaign is to convert non-customers into your customers. In order for this to succeed, you need your email targets to click-through. The higher the number of click-through you get, the higher your ROI is for each email marketing campaign.
Choosing a reliable email marketing tool is important but don't just let the tool do all the work. Put the above tips into practice and I'm sure you would see some improvement on the click-throughs!
RELATED: 3 Simple Tips To Boost Local Business Email Subscriptions