Recently there have been an increase in Android users. Most people have forgotten about another operating system named "Symbain". This operating system is basically used in Nokia phones. I myself own a symbain based phone.Like androids symbian also supports many cool apps which are fun to use.
In this article I will show you how you can convert your symbian phone into a HD webcam through a simple application named "EpocCam Pro".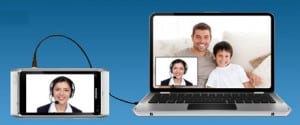 Market Description
EpocCam Pro transforms your phone into High Definition webcam. Experience the best quality HD video. Compatible with Skype, MSN Live Messenger, YouTube and many other applications. Always carry webcam with you while traveling. Save money and environment. Requires PC running Microsoft Windows XP or newer (Support 64-Bit OS). Note: Connect your phone to PC/Laptop in Ovi Suite Mode.
Supported Resolution:
*320×240 *352×288 *640×480 *720×480
*720×576 *HD720p
Transform your phone into High Definition webcam compatible with Skype, Windows Live Messenger, YouTube and many other applications
Requirments:
1. symbian phone
2. PC/laptop
3. Data cable to connect
You can download epoccam pro from the following link =>http://www.umnet.com/downloads/download-wait.aspx?StyleId=softwareQ16860,
just register  to download
It includes 2 files
1.kinoni epocam prov1.01.sis
2.epoccam windows installer
How to use
First copy the .sis file into your phone.Now install the epoccam windows viewer by using the epoccam windows installer file.Now all u have to do is connect your phone to your Laptop/Pc through a data cable.Connect your phone in ovi suite mode.After that run the epoccam app in your phone.After that u can view yourself in the epoccam windows vierwer that u installed previously on ur computer,and adjust the view of the camera as per your want.After that u can video chat easily and comfortably without any problems.I have been using this app since a long time and it's quite fun to use.
Please let me know through ur comments about ur experince through this cool app,and my shortcomings as this is my first article. Thanks.
This article is written by Abhishek Dobhal. He is a Staff member of asianhackers.com. doing comp.sc. engg. from World institute of technology. If you wish to write for us, kindly check this.