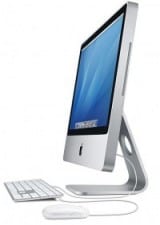 Blogging has taken the Internet by storm, and Mac users have always been a part of it. Now many bloggers are interested in monetizing their blog, either to make a little extra income or a full-time living.
The concept of making money through blogging has become so popular that has gotten its own term: Problogging. As the concept continues to grow, people are finding more ways to maximize their earning potential through blogging.
Big Internet companies such as Amazon and Google have stepped in to offer ways to make money with one's blog with little effort, so that bloggers can devote their time to building readership.
The most obvious way to monetize your blog is to display advertising for various Internet companies. These can be unobtrusive, and you can dedicate a portion of each blog page to these ads in such a way that they do not affect your blog layout.
The best services will allow you to display ads that are connected in some way to the topic of your blog. This will not only make the ads more valuable to your readers but will entice more of them to click on them, increasing your earnings potential.
---
Mac Monetizing — Making Money Concepts
With Apple's iWeb, which comes standard with every new Mac, the ability to add Google AdSense ads is built right in. To do so (after signing up for an AdSense account, of course), you simply choose Insert > Google AdSense Ad, or click Web Widgets in the toolbar and choose Google AdSense. You can move the placeholder ad that appears to wherever you want it on the page. Google AdSense will automatically rotate between text ads and banner ads if you enable this option in your AdSense preferences.
Although AdSense enjoys built in support in Apple's iWeb, it is not the only advertising program available to monetize your blog. BlogAds, Bidvertiser, and Microsoft Adcenter (which has recently joined forces with Yahoo!) are also available.
Another way to monetize your blog is by displaying links on your blog. The links can be either to your own product or to various linking partners. Or you can display links or banners for various web-based companies that offer affiliate programs of which you are a member. If a visitor to your blog clicks on the banner and makes a purchase, you will earn a commission from the sale.
For example, if you are blogging about the iPhone, a relevant link would be to a vendor on Commission Junction, such as MacMall, which sells iPhones. As an affiliate of MacMall, you would earn a commission on each iPhone purchased through your link
Set up your blog properly and your blog monetization will practically run itself. The advertisers and ad hosting companies will automatically cycle the ads, and you will earn a percentage of the profits. You will be able to sit back, relax and concentrate on the juicy part: creating great content for your blog and driving visitors and readers.
You might get the impression that the Mac is the forgotten stepchild of the Internet marketing industry. But did you know that some of the top names in Internet Marketing use Macs?
This article is written by Tim Arends. He is the Webmaster of InternetMacMarketing.com. He has been a user of Macs since 1994. Download his FREE 75-page eBook [here]. If you wish to write for us, kindly check this.