Hello to all the budding bloggers, entrepreneurs and enthusiasts. How many times did you have an idea to own your own website, maybe just your own blog or the eCommerce site that you always wanted to launch and then wondered maybe you had the slightest of idea to create your own website, and how many times you have been sad to feel "Damn!! How do I do it?". And then finally went on to hire someone who could create this for you.
If this has happened with you ever, then here we are to your rescue. Today in this article, we are going to review one of the best web development tools that you can use to create that website you always dreamt of.
Today we will introduce you to one such great tool that can be used to build you your first website easily. So what does it take to actually build a website? You may say a great web developer, may be that awesome graphics designer; oh wait!! What about the exclusive domain or the responsive web host?
And now think about having all of them tailor-made to your requirements. Stressed, are you? How will you negotiate with the web developer or the graphic designer? How to choose the web host? How to get your own domain name? But not anymore, because now you don't need to. We have answers to all your web building needs. And to make things even better, we have all of them in the same place. And the place is WebsiteBuilder.com.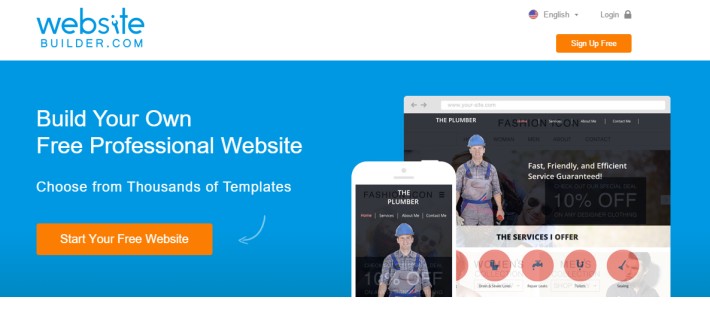 We all know the importance of a great and professional looking website for any business or startup or even a blog. It attracts more people if it looks great and that is what supports the entire eCommerce and advertising industry and holds the same importance for the internet world.
What is WebsiteBuilder.com and How it Works?
WebsiteBuilder.com is a tool that helps you create a website as per your requirement with ease. It supports all kinds of websites, be it in any domain including e-commerce, e-learning, blogging or whatsoever you can even think of. And all of it can be made by anyone. Yes, anyone does mean 'YOU'. You might not have any knowledge of web building or web hosting, you might not even know the technical details involved and might wonder what the heck is HTML? Why do you even care about it now, when you have websitebuilder.com with you now.
It provides you with a drag and drop editor which can be used to give your website the perfect look. It also has an extensive collection of templates that can be used to give the exclusive look to your website.
Get Started Now – 100% FREE
Every web builder must and I say MUST provide you with certain features or else it is of no good use. So below, we make an honest judgment by reviewing those points one by one. Let the game begin!
Ease Of Use
A DIY web builder must be easy to use or else there is no point in the DIY factor. If it takes a course or expertise to use the web builder, then probably you can hire someone and save the time. But thankfully websitebuilder.com is damn easy to use and needs absolutely no technical knowledge. All you need to do is to follow the help tips, know how to drag-and-drop and you are done.
Design
As told earlier, if it doesn't look good, it won't sell good, so designs are very important part of the whole concept of website building. And websitebuilder.com scores a +1 with that extensive collection of templates that it currently offers for free.
Support
Every service is judged by post sales support that it provides to its customers. And with a proper support team, customer care and live chat option, websitebuilder.com looks pretty decent in this area as well and scores another +1.
Pricing
Money matters, doesn't it? So, pricing is one the most important factor while judging the services. WebsiteBuilder.com currently offers three types of packages apart from the free version. So in total you have Free, Personal, Pro and Premium versions.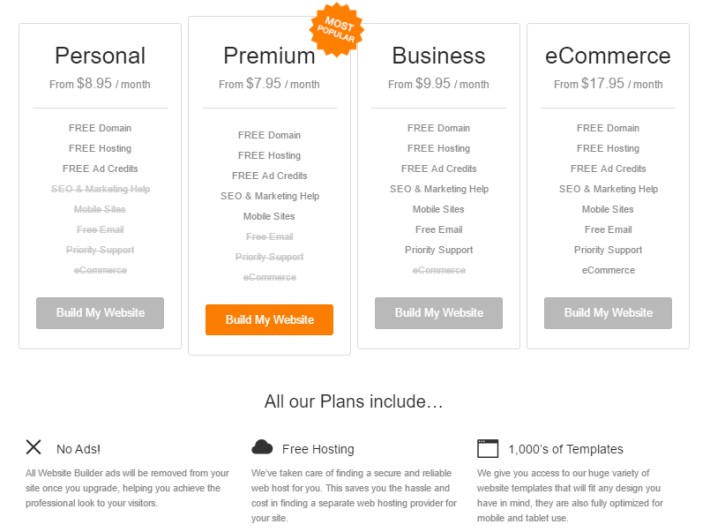 If you decide to upgrade to any of the paid packages to use their premium features, then the pricing seems to be quite reasonable and affordable as well.
Conclusion
We can easily rate WebsiteBuilder.com as a perfect tool for building your website and would like to give it a rating of 4.5 out of 5. It's easy to use tool to use and a perfect solution for someone who is looking to create their website with no previous hands-on web development experience.