Cloud hosting is in trend. In many ways, it is beneficial to host a website on the cloud; however, managing cloud server without technical expertise is a tough task. A small mistake can cost you thousands when the website is your prime source of income.
What if there was a middleman who would manage the cloud hosting for you? Sounds doable and necessary, right?
Cloudways Hosting Review
In this review, we introduce you to Cloudways WordPress hosting provider that offers managed cloud hosting for developers, designers, and agencies. Started in 2011, Cloudways makes it easier to deploy, monitor and manage high-performance applications on the main cloud infrastructure providers. The users of Kinsta hosting can relate a lot to this.
Cloudways offers hosting management in a reasonable price bracket. It has a user-friendly interface and quick response time.
Cloudways Hosting Features
How is Cloudways better? We explain some features that make the service a cool option for cloud users.
1. High-End Hosting Stack
It uses unique Thunderstack technology by combining Varnish, MySQL, Apache, Nginx and Memcached to create a secure server configuration for WordPress sites.
2. Security Management
Daily, thousands of hacking attacks are attempted on websites. Attacks are becoming hostile. Cloudways enables platform level firewalls to keep your data secure and safe. It's strong security team patches firmware and OS regularly to keep your website safe.
3. Firm Infrastructure
Cloud service strongly depends on infrastructural availabilities. It has to be technically sound. Cloudways is associated with the best cloud providers of the world such as the Amazon Web Service (AWS), Digital Ocean, Google Compute Engine (GCE) and Vultr.
4. Simple Setup
A few steps are all it takes to launch a cloud server though Cloudways. Once your account is created, you have to make two choices:
Choose the cloud provider
Choose the application (WordPress, PHP, Magento, etc.)
Choose the hosting location, server resources and click on "Launch". Once the system is launched, you are directed to a server window page with buttons – Stop, Start, Delete, Add App, and Clone. At the bottom of the page is the "Manage Server" option. Clicking on that takes you to the administration options.
The Cloudways Console is packed with awesome features. They are discussed in the subsequent section.
---
Cloudways Console Features
The Cloudways Console has two main components.
1. Application Management Tab
This allows the users to select and modify application attributes. You can go to the "Access Detail" section to view database username, password, admin login, SFTP information and DB access.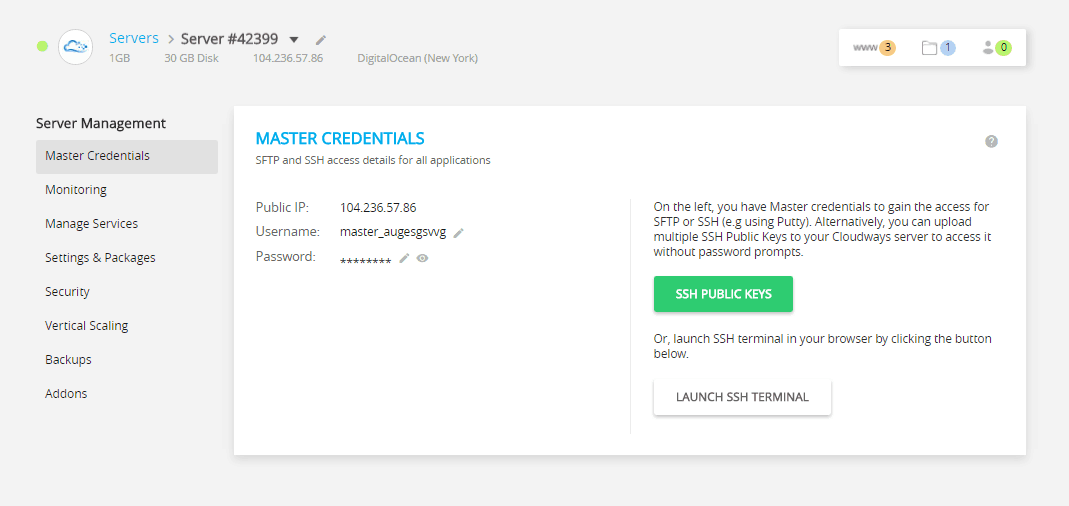 The section on Domain Management is your control panel for pointing a domain to the related site. You can manage Cron Job easily and deploy SSL certificates on web apps. Cloudways allows you to host multiple SSL websites on the same server.
If there are errors, use the Restore option to revert to the older app copy. You can use the GIT repository to deploy projects to the website. In the Application Add-ons section, you can opt for features like Application Migration to move a website, Application Update for updating the existing version and Application Load Test to ascertain the traffic handling potential of the website.

If you want to migrate your existing website to Cloudways, you can use their Migrator Tool.
2. Server Management Tab
The toughest part of cloud management is made strikingly simpler even for a new user, without any technical expertise. The Server Management tab is loaded with functionalities. At the outset, it gives you a view of general information such as the current status of launched servers and its inter-related resources.
The Master Credentials has the SSH access details of the deployed server. In the Managed Services section, you can configure the stack functionalities on the server. The Security option enables you to ascertain whether the IP address is blocked for SSH and SFTP access or not. If it is, the function helps to whitelist the IP. In the Server Settings and Packages section, you can change necessary server settings.
In the Backups section, create a full or partial backup of your server data anytime. You can automate the backups to prevent data loss. Every bit of the data is protected and secured with Cloudways. There is a Monitoring section where which offers a graphical representation of various server performance aspects. If you feel higher usage of resources is happening, use the Vertical Scaling option to understand and scale resource usages of Storage, RAM, and others factors.
Similar to Application Add-Ons section, there is the Server Add-ons section too for high-end configurations.
Conclusion
On a closing note, Cloudways is a promising service provider. If you are using cloud hosting but with difficulty and want to start with cloud services, try Cloudways.