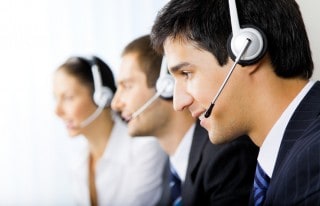 If you own a business in the UK, then you will know just how important it is to maintain good client relations. It is all about being able to get your customers to return, offering great customer service, and of course, knowing what your clients like, and what they don't like. Having a call centre in place is a fantastic way of keeping in touch with your customers and also a means of offering them an exceptional standard of customer service. In fact, call centres and customer service come hand in hand when introduced in the correct manner.
Just What Type of Business Can Benefit from Call Centre's and Customer Services?
Just about any type of business will benefit from having an after-sales service in place, in the form of a call centre. Customers are able to have the added security that after they have made their purchase, and walked out of your store, that they can call back up should they face a problem. That is a great way of creating a security blanket with potential clients, and of course helping to generate more sales. Shops that sell electrical goods, larger items like sofas and cars, etc. do extremely well when offering to their clients call centre's and customer services.
Because the cost of their products is higher and means more of a commitment, by having a channel where customers are able to communicate with the company it helps to reassure people that their money is going to be well spent. Of course, it does not necessarily mean that you need to sell expensive goods to offer good customer service, and a call centre where staff are at hand to answer calls. In fact, this methodology can be adapted to any business or store.
It Helps Save Time and Money
When your store is filled with customers who are trying to resolve an issue with something that, they have purchased, it is not good for your image at the store front to have them there complaining. By having a call centre in place, you are stopping this from happening. They are able to call up from the comfort of their home to arrange a repair, or arrange a time to come into the store and return the item directly to you. By ensuring that they phone up to complain, you are freeing up more time to conduct other sales!
Great Customer Service Means Repeat Clients
When you have good customer service, word of mouth spreads fast. You will be making sure that word of how great your services are, spreads, and of course that you get more sales. To summarise, if you haven't got great customer service and a call centre operating, then you need to start thinking about getting one today. The UK business market is competitive, and the more you do to stay ahead of your competitors, the more you can guarantee that your business will stay afloat! The sooner you take steps to improve, the better. It is all about being on the ball.
This article is written by Andy Morley. He is a UK blogger and small business owner, he also works part time for Magnetic North. Andy has a keen interest in marketing and business. You may connect with Andy in Twitter or Google+.