Quite recently YouTube unveiled an interesting tool — YouTube Trends Dashboard. Here you will see some of the top YouTube videos being featured. This cool tool will help to find the most popular videos in a particular location or videos that are currently popular within a certain age group.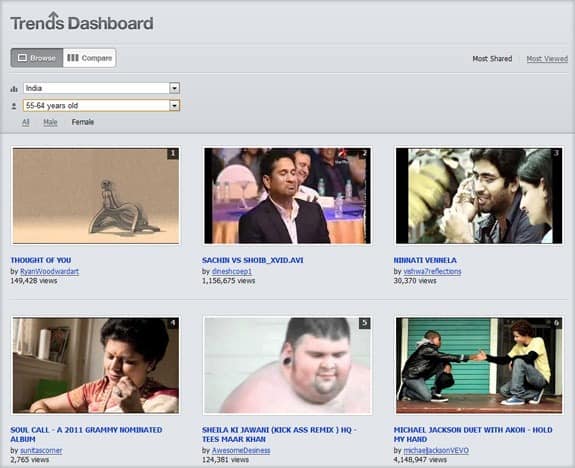 You can check the most shared videos on Facebook and Twitter in the last 24 hours and most viewed videos in the last 24 hours that were uploaded within the last 28 days.
YouTube Charts shows the most viewed YouTube videos by categories whereas the new Trends dashboard displays videos by region and demographics.
If you found an error in this post, kindly highlight it & press Shift + Enter or click here to inform us.
Want to discuss your queries and interact with experts? You can connect with HellBound Bloggers (HBB) Facebook group for free!
On December 14, 2010 by Pradeep Kumar in Video, YouTube | Short Link: http://hbb.me/Y7onXN