One of the reliable hosting brands, Web host vStoike had rebranded and now are known as Veesp. The company was established in Saint Petersburg, Russia. Now after rebranding it has expanded in the United States and Europe.
The hosting company specializes in VPS rentals and dedicated servers but has a wide range of products to offer. It includes DNS, web, and e-commerce hosting with domain name registration services and SSL certificates.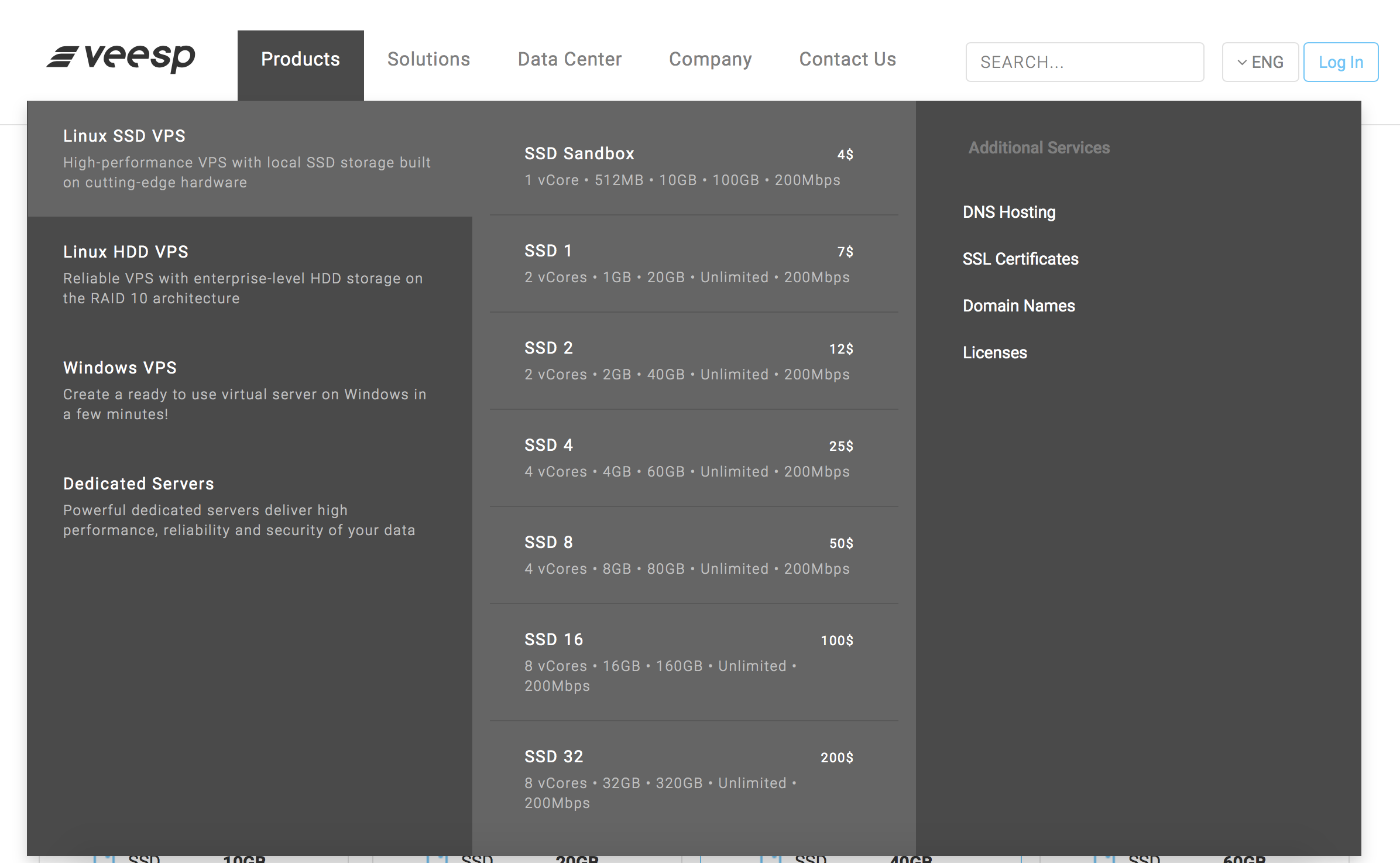 Veesp has a huge number of 15,000 client base across the world. Its clients include individual Website hosting to Startup, e-commerce, and enterprises hosting.
Features
Uptime 99.9% Guarantee: If uptime falls below 99.9% – we will refund your full-service cost for the last month.
Tier II Data Center: Veesp data center corresponds to the Tier II level by classification of Uptime Institute.
Reliable Network: The total capacity of external channels reaches 70 Gbit/s.
Powerful API for developers: RESTful API grants fully intuitive programming experience.
Cutting-edge hardware: All servers on offer boast the latest hardware providing maximum performance.
Customizable plans and ready-to-use solutions: One can easily adjust configurations to the current needs.
Advantages
While using the hosting, few advantages I found out about Veesp hosting over other hosting services in this price range are shared below:
The interface is user-friendly and convenient. Any first-time user won't find it difficult to play around.
I did not face any problem with the setup of the hosting. It was mostly automatic and hassle-free.
I could install operating systems and add web applications with a single click.
Pricing is balanced with the array of features they are providing to their users.
Veesp's Tech support is pretty good. It's patient with the users plus fast and rapid. So pretty user-friendly.
And one of the star points is that their plans are very flexible. They tried to customize according to my need. That's really important with a hosting service!
Their Products
Linux SSD VPS: High-performance VPS with local SSD storage built on cutting-edge hardware.
Linux HDD VPS: Reliable VPS with enterprise-level HDD storage on the RAID 10 architecture.
Windows VPS: To create a ready to use the virtual server on Windows in a few minutes.
Dedicated Servers: Powerful dedicated servers to deliver high performance, reliability, and security of their user's data.
Hosting underpinned by KVM virtualization technology.
A new line of 'Compute VPS' virtual servers that utilize Intel Xeon E5 v4 processors. These new servers also offer DDR4 RAM and "new enterprise level SSD storage organized to extra-secure RAID10".
Intel Xeon E5 v4 processors and DRR4 RAM modules alongside an HTML5 VNC console for the easy server management from any browser.
Pricing Plans
i) SSD SANDBOX
CPU: 1 vCore
RAM: 512MB
SSD: 10GB
Traffic: 100GB
Bandwidth: 200Mbps
$4 monthly
ii) SSD 1
CPU: 2 vCores
RAM: 1GB
SSD: 20GB
Traffic Unlimited
Bandwidth: 200Mbps
$7 monthly
iii) SSD 2
CPU: 2 vCores
RAM: 2GB
SSD: 40GB
Traffic Unlimited
Bandwidth: 200Mbps
$12 monthly
iv) SSD 4
CPU: 4 vCores
RAM: 4GB
SSD: 60GB
Traffic: Unlimited
Bandwidth: 200Mbps
$25 monthly
So overall, after using Veesp hosting for quite a while I can recommend this. Its plans are flexible according to your requirements and budget with a fast, user-friendly support. I would continue to use their services!