I love to draw things using my hand and if I'm going to do this in an iPad, I would be more happy. With the help of PaintByHand iPad app you can do this easily. This app has been downloaded by more than ten thousand users within 30 days from its launch date and is enjoyed by thousands of kids from around the world.
What makes PaindByHand special?
You are going to get amazing features for free. PaintByHand is a fun app for all ages to paint on the iPad with no mess. PaintByHand works like a traditional flipbook where you can keep all of your old artwork and flip back and forth making new creations.
PaintByHand is a FREE app for iPad where everybody with iPad device can download. It is an art, paint and creativity app where the app was designed specifically for kids to have fun painting and coloring by hand.
PaintByHand accommodates creativity and sense of art, bring education wrapped with entertainment by using technology. Everybody is an artist inside, that's what we always believe. With PaintByHand, users will be able to awaken the 'giant' talent within.
Features of PaintByHand
You can easily share your work. You can share your creative works via email or Facebook, save your work to your iPad photo library or submit your best work to their gallery.
Easy to use/draw. Good user interface with simple options.
Added auto-saving of works in progress.
You can purchase 21 different coloring book templates that users can color in using their fingers. Templates include sports, animals, princess, cars, trucks, and more.
PaintByHand has been developed as hi tech version of traditional flip book, enriched by finger responsive menu and simple navigation that even a two years old kid can use easily. Users are also able to save their artworks on their own media file, share it with friends on Facebook, email to friends or submit to the PaintByHand gallery which can be viewed on its website and active fan page.
Tip : When you are going to submit yours works to the gallery, include your first name along with a brief description of the art and selected works will be displayed on the website.
PaintByHand – Screenshots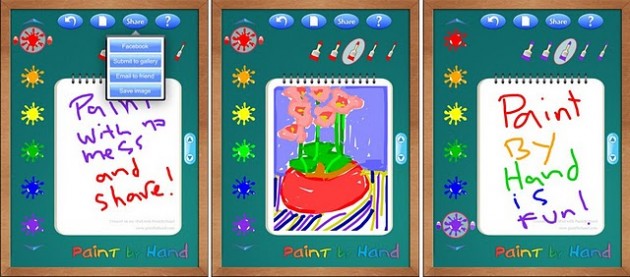 Now anyone can become an Artist using this, how cool is it? 😉
[Downlaod PaintByHand from iTunes]