Mp3-2000 produces search results using specific technology that will display media content and content information that is located worldwide on the internet. These services are provided and based on third party websites. These linked websites are in no way connected to, associated with or under the control of MP3-2000.
MP3-2000 works in compliance with 17 U.S.C & 512 and the Digital Millennium Copyright Act (DMCA). Our policy is and will always remain to respond to any infringement notices and take the appropriate action under the Digital Millennium Copyright Act (DCMA) and any other applicable intellectual property laws.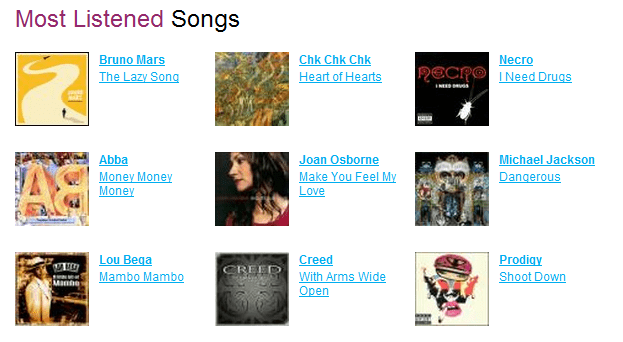 Overall this site has 1486225 indexed files and you can search for your desired files.
Listen to MP3 Songs Online
Mp3-2000.com gives you cool free mp3s for you to listen and download. You can use the search option for picking your favorite tracks or you can browse through the "Most Listened Songs" section or the "50 Most Popular MP3's" section. You can also check the Last 50 Searches made by other users.

You can see the Song info for all the MP3 songs available there, and that makes it even more interesting. Below the song info, you will see an embedded mp3 player for listening to the soundtrack or mp3 songs. You can enjoy the songs before downloading them.
Download MP3 Songs Online
To the left of that embedded mp3 player, you have the option for downloading it. You just have to enter the letters or digits that appear in the image below. Right click on the link and choose "save target as" to download this MP3 file.
You can also find respective Mirror links along with the bitrate for downloading.
Submit Your MP3 URL Files
This site also provides you the option to add your own MP3 songs, if you are a DJ or music composer this could be useful. You can add a link, URL to any MP3 file, using the form below. After checking this url to mp3 file appeared on their website.
I have added this site to my list to download free songs and also SoundCloud is my favorite.