Tron: Legacy is a 2010 American science fiction film produced by Walt Disney Pictures, released on December 16, 2010. It is a sequel to the 1982 film Tron. Though I'm not a Tron fan, still these gadgets tempt me to watch that movie quickly.
You can surprise your Geek boyfriend by gifting him some special TRON gadgets. I collected some popular gadgets from various sources.
#1 – Oakley Tron 3D glasses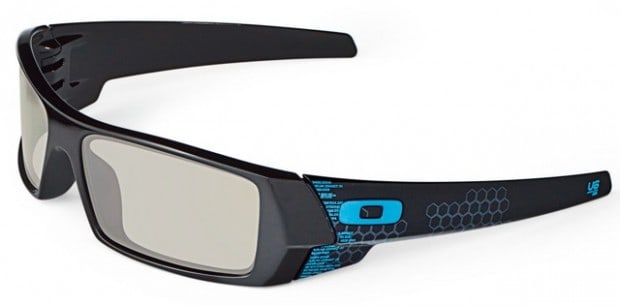 "Collaborating with Oakley provided Disney with a great opportunity to interpret the aes thetics and themes of TRON: Legacy into cutting edge eyewear for fans to enjoy," said Stephen Teglas, vice president and general manager of Fashion & Home North America at Disney Consumer Products. [Source : CrunchGear]
---
#2 – Razer Tron mouse and keyboard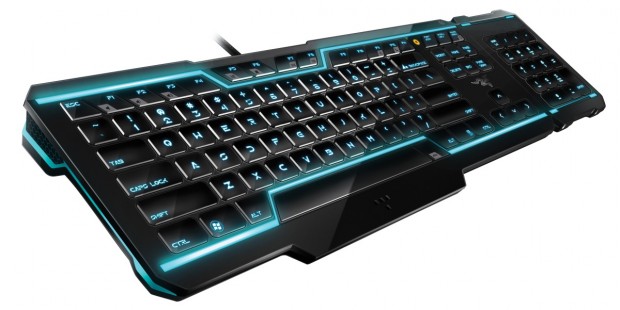 From the Rez and De-Rez lighting effects during start-up and shutdown to the smooth black finish of the Hyperesponse™ keys, the TRON Gaming Keyboardis exactly what you need to dominate the game Grid. A detachable modular keypad, lighting effects triggered by in-game actions, and fully programmable keys with macro capabilities make this a must for any TRON fan. [Source : Razer]
---
#3 – TRON Mouse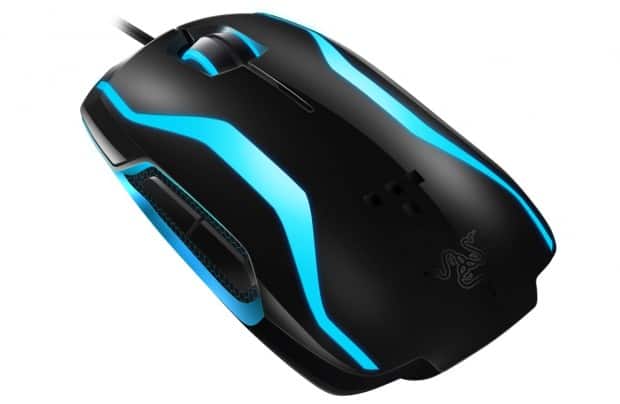 The TRON Gaming Mouse comes in an ambidextrous design with a luminescent blue glow protruding from sleek edges and lines. Designed for the upcoming TRON: Evolution game and inspired by the Light Cycle featured in the film, the mouse creates light alerts based on your in-game actions, thrusting you into the TRON universe. [Source : Razer]
---
#4 – Monster TRON Headphones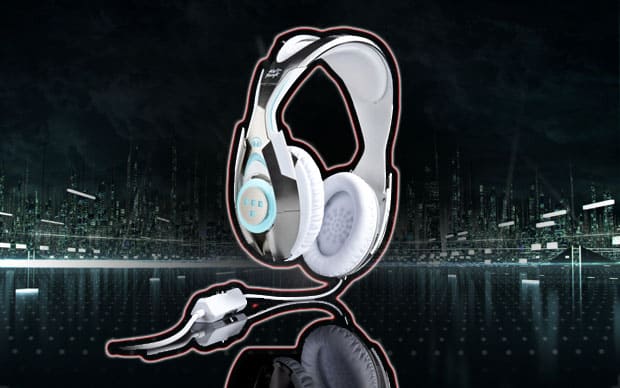 The LED Light Drive System is a first in Monster headphones and recreates the movie's animated lighting effects. The headphones also have a noise-isolating feature to block out external noise. It can double as a headset thanks to a removable boom microphone that can be attached to either side. [Source : iPodNN]
---
#5 – TRON Mousemat
Besides enjoying light alerts triggered by in-game actions on an interactive gaming mouse, gamers can now add the gaming mouse mat that features a bio-luminescent tracking glow trail as they swipe their mouse across the smooth, hard surface. [Source : Razer]
---
#6 – Tron Xbox 360 Controller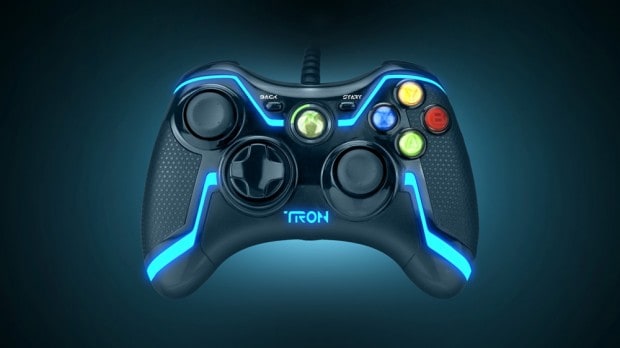 Light-up orange accents illuminate nighttime gaming sessions on this officially licensed Microsoft Xbox 360 controller. With its sophisticated and simplistic design, it features precision controller parts and vibration support, performance enhancing counters and design, and rubber-grips with a soft-touch finish. [Source : PDP]
---
#7 – Tron Wii Controller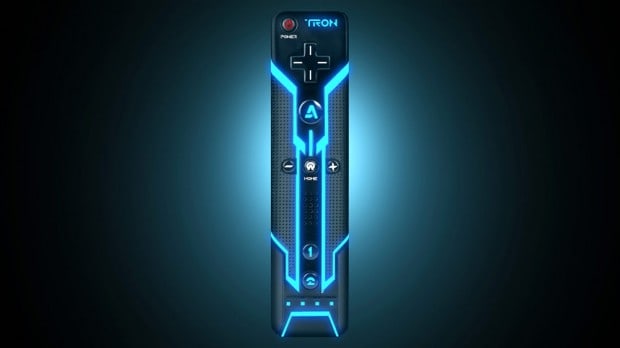 Based on the designs of both the film and game, the TRON controllers will feature unique, performance-enhancing contours and design, rubber grips with a soft-touch finish and perforated details and light-up accents reminiscent of the TRON universe to illuminate late-night gaming sessions. [Source : Nintendo Life]
---
#8 – Glowing Tron T-Shirt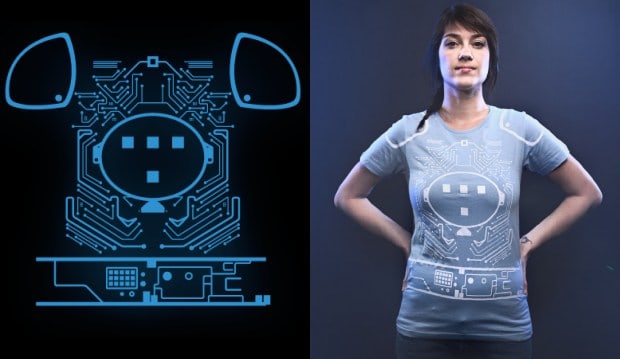 The sweet glow-in-the-dark piping looks to be very nicely adapted from the movie, and the shoulder pads are a nice touch. Of course, wearing this is perhaps even nerdier than wearing a Wi-Fi detecting shirt. [Source : The Daily What]
---
#9 – Adidas Tron Shoes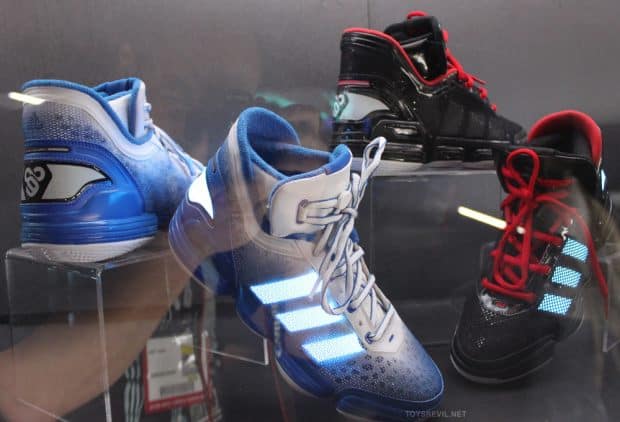 It turns out the glowy bits are "glow in the dark stitch detailing and reflective TRON disk screenprints" probably made from reflector material. In their defense, that stuff can get pretty bright in the right environment, and it lasts a long time: I have some Pumas from 2001 that still shine. [Source : CrunchGear]
---
#10 – Tron Light Cycle
You can customize the bike with whatever color you like (but there's only 1 of each color being made, so hurry), the wheels are hubless, and you can pick between gas or electric engines. [Source : CrunchGear]
---
#11 – Tron Notebook Skin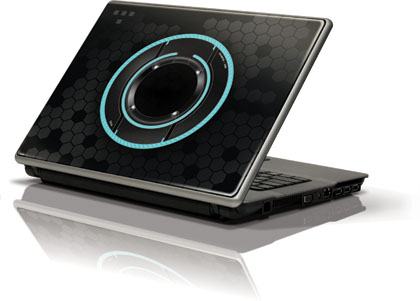 There are lots of notebook skins you can get from Skinit. The light disc one looks familiar to Tron thing. [Check Skinit]
---
#12 – Tron Skatecycle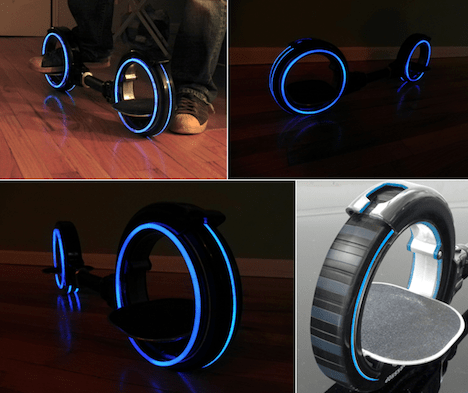 Created by Alon Karpman of Brooklyn Workshop, the custom-built skateboard is actually a Freerider, modded to sport the colors and lights of the movie's signature Lightcycles. The results are impressive, to say the least — enough to give modding-incapable Tron nerds some serious geek-envy. [Source : Cool Things]
---
#13 – TRON: LEGACY Audio Dock
TRON: LEGACY audio dock is inspired by the iconic data disk from TRON: LEGACY [Source : TheNextWeb]
---
#14 – Tron Lighted Identity Disk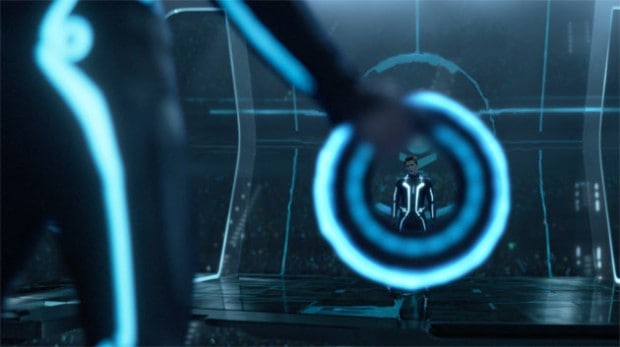 A Tron Identity Disk looks like a glowing frisbee, but it is a powerful device with many amazing abilities. [Check Amazon]
I collected some popular gadgets that could make great gifts for boyfriends, from various sources. Did I miss any TRON gadget here?? You can also help me to update this list by mentioning them below!